After Feeding and Housing BU Students for 36 Years, Marc Robillard Retires
We have him to thank for more meal plans, more beds on campus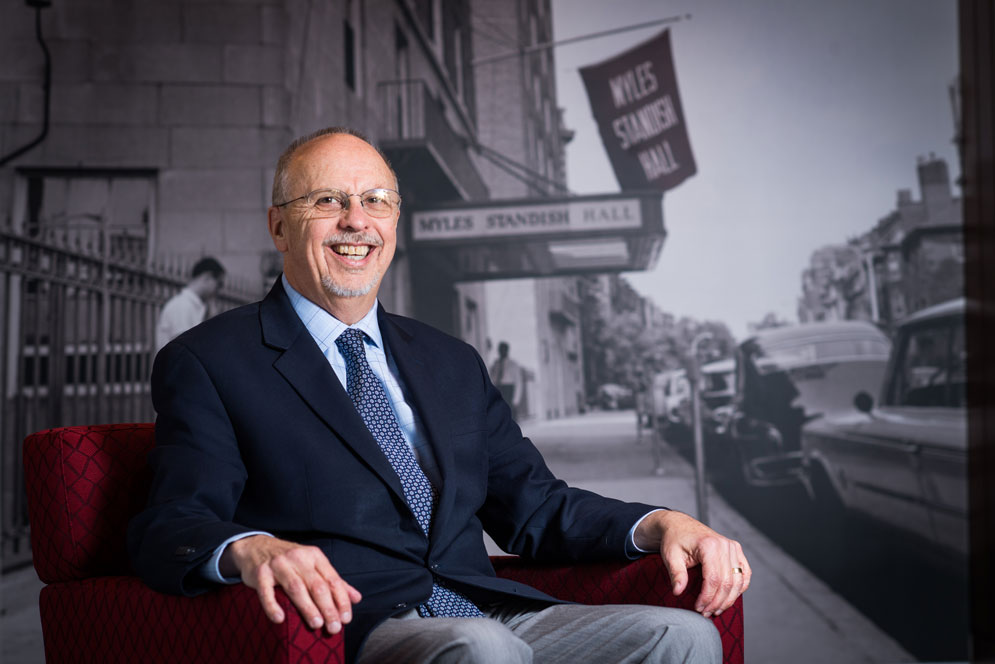 Working at BU since the second year of the Reagan administration, Marc Robillard can mark the changes he's overseen in numbers. To wit: BU offered students one and only one meal plan when he arrived as an assistant housing director in 1982—"20 meals, all you could eat" each week, he says. "You paid for it and you were happy with it."
Today, residence halls offer five plans, catering to a wide variety of diets.
Speaking of residences, the University had 8,600 beds when he came; today, says Robillard, who retires January 31 as assistant vice president for auxiliary services, there are 11,600.
After 36 years, one month, and 18 days on the job (talk about numbers), Robillard is one of those people "a lot of students don't realize they know," says Kenneth Elmore (Wheelock'87), associate provost and dean of students—and Robillard's sometime exercise partner. From explaining how dining points work to the Student Government to fielding residence complaints, many students "have been in meetings with him, and he's the guy who listens and takes a lot of notes, and he's the guy that makes sure that there's some follow-up," Elmore says.
"Mark is that guy that makes me look good," he adds.
Did you enjoy that kosher meal yesterday? Thank Robillard. He's one of the people credited with introducing a kosher meal plan for students. Did you bask during warmer months in that AC at Myles Standish Hall? He oversaw the three-year, $133 million renovation, calling the modernization of BU's oldest dorm his proudest accomplishment here.
He was also instrumental in the partnership between BU Dining Services and the Sargent Choice Nutrition Center to offer healthy meals across campus, as well as BU Dining's spiffed-up website, says Peter Smokowski, vice president for auxiliary services.
Robillard, who came to BU after working as the University of New Hampshire dining business manager, "brought tremendous experience and skill in managing countless assignments and demanding roles," Smokowski says.
Looking back, Robillard reflects on a job that frequently required patience measured in decades, as with the construction of BU's Student Village.
The Massachusetts legislature and governor enacted a bill in 1983 transferring 10 acres—formerly the site of the World War I era Commonwealth Armory, today the Student Village complex—to the University. Boston and BU signed an agreement that the latter had to write a master plan that included housing 75 percent of its undergraduates, Robillard says.
Meeting that commitment meant keeping students in University housing beyond their freshman year, something many weren't opting for with BU's traditional dormitories. But build apartments, with private kitchens and bathrooms, and students would come and stay put, the University reasoned. So in 1988 BU launched planning for the Student Village, with its apartment-style living. Then "the economy totally tanked," Robillard says, and by the time it recovered, BU's priorities had shifted to erecting academic and administrative buildings.
It took until 2000 to open StuVi I. StuVI II didn't come online until nine years later. The reviews made the wait worth it. The Boston Globe declared StuVi II "perhaps the most opulent residence hall to ever grace the local college landscape."
Robillard's job sometimes requires saying no to students, as when they want to break an on-campus residence contract they've signed to live on campus for the entire academic year. He had some prep for those "contentious and unhappy conversations" during his short-lived political career. He served a single term (1975-1977) as a Democratic state representative in New Hampshire, representing his native Dover. He enjoyed the give-and-take of politics, but didn't seek reelection. "You know how much they pay, right?" he cracks about New Hampshire's volunteer legislature.
Robillard says he's proud of having fed and housed nearly four decades' worth of students. "I live in Newburyport, and in my town we have a gastroenterologist who was a student employee of mine," he says. "I see reporters on television with whom I did their COM senior project…sitting at my table with them filming and asking me questions. It's so fulfilling to see that and to know that in a very small way you had some impact on that student."
Despite today's additional beds and meal plans, and the popular perception that universities must compete for students with ever-snazzier amenities, Terrier expectations haven't changed all that much during his long tenure, Robillard says. Students want on-campus housing with common areas so they can meet new friends during freshman year, more private space to hang with those friends sophomore year, and their own bedroom and kitchen their junior and senior years, allowing more flexible schedules to accommodate academics and job hunting.
"That really hasn't changed in 30 years," says Robillard. "Probably hasn't changed in 100 years."