Food
A World of Wine
Jim Verde retired from teaching biology to build his own vineyard in Rhode Island
Rows of leafy grapevines arc across a hill overlooking a lake. Chickens peck in the grass as tree swallows loop and dive like acrobats.
This is not Tuscany, but on a summer's day, Jim Verde's bucolic vineyard in Johnston, R.I., feels like a small slice of Italy. The 81-year-old winemaker shuffles between the orderly rows of grapevines, his baseball hat bobbing above the tops of the plants as he scouts for signs of fungus on their branches and nascent leaves after an especially cold, wet spring. If everything goes as planned, the 2,000 plants in his vineyard will flower, filling the air with a light perfume in spring, before the grapes emerge and blush in autumn.
"I just marvel at them every day," Verde (Wheelock'61, GRS'63) says of his vines. "They're my babies."
A one-man commercial wine operation run by a plant-obsessed octogenarian sounds implausible, particularly in Rhode Island, a state known for its winters, not its vintners. But just seven miles outside Providence, Verde grows, ferments, and ages his award-winning wines in a converted barn next to his house. Winemaking runs in his family, he says, from his father, who worked as a surveyor, to his uncles, who ordered grapes from California and blended them with the grapes from their backyard arbors to make wine.
Verde's wine has been favorably compared to the Rhone wines of France by reviewers, and Yankee magazine editors selected his vineyard as the best in Rhode Island in 2016. The operation is a mash-up of old-world know-how and new-world technology, from Verde's traditional method of harvesting by hand to the elaborate steps he has taken to reduce and eventually eliminate his carbon footprint.
James Traniello, a College of Arts & Sciences biology professor, who visits Verde Vineyards regularly, says he is in awe of Verde's knowledge of "biology in a bottle," from the way Verde uses imported French yeast to ferment his wine to his understanding of mycology (the science of fungi) and how to avoid the fungus-related diseases that can destroy a vineyard. Only a true Renaissance man like Verde, Traniello says, could handle the demands of farming and the science of winemaking while enjoying the art of food and wine pairing.
"Jim's unique. He brings his own character to winemaking, and by character, I mean the strength of will," Traniello says. "What he's done is really amazing."
Growing the "Babies"
Verde never planned to open and operate a vineyard, and certainly not in his 70s, a time when many are downsizing or honing their golf game. After earning a teaching degree, then a master's degree in biology at BU, he taught biology at a Rhode Island community college for 38 years, motivated by a passion for helping students and an insatiable curiosity about the natural world.
Retirement offered new possibilities, however. Verde decided he would plant a couple of grapevines to make wine for his family and friends on the 60-acre estate he had inherited from his father, a second-generation Italian immigrant. It was part of a tradition; growing up in Providence, his father and uncles served their homemade wine at Thanksgiving, Christmas, and Easter.
"I had my first wine at age three and a half. My father would put some in my water," Verde says. "I learned as a child that wine was a part of a meal."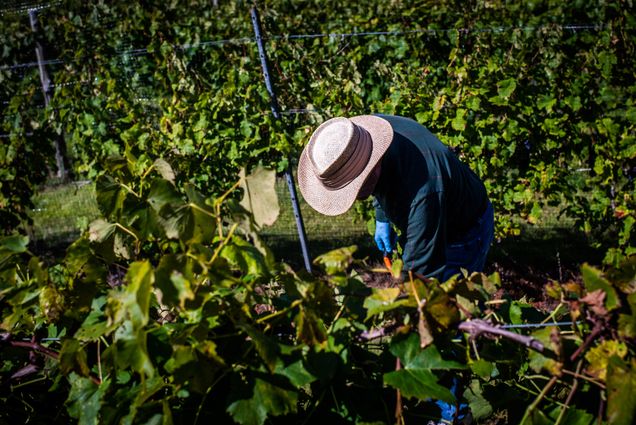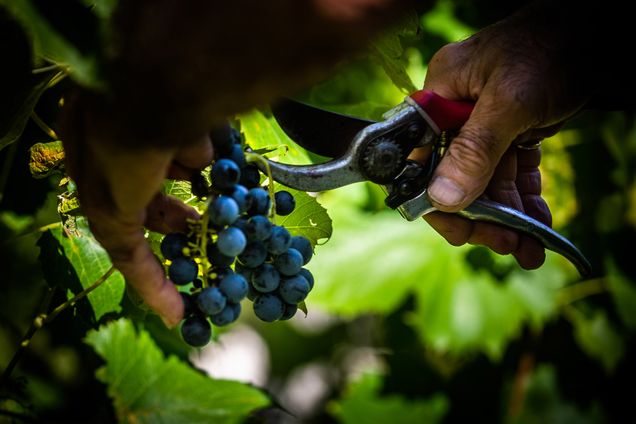 He breaks out into song in Italian from the opera Rigoletto, one his father used to sing exuberantly to his mother after a couple glasses of wine at family gatherings. "Being together was our enjoyment," he adds with wistfulness.
Today, Verde grows eight varieties of grape, with names like Petit Pearl, Cayuga, St. Croix, and La Crescent; the lifelong bachelor says he found that the grapes' deep roots thrive in the rocky glacial till overlooking his property on Lake Moswansicut.
Verde's most acclaimed wine is named for the St. Croix grape, a French-American hybrid created by Iowa breeder Elmer Swenson in 1983 and able to withstand the cold to minus 28 degrees Fahrenheit. Verde buys the plants, or cultivars, from a nursery, but they are typically developed by universities like Cornell and the University of Wisconsin, which constantly create new weather- and disease-tolerant hybrids.
"The plants have such different personalities," says Verde. "And we've altered their genetic code, so they need us now."
Everything is a judgment call rooted in Verde's expansive knowledge of biology, botany, and mycology. Each varietal may have a different tendency toward mold, for example, so Verde needs to spot various signs of disease early, then choose an appropriate organic fungicide before it invades and kills the plant tissue. Some fungicides also need to be sprayed in specific amounts so plants do not develop a resistance to them. Daily walks through a vineyard may sound relaxing, but Verde says his strolls are eagle-eyed scouting missions for signs of disease.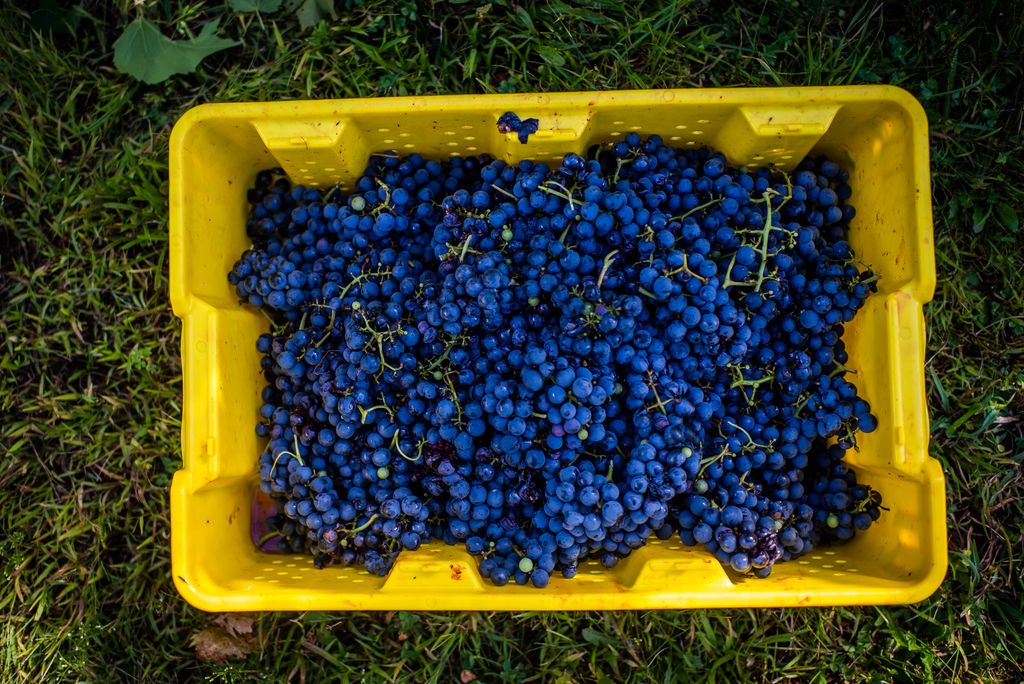 "As the French say, 'the wine is made in the vineyard,'" he says. And for all the scientific expertise and forward-thinking farming, the grapes still require intensive daily labor. It takes six hours to mow the vineyard, hours more to fertilize and weed. Topsoil needs to be replenished by tractor and mature plants need to be pruned so their leaves don't obscure the grapes from the sun.
And then there are the robins, blue jays, and cardinals that can pluck a vineyard clean in hours, robbing Verde of his harvest. Verde nets the plants, a labor-intensive job that involves covering them with a 250-foot mesh blanket until just before harvest. Rolling out the mesh is a multi-person task; removing it the most irritating job on Verde's to-do list, because it needs to be ripped from a circus of tendrils that have woven themselves into its fabric. Once torn away, the race begins to harvest the grapes before the birds take over the job.
The Harvest
The autumn harvest is Verde's favorite time. He knows the grapes are ready to be picked after measuring their sugar content, noting that winemaking was likely invented thousands of years ago when humans noticed animals ambling about in a drunken stupor after eating grapes off the ground that had fermented naturally.
That whitish coating on grapes in the supermarket—often mistaken for the residue of chemical sprays or pesticides—is usually wild yeast that is waiting for a bird or mammal to puncture a grape and devour it, allowing the single-celled yeast to feast on the released sugar and reproduce. Vintners like Verde crush the grapes and add yeast to mimic that biological process.
"Fermentation is just a form of cellular respiration," Verde explains. "Luckily, what happens is when the yeast dies down, we get wine."
For the St. Croix red, which won gold at the Big E Northeast Wine Competition for Best Rhode Island Wine, Verde says he picks his grapes later than other growers might, when they have a high sugar content.
He may host as many as six harvest parties in a single season, but the St. Croix harvest in late September is the most elaborate. Friends and family from across Rhode Island and parts of New England help fill enormous bins with sweet, sticky grapes.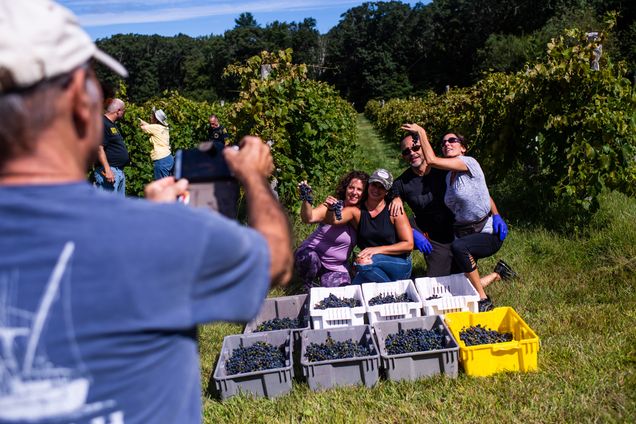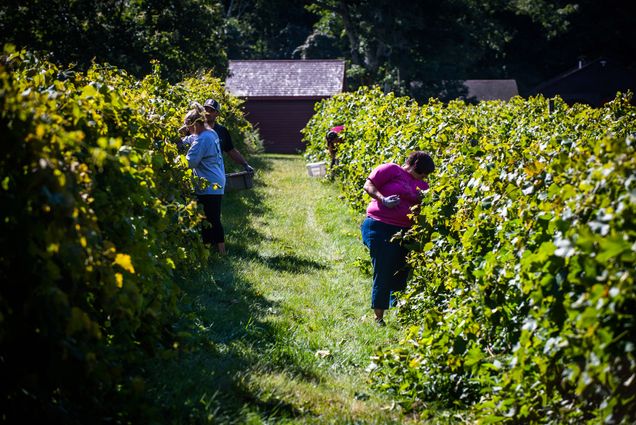 Verde and more than 70 volunteers whisk the bins into his garage, where they are destemmed and crushed using equipment Verde imported from Italy. The different varietals each undergo different processes, but Verde says he fills multiple 250-gallon vats with his St. Croix grape juice and adds imported French yeast. The process involves several additional steps, including siphoning liquid from the bottom of each tank daily to ensure the grape skins floating at the top of the lidless tank don't dry out and adding expensive malolactic acid to smooth out the taste, but it generally stays true to the same process used to make wine in the 18th and 19th centuries.
Several weeks later, the vino novello, or young red—reminiscent of Verde's uncle's homemade wine—is ready. Verde relishes drinking it with his meals. Most of it is siphoned into casks that sit in a dark, stone-walled room beneath the barn, where it ages for two years in the cool quiet.
When the harvest is complete, Verde invites his volunteers to sit at picnic tables for an authentic Italian feast of meatballs, stuffed Italian peppers, and fresh tomato salad made by his cousins. Verde raises his glass to Bacchus and pours a sip back onto the earth. He rewards the volunteers for their efforts with an aged bottle of wine made with grapes they'd plucked two or three years earlier.
Ian Hillman, a 47-year-old art teacher living in North Providence who volunteers at Verde's Vineyard year-round, says the work can be demanding and that Verde often vows to scale the operation back to a more manageable level after a particularly arduous harvest.
Then Hillman will learn that Verde has ordered more vines, unable to resist the allure of trying out new hybrids developed by agricultural scientists aiming to improve their disease resistance or eliminate musky notes.
Hillman says he understands the impulse. He calls the grapes magical, noting how every vine's a little different.
"I definitely feel connected to the vines," he says. "I know that sounds hokey, but Jim does too."
The Tasting
Verde has changed out of a dirt-stained shammy shirt into a crisp oxford. Gone are the baseball hat and work boots coming apart at the soles. Here in his maple-paneled tasting room, Verde is transformed. The erudite farmer is now the gracious host, holding court behind the bar and entertaining visitors who have dropped in for a $4 tasting with his stories about science, nature, evolution, and family.
He throws in a favorite recipe for filet mignon with a sauce of his simmered St. Croix red, cream, and fresh tarragon. Then he invites guests to stroll the vineyard or pick up a Margherita pizza at a nearby restaurant and have an impromptu picnic in the shade of the towering white oak trees in his yard.
Many guests leave with a bottle or two of Verde's creations—and dreams of retiring to their own estate.
Verde does not go into detail about what it takes to run a successful vineyard, simply savoring the moment and nature's bounty instead.
"People always ask me, 'When is your season?'" he says. "It never begins. It never ends."
Jim Verde established the Verde Foundation at BU to help counter pseudoscience with evidence-based research and enable Rhode Island high school teachers to improve their teaching of evolutionary biology by working with Boston University's scientists and researchers. It also offers grants to doctoral students and funds a guest speaker series.