Textbooks: Getting the Best Bang for Your Buck
What you need to know before taking out that credit card
With less than a week until the start of classes, the scramble is on to pull together all the textbooks you'll need for the coming semester. And as any upperclassman will tell you, the experience is likely to leave a big dent in your wallet. A recent report by the College Board found that students at private four-year colleges spent an estimated $1,220 last year on books and supplies. But there's good news: according to data just released by Campusbooks.com, the average price of textbooks decreased by over $10 from January 2017 to January 2018.
Steve Turco, the manager of Barnes & Noble at BU, attributes the drop in cost to both the growing number of books available for rent or purchase or for rent digitally and students' increasing ability to compare prices and shop competitively. Last year, BU students saved an estimated $1,400,000 by taking advantage of the bookstore's various rental and purchase options.
This year, 85 percent of Barnes & Noble at BU's textbooks are available for rent and 31 percent are available in digital format. "Our used book options are greater than they've ever been," Turco says.
To help students save money, Barnes & Noble at BU has a free mobile app that allows them to compare different textbook formats and price points for a specific book. The app even sends notifications about rental due dates so they don't get hit with a late fee. The bookstore also has a price-match program that is another way for students to save on costs. This covers only books sold and fulfilled by Amazon and BN.com, not products sold and fulfilled by third-party sellers through Amazon or books found on popular textbook market sites like Chegg.com. If you find a textbook for sale or rent at the bookstore that's available for a lower price on Amazon or BN.com and you can demonstrate proof of the difference, Barnes & Noble at BU will match the lower price, or if you've already purchased the book, refund the difference.
Turco says that certain publishers are also giving incentives this year designed to help students keep costs down. One of the biggest, Cengage is offering a subscription service (similar to Netflix), where for just $119 a semester, you can access all of the site's digital content. "If you have more than one Cengage title you need to get, this may be the most cost-efficient method," says Turco. Other companies, like McGraw-Hill and Pearson, have implemented a rental-only policy for some of their titles in an effort to reduce prices.
Students say that to save money, you have to be willing to do some homework. Many prefer to shop using online sellers like Amazon and Chegg.com that offer eTextbooks, rental, and buying options along with prepaid return labels for shipping rentals back at the end of the semester.
"I rent whenever possible," says Bryan Brager (CGS'17, COM'19). "I suggest doing a simple search for the book online and see which retailer sells it the cheapest. Sometimes the BU bookstore has a better deal on rentals than Amazon."
Jordan Kimmel (COM'20) has learned that it pays to shop around. "I used to get my textbooks from the BU bookstore," he says, "but I realized over time that it's not always the most economical option. Now I just use Amazon.com and find something used and cheap. Sometimes the BU bookstore is the cheapest, but not always."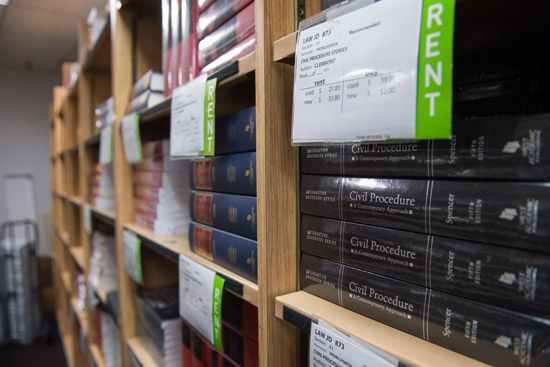 For an example of why it pays to shop around, we looked at one popular calculus textbook, Calculus: Early Transcendentals. On the Barnes and Noble site, you can purchase a physical copy new for $269.86 or used for $216.44. There's also an option that allows you to rent it for 130 days for $119. The same book is available for purchase new on Amazon for $284.95, used for $202.95, and for physical rent for $32.99 (due back by December 18). Amazon also offers an option to buy a digital copy for $134.49 or rent a digital copy for $32.77.
To save the time of searching and comparing prices, many students recommend using a free service like Direct Textbooks, where you simply type in the ISBN number (which has the correct title and edition of the text you need) and see a price comparison for sites like Amazon and Barnes and Noble, as well as Chegg, Textbooks.com, and Vitalsource. Chegg turned out to offer the best deal on Calculus: Early Transcendentals. The book is available there for purchase new for $259.49 and used for $141.99 and for rent at $32. You can also rent the book in a digital format for $32.77.
Many BU students say they prefer to buy and sell from classmates when possible. The BU Student Book Exchange, with nearly 6,000 members, allows Terriers to buy, sell, and rent directly from one another.
Still others prefer to buddy up on some of the more expensive textbooks. "In order to save some money, a friend and I decided to split the cost of the books for one of our classes and share them," says Jordan Rice (COM'18). But if you're going to share a book, you need to be clear in advance about how much highlighting and note-taking you're each willing to permit.
Tips and tricks to find the best purchase
Before you decide how you're going to order your books, here are a few things to keep in mind:
In deciding whether to rent or buy, ask yourself if you'll need the book after the class is over. If you think you'll want it in the future, buying rather than renting may be the best way to go.
Whether you're renting or buying, make sure you purchase the correct edition. Publishers update textbooks, and even critical anthologies, all the time and old versions may be missing important sections your professor will use. Double-check your syllabus to make sure you've got the right version.
Figure out how much highlighting and note-taking you want to do. Many renters limit the amount of both. Policies vary significantly. And if you're renting a book, make sure you know the deadline for returns. Otherwise, you could wind up paying significant late fees.
Before putting down your pen to take notes in a used rental, read the policy closely. Some renters are okay with a certain amount of highlighting or margin notes, but remember that these books will be reused and over-marking may result in a fine when returned.
If you're making a digital purchase, be sure it's compatible with your e-reader. And if you're buying or renting online, stick with places that offer free shipping and that don't hide fees that could make your savings negligible in the long run. Again, read the small print before placing your order.
Sarah Wells can be reached at swells21@bu.edu.