Find 10 Tech Gifts under $50
And you thought they had to be pricey
The holiday season is a time for celebrating and getting together with family and friends, but it can also be stressful, in no small part because of the pressure of finding the right gifts at prices you can afford. To help with some of that stress, we've put together a list of 10 technology gifts for $50 or less, all available on Amazon, and just in time for today, Cyber Monday, which offers all kinds of online bargains. Be sure to double-check prices for any changes or sales. Hanukkah and Christmas are just around the corner, so our advice is: don't procrastinate. And you may want to treat yourself as well.
Just plug this flash drive–like device into your television, and countless streaming and music services are at your disposal: Netflix, Hulu, HBO, YouTube, Spotify, and of course, Prime Video and Music, among others. You can access more than 500,000 movies and TV episodes. Control the whole thing using either the Fire remote or your voice with Amazon's Alexa. You can watch live news and sports without cable, catch up on your binging, or listen to your favorite playlists or podcasts. You can also find earlier generations of the Fire TV Stick at even lower prices.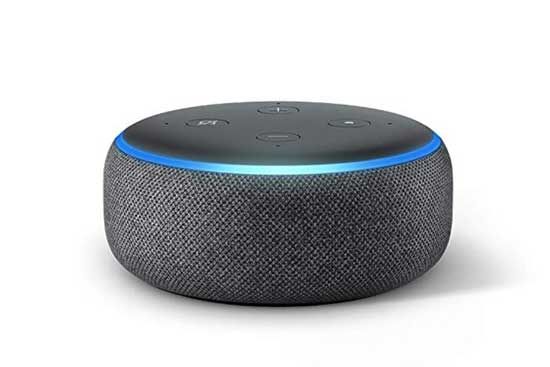 This popular voice-controlled speaker features improved sound and a new design. Alexa can play music, answer questions, check the news and weather, set alarms, control other compatible smart home devices, and more. With just a simple voice command, you can stream Spotify, SiriusXM, Pandora, Apple Music, and others, and if you pair multiple Echos, your entire home can be filled with music. The 2nd Generation is available at a lower price.
Do you have someone on your gift list who is always losing phone or keys? Tile Mate could be your solution. Simply clip the device onto your keys, download the Tile app on your phone, and with just the press of a button, you can use one to find the other. Can't find your phone? Double press the tile button on your Tile Mate to make your phone ring, even when it's on silent. The Tile Mate is also compatible with Alexa and Google Assistant. The device comes with one easily replaceable battery.
With this battery, you'll never have to worry about your phone dying again. The compact battery pack fits comfortably in your pocket and can charge your iPhone or Samsung smartphone two to three times on one full charge. The charger comes with a micro USB cable and a travel case and has one USB port (USB-C and Lightning cables not included). You won't want to travel anywhere without it.
If you're looking for an activity tracker that won't break the bank, Toobur is an ideal gift. Just like Apple Watches and FitBit, this watch automatically tracks your steps, distance, calories, and sleep, sends notifications and texts from your phone to your wrist, and more. The Toobur charges with a USB cable (not included), is waterproof, and works with bluetooth devices (both iPhone and Android).
For anyone who listens to music or uses a GPS while driving, this device is a must. Simply attach the mount to your car's air vent and stick the metal plates to the back of your phone, and your phone will magnetically mount. The adhesive metal plates do not interfere with signal or battery—they will affect wireless charging, so be careful where you place the plate. WizGear also offers a cheap two-pack as well as dashboard mount options.
Everyone knows someone who likes to sing in the shower. Why not help them out with this inexpensive wireless bluetooth speaker: it can be used anywhere, but it's waterproof and comes with a suction cup and hook for easy mounting in a bathroom. It also has a built-in microphone and charges easily with the included USB cable. This hands-free speaker is good for listening to tunes in the shower, the office, the car, or anywhere else.

In the rapidly changing world of electronics, headphones are going wireless. But the widely popular Apple AirPods can set you back more than $150. Budget-strapped gift givers might want to check out SENSO's earbuds instead. For just $28, these waterproof headphones, featuring the latest bluetooth technology, consist of one simple, short wire and are good for use while working out. The headphones are equipped with passive noise cancellation, a battery that lasts up to eight hours, and simple controls that make calls and songs easy to manage. SENSO headphones are compatible with all bluetooth-enabled devices and come with a case, a short charging cable, three sets of ear tips (small, medium, and large), one set of memory foam ear tips, and a cable clip.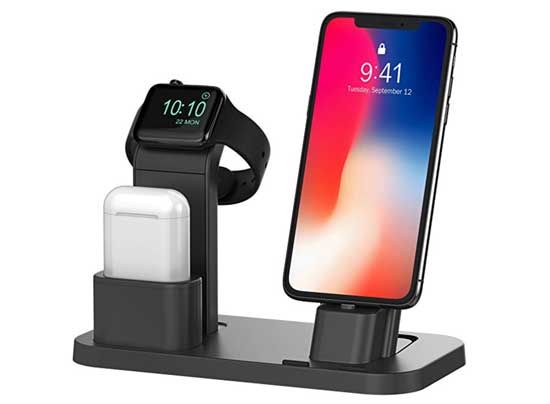 Anyone with multiple Apple devices knows that charging can be a bit clunky—you're running all over your dorm room or apartment to find outlets. Enter the BEACOO charging stand, which allows Apple users to charge their iPhone, Apple Watch, and AirPods all at once, using one simple station. The stand is compatible with all versions of the Apple Watch, fits most iPhone cases, and works easily with the original Apple lightning charging cable. The stand enables hands-free video chatting on your iPhone and nightstand mode for your Apple Watch.
Gone are the days when flash drives were used solely for laptops and desktops. With the SanDisk wireless flash drive, you can wirelessly save and transfer photos, videos, and files on your phone and tablet and stream music and videos on up to three devices simultaneously. Connect using Wi-Fi or the physical USB port on your computer. If the Cloud isn't your thing, this wireless flash drive is crucial.
Have another recommendation for a tech gadget under $50 that you think would make for a great gift this holiday season? Add it in our Comment section below.
Jacob Gurvis can be reached at jgurvis@bu.edu; follow him on Twitter at @JacobGurvis.