Check Here for What to Do on Spring Break in Boston
Museums, concerts, and an Icelandic cultural festival on tap this week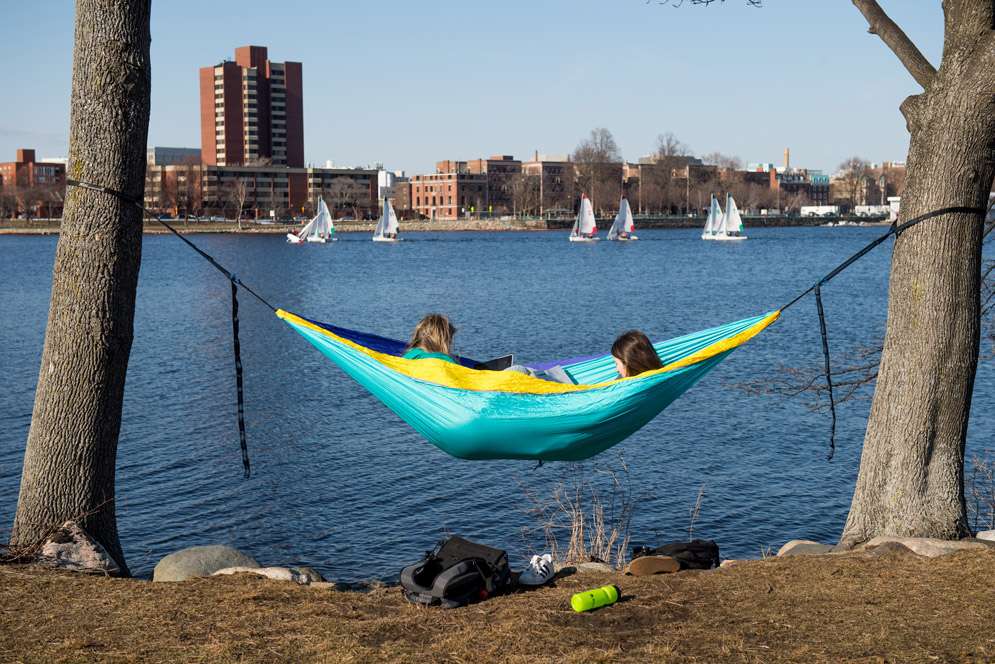 The first signs of spring can be seen everywhere around Boston. The days are getting longer and the snowdrops have started blooming. Next week, we'll set our clocks ahead an hour as daylight saving time begins. Tomorrow marks the official start of spring break. While all residence halls will remain open, dining halls will close at 9 pm on Friday, March 2, and will not reopen until 4 pm on Sunday, March 11. However, BU Dining Services retail operations will be open for business with limited hours throughout the week.
Many students will clear out for the week, taking part in service projects like Alternative Service Breaks, heading home to see family, or soaking up rays on a warm beach. But for those staying in town, there are plenty of fun things to do around the city: concerts, theater, dance, art exhibitions, sports events, even an early St. Patrick's Day celebration for those 21+. So take a look at the list we've put together and have a great vacation.
Cultural Festival
This annual four-day festival celebrating Icelandic culture returns to town and runs from Friday, March 8, through Sunday, March 11. Various venues around the city will be hosting events celebrating the vibrant culture of this Nordic isle. Among the star attractions are Shortfish, a free short-film festival celebrating work by Icelandic filmmakers, at the Brattle Theatre in Cambridge on March 9, and a free Icelandic-American concert, Reykjavik Calling, at the Paradise Rock Club featuring artists JFDR, Sturla Atlas, and Air Traffic Controller, also on March 9 (you must be 18+ to attend). Local restaurants, like Townsman and Beat Brasserie, will have special Icelandic menus during the festival. Take advantage of this opportunity to learn more about Icelandic food, music, art, and more.
Taste of Iceland is from March 8 to 11. See the website and Facebook page for all event dates, times, and prices.
Music and Dance
This imaginative program by the Boston Ballet features work by three of the world's most accomplished contemporary choreographers. William Forsythe's Pas/Parts 2016, created for the Paris Opera and restaged for the San Francisco Ballet, melds syncopation, melody, and musicality. Justin Peck, New York City Ballet resident choreographer, makes his Boston debut with In Creases, a dreamscape performed to Philip Glass' Four Movements for Two Pianos. There is a return performance of Jorma Elo's acclaimed Bach Cello Suites, which physically unites music and movement and has an onstage performance by cellist Sergey Antonov. It's a unique dance experience.
Boston Ballet's Parts In Suite is at the Boston Opera House, 539 Washington St. from March 9 through April 7. Find directions here. You can reserve tickets online, via email, or by calling the box office at 617-695-6955, or visiting the Boston Opera House box office (open only on days of performances). Tickets range from $35 to $17. If a show is not sold out, senior and student rush tickets are available for $25, cash only, one ticket per ID, starting two hours before curtain (rush tickets are not available for weekend matinees).
The renowned Australian-based Circa Contemporary Circus brings its latest show, "S", to Boston for three performances, March 2 to 4. The company's award-winning works, by an ensemble of multiskilled artists, have been viewed by over a million people across the globe. The program is a tribute to the 19th letter of the alphabet, and the seven-person ensemble plays on the letter's shape, function, and sound. Circa describes the piece as "sinuous, seductive, sophisticated, sensual, and savage." With adjectives like that, who wouldn't want to see the show?
Circa, "S," is at the Shubert Theatre, 265 Tremont St., Friday, March 2, at 7:30 pm, Saturday, March 3, at 8 pm, and Sunday, March 4, at 3 pm. Find directions here. Tickets start at $60 and can be purchased online. Groups of 10 or more can receive discounted rates.
Alan Gilbert, former New York Philharmonic music director, will lead the BSO in a performance of recent work by Pulitzer Prize–winning composer John Adams, titled Scheherezade.2. The four-movement piece was composed for violinist Leila Josefowicz, who will perform with the orchestra. The work will be prefaced by Jean Sibelius' tone poem En Saga and Claude Debussy's Jeux.
Sibelius, Debussy and Adams will be performed at Boston Symphony Hall, 301 Massachusetts Ave., on Friday, March 2, at 1:30 pm, and Saturday, March 3, at 8 pm. Find directions here. Buy tickets online, by calling 617-266-1200, or at the Symphony Hall box office, Monday through Friday, from 10 am to 5 pm. BSO college cardholders may be eligible for free tickets.
The Gardner Museum's popular Sunday Concert Series draws classical music fans from all over the Boston area. Performances are each Sunday at 1:30 pm in the Calderwood Hall, with different artists each week. On Sunday, March 4, New England Conservatory alumnus cellist Brannon Cho and Boston-based pianist Dina Vainshtein will perform works spanning musical periods and styles as part of the Young Artist Showcase series. On Sunday, March 11, the afternoon concert will be headlined by Musicians from Marlboro performing a program of Boccherini, Bartók, and Ravel.
The Isabella Stewart Gardner Museum Sunday Concert series is each Sunday at 1:30 pm, 25 Evans Way, Boston. Tickets can be purchased online, or by calling 617-278-5156, Wednesday to Monday, between 10 am and 4 pm, or at the museum and at the door on the day of the concert. Find directions here.
Join the New England Conservatory at Jordan Hall for the monthly First Monday free concert. This season's First Monday concerts are devoted to the life and works of Wolfgang Amadeus Mozart. The March 5 concert will include a performance of Mozart's Quintet for Winds and Piano in E-flat Major, K.452, a piece the composer declared "the best thing I have written in my life." Also on the program are works by Leonard Bernstein and Felix Mendelssohn.
First Monday at Jordan Hall is Monday, March 5, at 7:30 pm at the New England Conservatory's Jordan Hall, 290 Huntington Ave. Unreserved seating is available on a first-come, first-served basis. Doors open 30 minutes prior to the concert's start time.
Theater and Film
This is your last chance to catch the national touring production of the Broadway hit musical Waitress at the Boston Opera House. The run ends Sunday, March 4. Based on the 2007 film of the same name by Adrienne Shelly (COM'87), Waitress is the story of a young woman named Jenna who earns a shot at leaving her suffocating small-town life and loveless marriage behind by entering a pie-making competition. The musical, first staged at the American Repertory Theatre in 2015, opened on Broadway in 2016, earning four Tony nominations. Waitress is the first Broadway musical ever to have the four top creative roles—book, score, direction, and choreography—filled by women.
Waitress is at the Boston Opera House, 539 Washington St., Boston, through March 4. Find tickets and time information here.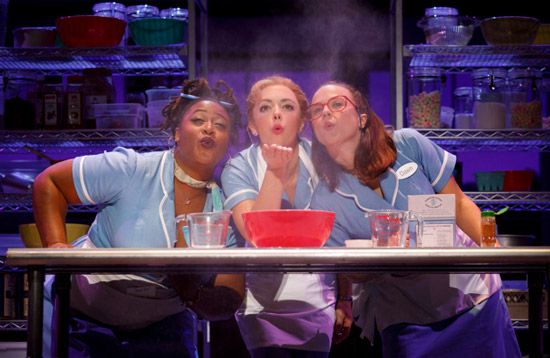 Few contemporary theater companies in America have enjoyed the success and attention that New York City's Bedlam theater company has in recent years. Renowned for its unconventional casting and the physicality of its performances, Bedlam is bringing Shakespeare's Hamlet and George Bernard Shaw's Saint Joan in repertory to the Cutler Majestic Theatre. Just four actors perform all of the roles—49 characters in total. "Riveting, surprisingly funny, and unsurprisingly moving" says the Boston Globe. Bedlam's double feature should entertain and inspire. Catch one or both this month.
Hamlet is being performed from March 7 to 25 and Saint Joan from March 9 to 24. Both are at the Emerson Cutler Majestic Theatre, 219 Tremont St. Find directions here. Tickets start at $20. Purchase tickets to Hamlet online here and tickets to Saint Joan here. 
The Huntington Theatre Company brings playwright Dominique Morisseau's latest installment of her Detroit Project play cycle to the Boston Center for the Arts. Skeleton Crew is set in the breakroom of the "last small auto plant in Detroit." As the play unfolds, a group of workers exchange stories and dreams, but tensions rise and relationships are tested when word comes that the auto plant could be closing. See why the New York Times called the play "warm-blooded and astute."
The Huntington Theatre Company's production of Skeleton Crew is at the Calderwood Pavilion at the BCA, 527 Tremont St., Boston, through March 31. Find directions here. Ticket prices vary and can be purchased online, at the Calderwood Pavilion box office, or by calling 617-266-0800; $20 tickets are available to all performances for full-time students age 25 and under; valid ID required. Members of the BU community receive a $10 discount with a valid ID.
This drama, by Walt McGough (GRS'10), a graduate of BU's Playwriting Program, is about an NHL player who has been demoted to the minors. Directed by M. Bevin O'Gara (CFA'04), this world premiere runs at Boston Playwrights' Theatre through March 18, then moves to the Kitchen Theatre Company in Ithaca, N.Y., from April 8 to 22.
Brawler is at Boston Playwrights' Theatre, 949 Commonwealth Ave., through Sunday, March 18. Tickets are $30 for adults, $25 for seniors 62+, and $10 for students with a valid ID. Performances are 7:30 pm on Thursdays, 8 pm on Fridays and Saturdays, and 2 pm on Sundays. Tickets can be purchased online or by calling 866-411-8111.
The 90th Academy Awards telecast is Sunday, March 4, and the ICA is showing this year's Oscar-nominated short films, documentary, animated, and live-action shorts. It's become an annual tradition that draws cinephiles from all over the Boston area. Visit the ICA's website for a schedule and a complete list of this year's nominated short films.
The 2018 Oscar–nominated short films will be shown at the ICA, 25 Harbor Shore Drive, Boston, on Saturday, March 3. Tickets can be purchased online. General admission tickets are $10, $5 for students and ICA members. Find regular museum hours, admission prices, and directions here.
Museums
The MFA is currently presenting the first-ever Boston exhibition of original prints by famous Dutch artist M. C. Escher. The show includes 50 works, culled from public and private collections, that showcase both Escher's rich imagination and his extraordinary technical skill. Infinite Dimensions explores many of the themes that define his work, including tessellations (arrangements of repeated shapes that fit together without any gaps), transformations, water reflections, and more. Check out Escher's 13-foot-long Metamorphosis II, an exploration of the fluidity of time and space, where a chessboard, a hive of bees, a rustic village, and other elements merge into a continuous woodcut printed from 20 blocks.
M. C. Escher: Infinite Dimensions is on view at the Museum of Fine Arts, 465 Huntington Ave., Boston, through May 28. Find regular hours and admission prices here (free to BU students with ID). Find directions here.
This exhibition reveals the mathematical patterns that surround us every day in the real world—from the nestled spirals of a sunflower seed to the ridges of mountain ranges. The showstopper is an elaborate 1,800-square-foot maze, where visitors can get lost in an endless pattern of mirrors. It's an excellent, fun introduction to patterns and the integral role of math in our lives. Expect to hit a few dead-ends, but if you can discover the small, secret room hidden within the maze, you'll be rewarded with bonus puzzles and artifacts. You can also step inside an immersive theater and watch incredible footage of the human body, art and architecture, and nature. By taking part in hands-on activities, such as measuring your own wingspan and creating computer-generated landscapes to play a multistring harp, you can create your own mathematical patterns.
A Mirror Maze: Numbers in Nature is on display at the Museum of Science, One Science Park, Boston, through April 25. Admission is included with an Exhibit Hall ticket. Find more information and tickets here.
The ICA's newest exhibition examines the radical impact of internet culture on visual art. It has more than 70 works across a variety of mediums, including painting, performance, photography, sculpture, video, web-based projects, and virtual reality. It explores themes like emergent ideas of the body and notions of human enhancement, the internet as a site of both surveillance and resistance, and the circulation and control of images and information.
Art in the Age of the Internet, 1989 to Today is on display at the Institute of Contemporary Art, 25 Harbor Shore Drive, until May 20. Find hours, admission info (free for students with BU ID), and directions here. 
Athletics
Boston Bruins and Celtics at TD Garden
Cheer on the Boston Bruins at TD Garden all week. The venerable team takes on the Montreal Canadiens on Saturday, March 3, the Detroit Red Wings on Tuesday, March 6, the Philadelphia Flyers on Thursday, March 8, and the Chicago Blackhawks on Saturday, March 10. Then, on Sunday, March 11, it's the Celtics turn: they play the Indiana Pacers at 7:30 pm.
Check the TD Garden website for game times and ticket prices. Find directions here.
Terrier Athletics
With hints of spring in the air, lacrosse season is back in full swing. Stop by Nickerson Field on Saturday, March 10, to cheer on the men's lacrosse team as they face the Colgate Raiders.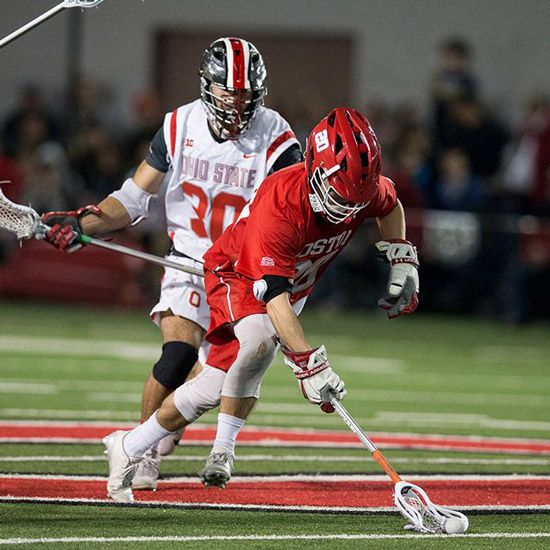 The men's lacrosse game is Saturday, March 10, at 1 pm at Nickerson Field. Admission is free for BU students with a sports pass, $5 for faculty and staff, and $8 for the general public. Tickets can be purchased online.
St. Patrick's Day doesn't officially arrive until March 17, but Bostonians, as anyone will tell you, like to get an early jump on the holiday. So don your green apparel, channel your inner Irishman (or woman), and head down to this year's annual Harpoon Brewery St. Patrick's Festival, on Friday, March 9, and Saturday, March 10. Each year, thousands gather under heated tents at Harpoon's Boston Seaport District brewery to enjoy live music, food, and of course, plenty of Harpoon beer, with seasonal offerings like Harpoon Fresh Tracks and the limited release Harpoon Craic, an Irish Red IPA that embodies the spirit of St. Paddy's Day. Note: the event is 21+ only.
The 2018 Harpoon Brewery St. Patrick's Festival is Friday, March 9, from 5:30 to 11 pm (doors close at 9:30 pm), and Saturday, March 10, from 1 to 7 pm (doors close at 5:30 pm) at Harpoon Brewery, 306 Northern Avenue. Check the website for ticket prices; additional perks and discounts are available for Friends of Harpoon members. The event is 21+.
Madeleine O'Keefe can be reached at mokeefe@bu.edu.