Promotions to Associate Professor Go to 16 on Medical Campus
Faculty from SDM, MED, and SPH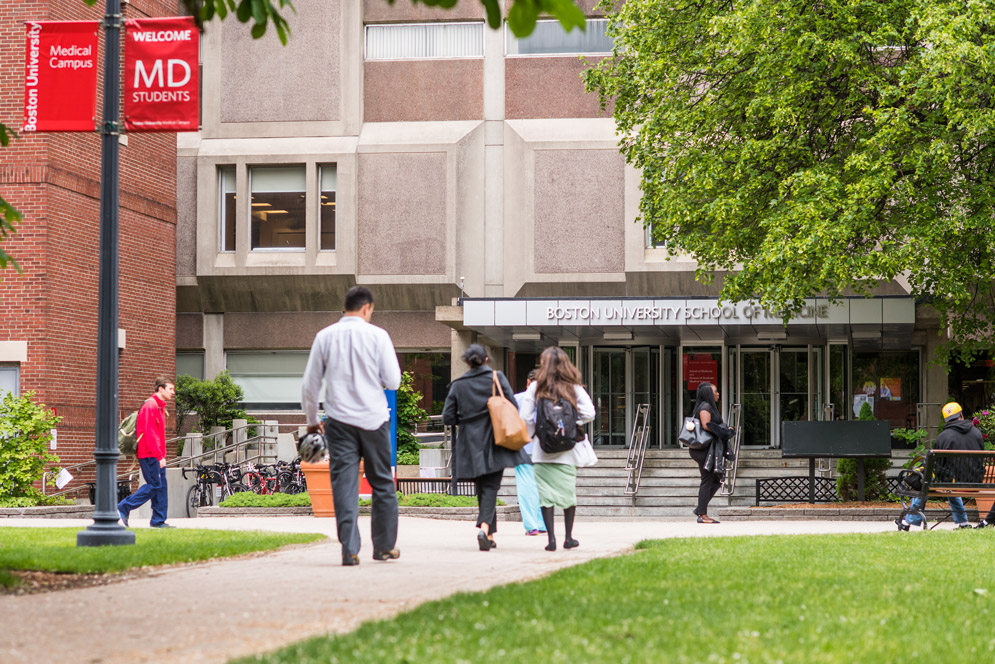 One is an emerging expert in the field of chronic kidney disease. Another has pioneered research in health disparities among asthma patients. And a third has achieved national recognition for her work addressing the epidemiology of trauma and trauma-related disorders and suicide outcomes among people who have experienced trauma. They are among the 16 faculty from the Goldman School of Dental Medicine, the School of Medicine, and the School of Public Health recently promoted to associate professor.
"Our University community has enjoyed watching these talented women and men develop from promising junior faculty into faculty of national impact and recognition," says Karen Antman, provost of the Medical Campus and dean of MED. "We are pleased to have these outstanding thought leaders on our campus, and we congratulate them on their career achievement."
Those promoted to associate professor:
Inna Afasizheva, Goldman School of Dental Medicine associate professor of molecular and cell biology
Afasizheva is considered one of the top experts in studies of mitochondrial mRNA processing. The principal investigator on a grant from the National Institute of Allergy and Infectious Diseases to study pentatricopeptide repeat (PPR) proteins as key regulators of mitochondrial gene expression, she has published 36 research articles and 5 authoritative reviews.
Andrew Salama, SDM associate professor of oral and maxillofacial surgery
Salama is the residency program director of the Advanced Education Program in Oral & Maxillofacial Surgery, responsible for the clinical training of postdoctoral oral and maxillofacial surgery residents in the clinic and the Boston Medical Center (BMC) operating room. He is frequently invited to present at national and international meetings and has authored 7 textbook chapters and 33 articles in peer-reviewed journals.
Vipul Chitalia, School of Medicine associate professor of medicine (nephrology)
Chitalia is an emerging national and international physician scientist in the chronic kidney disease (CKD) field. Focusing on cardiovascular manifestations in patients with CKD and using thrombosis as a disease model, he was the first to uncover the highly prothrombotic effect of some of the retained solutes in CKD patients. He is a scientific advisor to several leading biotech companies and an associate scientific advisory board member of Science Translational Medicine and his work has been labeled "the most mechanistic contribution to the field of chronic kidney disease and vascular biology."
Robyn T. Cohen, MED associate professor of pediatrics
Cohen is director of the division of pediatric pulmonary and allergy, responsible for the growth of the division and the expansion of services offered to pediatric pulmonary patients and the development of a program in pediatric allergy. A national expert on asthma health disparities and the pulmonary complications of sickle cell disease, she has authored 29 original research publications, cochaired the American Thoracic Society workshop on the Clinical and Research Priorities for Sickle Cell Lung Disease, and is on the American Society of Hematology expert panel to create and publish evidence-based clinical practice guidelines for the cardiopulmonary care of patients with sickle cell disease.
Jean M. Francis, MED associate professor of medicine (nephrology)
Francis is a clinician educator and innovator whose work has led to improved care of patients with thrombotic microangiopathy (TMA) nationally, as other institutions adopted the multidisciplinary team approach for patient management he began at BMC. He has delivered numerous national and international lectures on TMA and TMA team-building. He is the medical director of a collaborative effort between BMC and Brigham and Women's Hospital to create a pancreas transplant program. He is an elected national representative for the Organ Procurement and Transplantation Network and the United Network of Organ Sharing Pancreas Transplantation Committee.
Christopher V. Gabel, MED associate professor of physiology and biophysics and of pharmacology and experimental therapeutics 
Gabel is a leader in the field of axon regeneration in C. elegans neurobiology. His lab also develops various biophotonic techniques and applications, including subcellular laser ablation. He has published widely on the intrinsic cellular mechanisms of neuronal regeneration, the roles of critical subcellular calcium signaling, activity-dependent cellular mechanisms, and post-translational modifications. His work has been presented at numerous national conferences, he has been on a National Institutes of Health (NIH) study section, and he has been an invited grant reviewer for the National Science Foundation, the European Cooperation in Science and Technology, the European Research Council, and the UK Research Council.
Mikel Garcia-Marcos, MED associate professor of biochemistry
Garcia-Marcos is a pioneering investigator studying the mechanisms of intercellular communication and how its dysregulation underlies human disease. Since he arrived at MED in 2015, his work in this field has been published, many as corresponding author, in more than 15 journals, such as Nature Communications, Science Signaling, and the Journal of Cell Biology. He has led collaborations within BU and at Yale and the University of California. His work has been supported by two NIH grants and a four-year award from the American Cancer Society. He was named the 2016–2017 and 2017–2018 Karin Grunebaum Cancer Research Fellow, given to MED and Harvard Medical School junior investigators, one of only four fellows to receive two consecutive fellowships.
Craig E. Gordon, MED associate professor of medicine (nephrology)
Gordon is an international expert in the management of hepatitis C virus (HCV) in patients with CKD. He has been associate director of the Evidence Review Team for three clinical practice guidelines developed by Kidney Disease Improving Global Outcomes (KDIGO), the leading international organization for clinical practice guidelines in nephrology. He was recently guest editor of a supplemental issue of Hemodialysis International focused on HCV in CKD, and has worked in the area of procedural safety, from the development of the concept of a medical procedure service through publications identifying best practices in procedural safety for kidney biopsy and thoracentesis.
Jaimie L. Gradus (SPH'09), MED associate professor of psychiatry and School of Public Health associate professor of epidemiology
Gradus is nationally recognized for research on the epidemiology of trauma and trauma-related disorders and suicide outcomes among people who have experienced trauma. An epidemiologist at the VA National Center for PTSD, her trauma research focuses on suicidal behavior, health risks associated with exposure to traumatic stress and PTSD, and gender differences. She has authored 50 peer-reviewed papers, half as first or senior author, and is currently the principal investigator on two NIH grants. She designed a nationally disseminated PTSD 101 web-based curriculum on the epidemiology of PTSD, and has contributed to the development of nationally disseminated web-based courses on suicide prevention for VA clinicians.
Matthew Jones (MED'04), MED associate professor of medicine (pulmonary, allergy, sleep, and critical care)
Jones, director of the Graduate Medical Sciences PhD Program in Molecular and Translational Medicine and a graduate student mentor, studies inflammatory responses to acute bacterial pneumonia. He is on several institutional committees and is a reviewer of several peer-reviewed journals. He is co-PI on an NIH grant extending through 2022 and a co-investigator on six others. He is a member of several Department of Defense research review panels on respiratory health. 
George James Murphy, MED associate professor of medicine (hematology and medical oncology)
Murphy is a founding codirector of the BU Center for Regenerative Medicine, now with 50 members and 100 affiliated faculty and sizable extramural funding. His research uses multiple stem cell–based platforms to answer basic biological questions and combat human disease and focuses on the creation and differentiation of induced pluripotent stem cells (iPSC) and their use in understanding development and disease. His laboratory has generated widely used protocols and platforms for the study of sickle cell anemia and hereditary amyloidosis. He also has pioneered methodologies for large-scale production of blood cells from stem cells, allowing the first human trials of iPSC-derived platelet transfusions.
Julia C. Prentice, MED associate professor of psychiatry
Prentice is the director of the Health Care Financing and Economics group at the VA Boston Healthcare System and is an emerging leader of Veterans Affairs (VA) health policy. Her research focuses on health quality and treatment outcome correlations with appointment wait times in the VA healthcare system that has resulted in major policy changes throughout the system. She has also mapped treatment outcomes to specific medications, now supported by grants totaling about $3 million, and she serves on several national VA committees.
Jeffrey J. Siracuse, MED associate professor of surgery and radiology
Siracuse is an expert on both peripheral and aortic vascular surgery. He led BMC's certification to perform complex endovascular fenestrated abdominal aortic aneurysm repair. He has authored or coauthored more than 90 peer-reviewed manuscripts, with a research focus on perioperative optimization and comparative effectiveness of vascular and endovascular surgical procedures. He has received both NIH and specialty society funding, is on several regional and national committees, and has been a principal investigator and co-investigator in many clinical trials. He recently received a grant from the Vascular and Endovascular Surgery Society to perform a prospective study examining perioperative nutritional optimization in patients with critical limb ischemia.
Allan Walkey, MED associate professor of medicine (pulmonary, allergy, sleep, and critical care)
Walkey is a leading expert in the clinical impact of atrial fibrillation in sepsis. His research seeks to improve processes and outcomes of critical care, reduce cardiovascular complications of sepsis, better account for patient goals in the delivery and evaluation of healthcare, and develop novel methods to compare outcomes in observational research. He has a track record of research, with more than 100 pieces published in journals such as JAMA, JAMA Internal Medicine, and the American Journal of Respiratory and Critical Care Medicine. He also is codirector of the Center of Implementation and Improvement Sciences, which works to improve the rigor of efforts to translate research into practice.
Andrew A. Wilson, MED associate professor of medicine (pulmonary, allergy, sleep, and critical care)
Wilson is a pulmonary and critical care clinician-scientist with a focus on regenerative medicine and stem cell biology. His research involves advancing the understanding of, and treatment for, genetic causes of chronic obstructive pulmonary disease (COPD) and the lung and liver diseases associated with the alpha-1 antitrypsin deficiency (AATD), largely through the platform of patient-derived stem cells. He has overseen the creation of, and directs, one of the world's largest repositories of reprogrammable blood samples associated with participants in the Framingham Heart Study. He also leads an epidemiological study to define the incidence and risk factors of liver diseases associated with AATD. He is the founding director of the Alpha-1 Center at BU and BMC, one of the largest clinical centers for patients with AATD in the region.
Madeleine L. K. Scammell (SPH'08), School of Public Health associate professor of environmental health
Scammell is an expert in community-driven and interdisciplinary environmental health research, primarily in low-income communities with numerous social and environmental stressors. She is well-known for community-based participatory research and the use of qualitative methods in environmental health sciences, has written more than 50 peer-reviewed journal articles, reports, and papers in practice-oriented publications, and has developed and maintained an externally funded research portfolio. She is a JPB Environmental Health Fellow at the Harvard T. H. Chan School of Public Health and has received an Outstanding New Environmental Scientist (ONES) R01 award from the National Institute of Environmental Health Sciences to conduct a cohort study of workers in El Salvador and their exposure to heat, heavy metals, and agrichemicals.