Alum Helps Artists Navigate the Business Side of Making Art
Arts admin advocate, mystery writer starts online school providing tools to succeed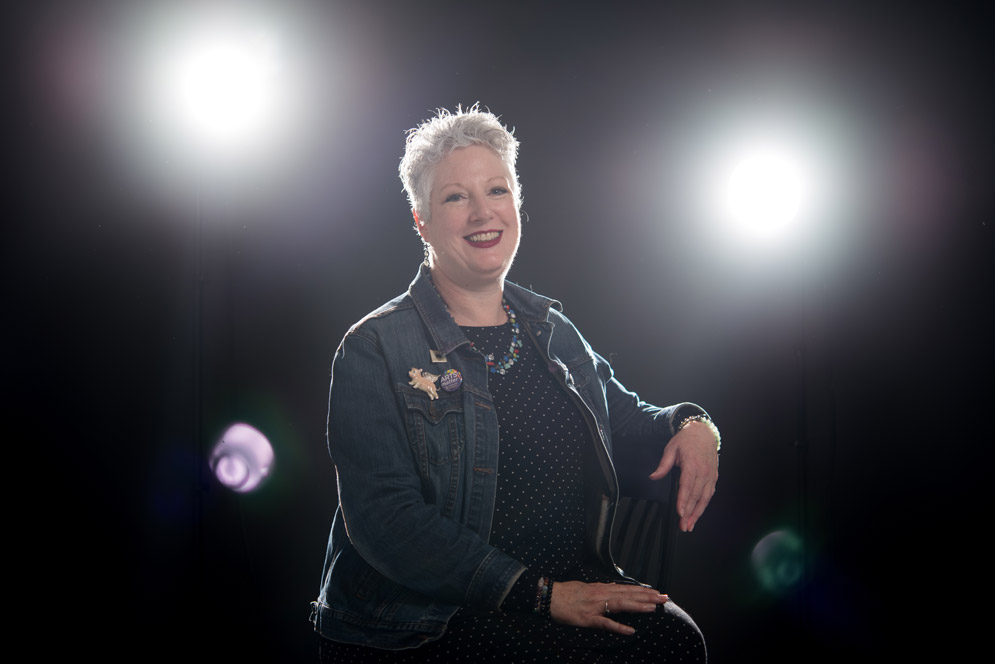 As a BU undergraduate, Julie Hennrikus studied advertising, but theater became her real passion.
"My freshman year, I was trying to figure out where I fit in. I went to the No Nukes group and this and that," says Hennrikus (COM'84). And then she found Stage Troupe, BU's oldest performing group for undergrads not majoring in theater. "I'd done a little theater my senior year of high school, so I'd gotten the bug. They brought me in as stage manager, and I did Kennedy's Children. It changed my life. I met people who are still my friends all these years later, many of whom have gone into theater, even though we were nonmajors."
After graduating from the College of Communication, Hennrikus landed a job in advertising, but when a friend told her that the Charles Playhouse needed a house manager for a production of Little Shop of Horrors, she jumped at the chance, and took the job as a side gig. Before long, she left the ad job to go to the Next Move Theater as company manager for a show called A…My Name Is Alice.
"It closed in six weeks and my parents had a nervous breakdown," Hennrikus recalls. "I said, give me two years to see if I can figure out how to make this work, because I love theater."
Work out it did. She went on to take a job as program manager of Harvard University's Memorial Hall/Lowell Hall Complex (home of Sanders Theatre) and then general manager of Emerson Stage, as well as running the box office for the Charles Playhouse production of Nunsense.
And for the last seven years, Hennrikus has been executive director of Stage Source, a nonprofit theater service organization that provides nuts-and-bolts professional development programs and open auditions. She has expanded the Stage Source mission to tackle sexual harassment and diversity issues in local theater.
"I had no idea how hard it would be, but it just seemed like I could make an impact in a different way," she says. "It has made me a fiercer advocate. I've realized the importance of the arts beyond being something pretty to see on a night out. Creative thinking and collaboration and all the things we do in the performing arts are the secret sauce to making a real difference."
No guarantees in the arts
Now, Hennrikus is taking her decades of arts administration advocacy to the next level. She'll leave Stage Source in early August, and this week she launches Your Ladders, an online arts administration school built for artists and developed from classes she's taught as an adjunct at BU, Emerson, and Boston College. The new venture will offer online courses covering topics from spreadsheets to marketing and developing business plans, going for practical instruction, not deep theory. The learn-at-your-own pace classes, priced at $297, are designed for artists as well as arts managers. The company name comes from the notion that there's no one straight route to success in the arts—it's more of a roller coaster, Hennrikus says—but there are ladders you can use to get to the next level.
"People in the arts know there are no guarantees," she says. "There's not a clear path to success with benchmarks, as there is with lawyers and doctors. You can have a very successful production and then not work for a year. I want to move people to another level in understanding the basics of the business so they can reach success."
The aim of the practical classes is to provide artists with the tools necessary to help them plan their career, produce a show, and enhance their general knowledge of the business. One of the courses, Money, offers guidance on how to align your budget with your values and how to develop a message that helps an artist or company more easily raise funds for a production or an installation. The marketing course gives advice on how to build your brand, how to create a marketing campaign, and how to identify your target audience.
She says she'd been thinking a lot about the resources people in the arts need to make their professional lives work, and a former student told her she'd found the particular tools she'd picked up in a class with Hennrikus useful and helpful.
"Teaching college classes in the subject impacts a few students a semester," she says, but she wondered, "was there a way to impact more people at various stages of their careers? To provide practical classes in business, while cheering artists on to make their work? To create a platform that would be accessible by folks anywhere, at any time, for a reasonable investment? There will be a market for it. More importantly, my work will have greater impact, and that is a gift at this point in my career."
Despite her love of theater, Hennrikus has never been tempted to step on a stage herself. "I never acted," she says. "I was always too shy."
But armed with a master's in English and American literature and language from Harvard, she has found another creative outlet: she recently became a mystery writer. She is the author of the Clock Shop Mystery series (under the pen name Julianne Holmes) and the Theater Cop series (as J. A. Hennrikus).
"I always liked writing, but didn't start trying to get a manuscript done until I was over 40," Hennrikus says. "I just got published three years ago. It is a journey, but it gives me enormous satisfaction. I enjoy that I give folks a respite from everyday life, that I give them a puzzle to think about, and that I make a deal that things will get solved."
Now a member of Mystery Writers of America and the New England chapter of the writers group Sisters in Crime, as well as being on the board of Sisters in Crime, Hennrikus says there are crossover benefits too. She can better understand and support performing artists because she knows firsthand how the creative process works and how much it takes to be good at making art.
Being a mystery writer also keeps her level-headed during difficult meetings, she adds with a smile. "I keep the drama on the page, and use particularly difficult people as fodder for the characters in my books."
Circling back to her latest venture—Your Ladders—Hennrikus says her need for a new professional challenge has been driven by concerns about the overall direction of our country. "This last year has been a crisis of faith for a lot of us," she says. "For me it's a question of, has what I spent my life doing really mattered? I think it matters, not because it's valued by our society, but because of the potential impact it could have on our society and creating opportunities for empathy and storytelling that offer a different point of view.
"The work is important," she says. "I'm just realigning with that and figuring out what more I can do."