Oscar-Winner Michael Douglas on Acting, Choosing Roles, and Netflix
At BU to receive Bette Davis Lifetime Achievement Award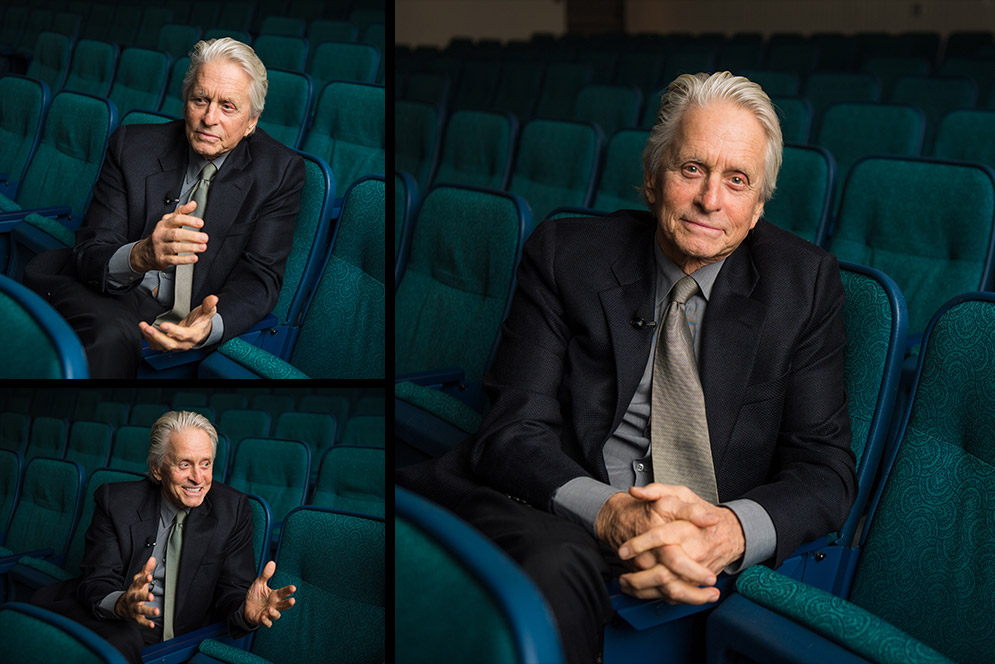 Over a Hollywood career spanning more than 50 years and starring roles in such classic films as Wall Street, The China Syndrome, Fatal Attraction, and Wonder Boys, actor Michael Douglas has won nearly every award in the industry, including two Oscars and an Emmy. Less well known is the early stage fright that made him physically sick or that his father, legendary actor Kirk Douglas, thought his son's college performances were, well, "terrible."
Neither deterred him, Douglas told a crowd of hundreds gathered to hear him speak on Wednesday night at BU's Metcalf Hall.
"I was a grinder," said Douglas, now 74. "I kept at it."
With an easygoing swagger and a crop of silver hair, Douglas was at BU to accept the Bette Davis Lifetime Achievement Award, presented by BU's Howard Gotlieb Archival Research Center and the Bette Davis Foundation.
The award honored Douglas' work and his "uncanny knack for choosing projects that reflect changing trends and public concerns." Among past recipients are Oscar-winning actors Lauren Bacall, Susan Sarandon, and Geena Davis (CFA'79, Hon.'99).
During the ceremony, Gotlieb Center director Vita Paladino (MET'79, SSW'93) introduced Douglas as an intrepid actor and producer, one who was never interested in "taking the easy way out."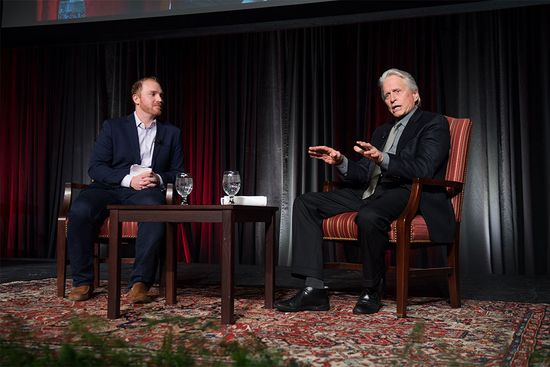 It was Paladino who convinced the actor to donate his papers and other career memorabilia to the Gotlieb Center, including many items currently on display, such as the official Academy Award envelope and card naming him best actor for his portrayal of Gordon Gekko in 1987's Wall Street, as well as personal letters and photos from his father and actor Jack Lemmon.
Douglas sat down for a conversation with Jeremy Hobson (COM'04), cohost of the NPR show Here and Now, coproduced by WBUR, prior to receiving his award. He told Hobson he enjoyed the Gotlieb exhibition, that it was "an emotional reminder" and a treat.
He said he thinks his career success can be traced in part to searching for scripts and stories that moved him, and that his interest first and foremost has always been in a movie's theme rather than who he'd be working alongside.
"I'd rather have a little part in a good movie than a big part in a bad one," he said. "That's my big advice as an actor. Look at the material rather than looking at the part."
Douglas branched out into independent feature film production after several Emmy nominations for his breakout role as a cop in the 1970s TV series The Streets of San Francisco. He produced One Flew Over the Cuckoo's Nest, which won five Oscars in 1976, including a best picture nod for Douglas, and he has since picked wide-ranging projects that span several genres, from comedy (Romancing the Stone) to social commentary (Traffic) to off-beat dramas (Wonder Boys).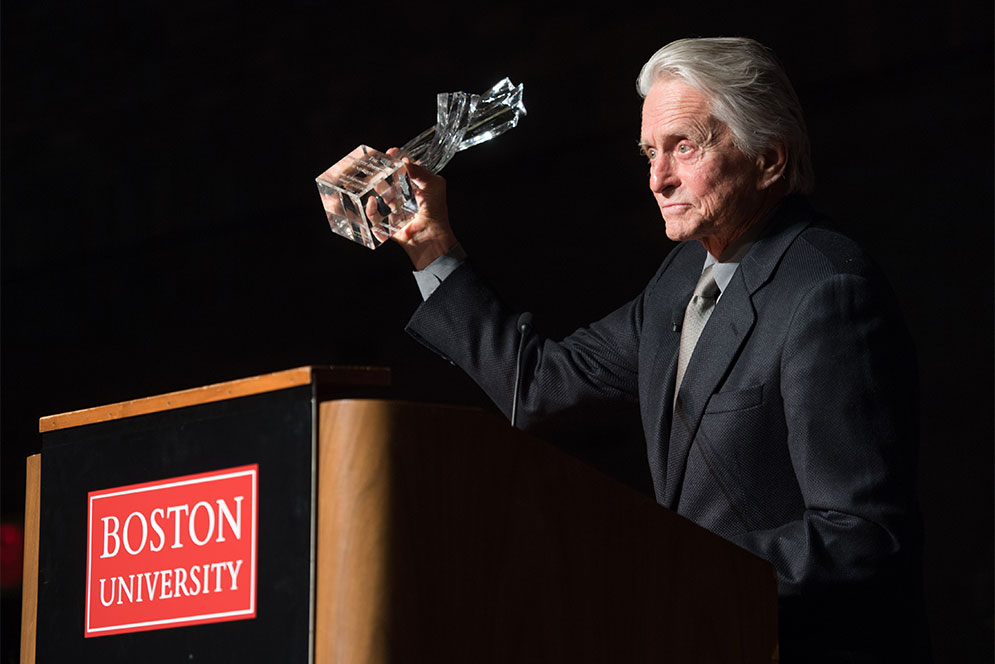 Some of his biggest roles have been as villains, most memorably in Wall Street. Douglas says he's still back-slapped for his depiction of a character who famously proclaimed that greed is good.
"People loved Gordon Gekko," he said. "If I get one more drunk Wall Street guy coming up to me and saying, 'You're the man, you're the man—I want to say, 'Hey, he went to jail.'"
Many of Douglas' characters from that era were alpha men who found themselves in situations that often ended badly. He said that during the initial release of Fatal Attraction, where he played a married lawyer whose one-night stand turns his life into a horror show, he realized his likeability was part of his appeal in such roles. Viewers laughed at the scene of him rumpling the bedsheets to make his wife think he'd slept at home. That moment, he said, prompted one of the producers to marvel at how viewers were inclined to forgive his character because they liked him.
"People will let you get away with a lot," he said.
Several years ago, Douglas was treated for stage IV throat and tongue cancer. He said it was a difficult period, noting that two friends had died after being diagnosed with similar cancer.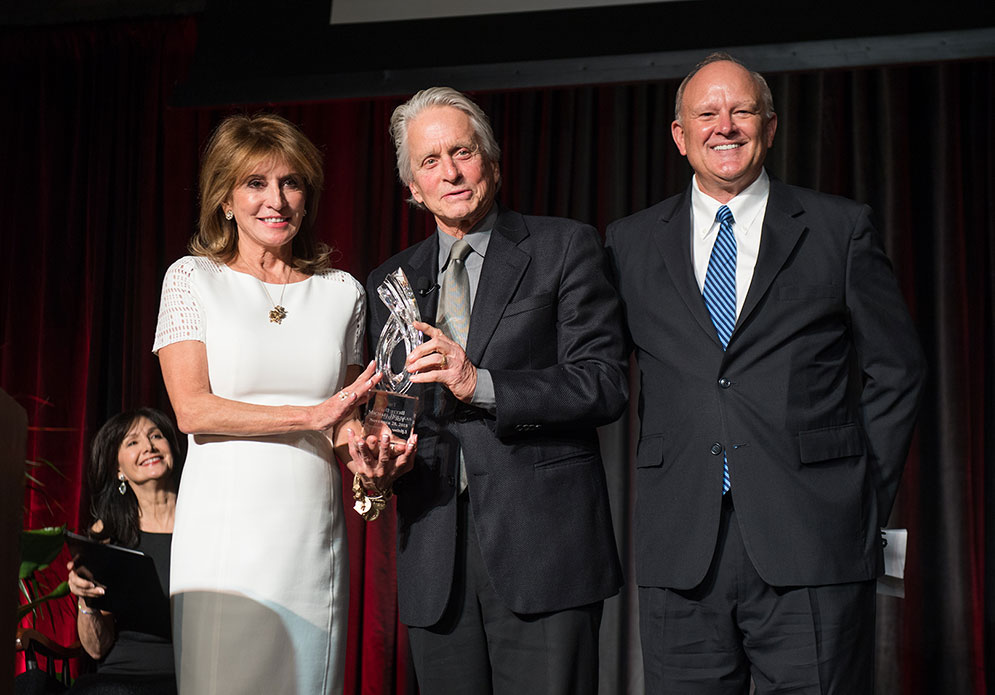 He underwent chemotherapy and radiation, and went on to an Emmy-winning star turn as Liberace in the 2013 HBO biopic Behind the Candelabra, with actor Matt Damon. The Hollywood Reporter said his performance was "one of the two or three most electric and dialed-in performances he's ever given on screen."
In addition to the Bette Davis award, Douglas was scheduled to receive the Coolidge Corner Theatre Foundation's Coolidge Award Thursday night. (Previous winners include Jane Fonda, Werner Herzog, and Meryl Streep.)
Douglas, currently starring in the Netflix series The Kominsky Method as a once sought-after acting coach to the stars now making a living teaching Hollywood wannabes how to audition for sitcoms and commercials, told the BU crowd that he has no intention of slowing down. (His father has worked on more than 90 films, and turns 102 next month.)
Asked if he thought Netflix and other streaming services were good for Hollywood, Douglas said his wife, Oscar-winning actor Catherine Zeta-Jones, has begun a series for Facebook Live called Queen America.
And he likes the way new media outlets are producing content in shorter time frames, he said. Behind the Candelabra was filmed in 30 days and picked up by HBO after a couple of major studios took a pass.
Douglas noted that last part with delight: "Screw you, studios, take that."
Watch the trailer for The Kominsky Method here.
Megan Woolhouse can be reached at megwj@bu.edu.