Lunch Anyone? Eventide Fenway
Maine eatery's famed oysters and lobster rolls now in Boston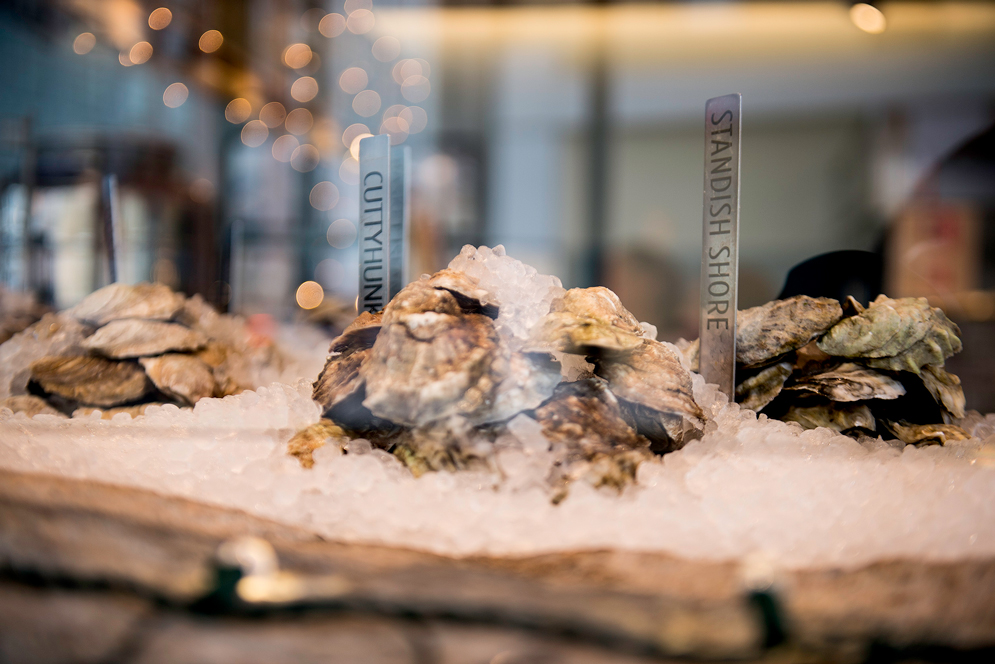 Attention seafood lovers: Eventide Oyster Company, the popular Portland, Maine, eatery known for its lobster rolls and fresh Maine oysters, now has a scaled-down outpost in the Fenway, offering many of its classic staples in a counter-service setting. The appropriately christened Eventide Fenway has been drawing big lunch crowds since opening in October.
You'll walk into a sleek and spacious space that couldn't be less like your typical waterside crab shack. Light blue walls surround the stools and counters and the floor-to-ceiling wraparound windows give great views of the hustle and bustle of Boylston Street while you relax to mellow music playing over speakers.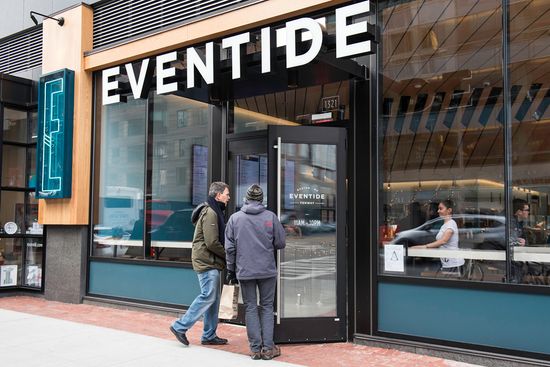 The menu is on massive flat screens, and once you're ready to order, a friendly server marks your choices on a tablet. A text lets you know when to pick up your food from the rock-walled counter, where you can also catch a glimpse of the oyster shucking process.
Eventide offers a variety of fresh, quality seafood. The oyster menu rotates frequently, but a half dozen will run $16 and a dozen $29. And you can choose from a lot more than cocktail sauce or lemon juice: each order comes with two "accoutrements," which include bold flavors like tabasco ice, kim chee ice, and horseradish ice. Of course you'll find the restaurant's famous fish sandwich ($10) and stalwarts like New England clam chowder ($11) and Maine lobster stew ($16), the latter served with coconut and green curry. But the real draw is the iconic brown butter lobster roll ($19).
Those familiar with traditional lobster rolls may initially balk at Eventide's interpretation of the classic. Gone are the cold mayonnaise-drenched bits of lobster meat you normally find. Instead, chunks of lobster are heaped into a squishy bun and coated with warm brown butter. The buns, while delicious and fluffy, are only slightly larger than a hot dog bun, but as much lobster and brown butter is piled into them as possible. You'll need a fork to pick up the fallout. The lobster meat is creamy and ideally cooked and the brown butter, while nontraditional, was a pleasant surprise. It lends umami and fatty flavors that perfectly complement the sandwich without overwhelming it.
Not in the mood for seafood? No worries. Other mouthwatering options include the popular Eventide Burger ($10), with gochujang-tallow mayonnaise, and the Fried Chicken Katsu Sandwich ($11). And vegetarians won't be stuck eating off the sides menu: there's a Smoked Tofu Sandwich ($9), with onion rings inside the bun.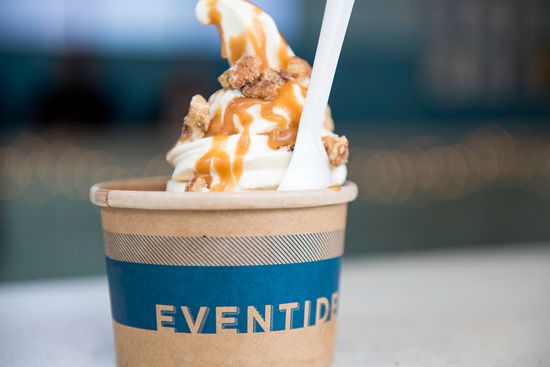 Eventide has a small, but noteworthy selection of desserts, including Oatmeal Cream Pies ($4), Whoopie Pies ($4), and Charred Corn Soft Serve ($6). But the real star, as we found out firsthand, is the Brown Butter Soft Serve ($6), topped with a maple pecan crumble and a warm bourbon caramel. Chances are you've never experienced this kind of soft serve. Banish all thoughts of McDonald's and Dairy Queen. Yes, it still comes out of a machine, but the quality of ingredients and the brown butter flavor make for one of the most sweetly unique experiences you'll find anywhere. The salty-sweet richness is unparalleled and the maple-candied pecans and bourbon caramel add excellent layers of crunch and warmth. There is a small menu of house-made sodas ($4), as well as beer and wine.
Eventide may be a little on the pricey side for a quick lunch, but it isn't as expensive as a number of other seafood places in town. And with its convenient location, fast and friendly service, and fresh seafood, it's already proving a worthy outpost of its Portland home base.
Eventide Fenway, 1321 Boylston St., is open daily from 11 am to 10 pm. It accepts all major credit cards and is wheelchair accessible. Take an MBTA Green Line trolley to Fenway.
This is part of a weekly series featuring Boston lunch and brunch spots of interest to the BU community. If you have any suggestions for places we should feature, leave them in the Comment section below.
Alex Pena (COM'19) can be reached at alexgp97@bu.edu.
This Series
Also in
May 10, 2018

April 26, 2018

April 18, 2018