Not Acting Her Age
At 91, alum Jo Farkas proves it's never too late for a second career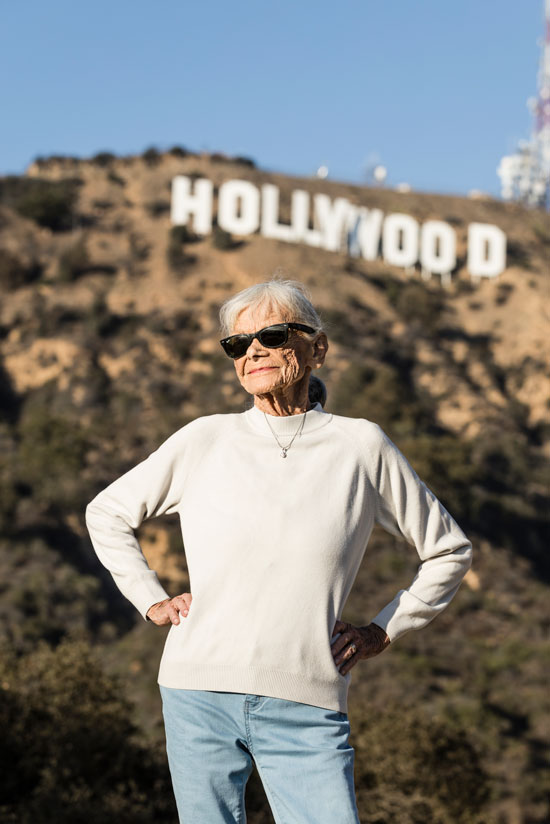 Jo Farkas has played a crazed woman who accidentally kills her husband on TNT's Southland and a grandmother demanding that her family euthanize her in the Showtime series Weeds. She even appeared as a weightlifter clad in '80s gear in the Pharrell Williams 2015 video "Freedom."
Her credentials read like a veteran Hollywood performer's, not like those of a 91-year-old retired school psychologist who came upon acting as a second career.
Farkas' account of how she broke into acting isn't quite as dramatic as the many roles she has played over the years. After moving to Los Angeles, she says, she learned that she "could pay a small fee to be seen by casting personnel in workshops." Next thing she knew she was cast in her first role, a spot in The Young and the Restless. She was 63.
Farkas (Wheelock'49,'60) was a retired school psychologist living in Baltimore, she says, when "I decided I wasn't going to grow old watching the whales go by, so to speak." She moved to the tiny northern California town of Gualala and was chosen for a leading role in the San Francisco production of Kudzu by the late playwright Jane Chambers. She moved to Los Angeles in 1990.
What followed she chalks up to "dumb luck." She was cast in the film Army of Darkness, but her part was cut. Nonetheless, just showing up for that role gave her union status, and other parts followed, including her role on The Young and the Restless. "It's really amazing," she says. "I didn't know what I was doing and it was all right. It just kind of fell into place. I paid to get an agent, and then I started working regularly."
That's not to say the work is easy or glamorous. Most of the parts Farkas has taken have filmed in a single day, although some, like her multi-episode arc as Bubbie on Weeds in 2008, lasted several days. She played an ailing, bedridden Jewish grandmother. "I had no words except one burst of Yiddish," she says. "It was incredibly boring—I laid in a bed all day. Whenever I was on camera I was in the bed. And I was on camera a lot. But, the food was great—they had great craft services."
In a season five episode of the hit FX series American Horror Story, she played an elderly woman who shoots her husband in a mercy killing (they have a pact, and he shoots her back). "I laid 'in cold blood' for hours," she says. "It was ghastly. A woman in the scene did not learn her lines, and we repeated it over and over again. It was literally hours just lying there. It's not all glory. It's hard work."
But Farkas isn't complaining. She has fond memories of a small role in season seven of Showtime's Shameless: a senior citizen on a bus who is robbed while on her way to a casino. "So, I was on this bus on a hot, hot day in LA for a few hours. It was not air-conditioned, and we were in winter clothes because it was supposed to be set in Chicago. We were dripping, and that was unpleasant. I had maybe two words—I think I said, '[expletive] you!' But, I had a good time doing it." That was thanks in large part to Shameless star William H. Macy ("He was a sweetheart.")
Her favorite role was Jeanne, the woman she played on Southland. "It was a wonderful role. She was nuts—she kills her husband accidentally, thinking he was an invader in her house, hitting him over the head with a hammer. I had a ball doing it. I loved acting so psychotic."
Farkas, who grew up in Newton, Mass., attended Connecticut College until her junior year, when she transferred to Boston University to be closer to her then-fiancé. Married life, children, a master's degree in school counseling, and a job in Newton public schools followed. She would later divorce, then remarry, and move to York, Pa., where she acted in community theater. After another divorce, she moved to Baltimore, where she continued to work as a school psychologist and do theater on the side.
Besides film and television roles, Farkas has done a few commercials—she was the star of one of the commercials in the viral John Krasinski–directed Hold My Beer campaign for Bud Light—and has even had a couple of stints on Jimmy Kimmel Live! including a recent skit called "Generation Gap."
Farkas says that lately she has started to "think into my elderliness," and she hasn't accepted as many regular roles. "I was always a compulsive worker, but I'm starting to be happy doing my crossword puzzles, hanging out, watering my plants. I'm amazed I've finally gotten to that point."
But, if the right role comes around? "I definitely won't say no."