New Global House to Replace Specialty Language Houses
Opens next fall, with application deadline February 5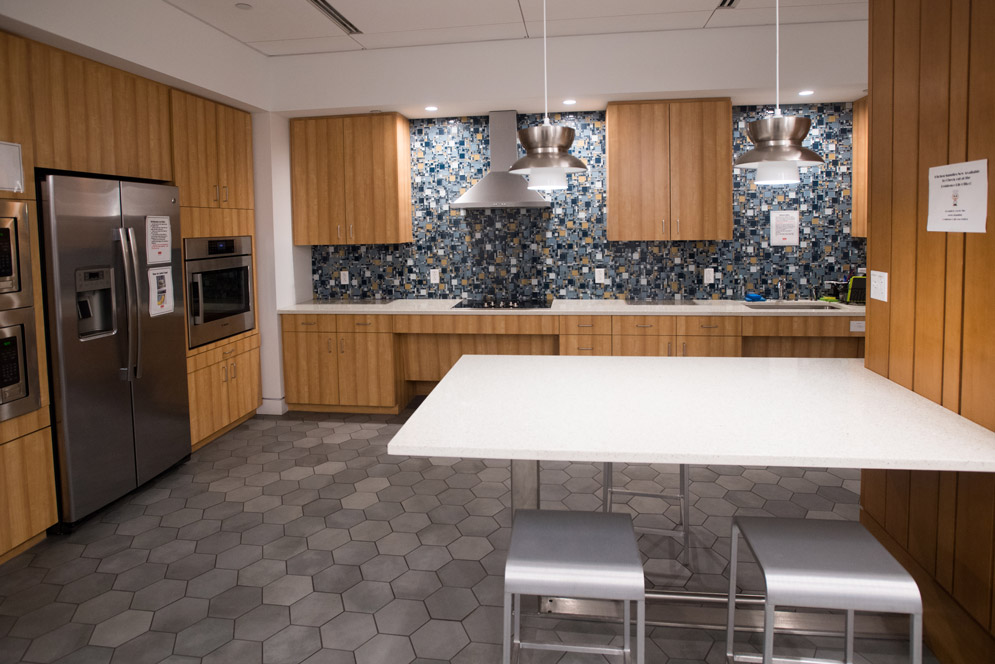 New residential space at Myles for 80 students studying a foreign language
Students will participate in group outings, meals, and discussions
Deadline for applying is February 5
---
Good-bye, BU language houses, hello, Global House. BU's newest residential community, for students interested in immersing themselves in a foreign language and receiving academic credit for it, will open this fall.
Global House is technically not a house, but the fourth floor of newly renovated Myles Standish Hall. It will be home to about 80 students who share a common interest in a foreign language and experiencing other cultures. The deadline for applications is Monday, February 5.
Students interested in advancing their French, for example, may want to live there to be near other French speakers, but will also be part of an international community that will meet regularly for communal dinners, movie nights, and cultural outings. Global House might show a German Expressionist film one evening or offer a talk by a language faculty member another, says house director Lillie Webb (GRS'10,'17), a College of Arts & Sciences lecturer in French.
"The sky is the limit," Webb says of the opportunities. "Students will get enormous educational breadth living here. Essentially, we'd like the experience to be like traveling without going anywhere."
Programming will center upon 12 language clusters: French, Spanish, Arabic, Italian, African languages, Hebrew, Portuguese, Chinese, Japanese, Korean, German, and Russian. Rising sophomores, juniors, and seniors with a proficiency in one of those languages at the second semester level or above are eligible. Global House will also be staffed by several language leaders, typically native speakers, who will help come up with and arrange residential programming for specific language groups and the wider community.
Part of the allure of Global House will be the building itself, says Marc Robillard, assistant vice president of Auxiliary Services at BU.
BU's oldest dorm, Myles Standish Hall was built as a hotel in the mid 1920s. The University is nearing completion of a $133 million renovation of the building. Improvements include air-conditioning, new suites of rooms with their own bathrooms, and oak-paneled community areas for lectures and presentations. The Global House floor will also have its own specially designated lounge and multipurpose room. Residents will share a state-of-the-art first floor kitchen with an enclosed seating area and fun touches like a colorful tile backsplash.
Because food is important in any culture, Robillard says, he thinks it will be a meeting place where residents can hold group dinners featuring ethnic specialties. "The kitchen is a big part of Global House," he says. "It's a critical part of the community."
The suites may be home to students who speak different languages, he says, but the University will try to accommodate requests for preferred roommates or suitemates.
The hope is that Global House will help students get a richer language and cultural experience, while making University housing more efficient, Robillard says. Students who are not interested in languages have occasionally been placed in BU's six language houses because of space constraints. Those six houses will be converted to general housing next fall.
Rooms in Global House will be about 10 to 15 percent more than living in a language house now. Housing rates for the next academic year have not yet been set, says Robillard, but currently a single room is $13,090 and a double or a suite is $11,400 per student annually.
Webb says about 50 people have applied to live in Global House so far. The application has several questions and requires a brief essay about why students are interested in applying and what they hope to contribute to the experience.
Megan Woolhouse can be reached at megwj@bu.edu.