Dining Services Rolls Out New Website
Enhanced menus, easier navigation, and lots of mouth-watering photos
"Fresh, fun, friendly."
Those were the instructions Dining Services gave to the folks at the BU Marketing and Communications (MarCom) creative services team as they began a major overhaul of the BU Dining Services website.
A look at the redesigned website tells you they took those instructions to heart. The bold fonts, new color palette, and lots of mouth-watering photos of dishes prepared in the dining facilities are just the start.
The redesign was inspired by feedback from student focus groups in 2016. It was apparent from the students interviewed that the website, while functional, wasn't clicking with its target audience—hungry undergraduates.
"It was time for a change," says Paul Riel, associate vice president for auxiliary services, who oversees campus food programs.
The changes can be seen everywhere. The streamlined homepage works for both desktop and mobile devices. Rhetty-To-Go meal-ordering has been updated so creating meals and placing orders is easier than ever, and there's now meal plan information that comes with a helpful FAQ guide.
One of the most popular new features is the enhanced "Open Now" page—a revamp of the previous site's "Menus and Hours" page, which was most popular with mobile users, says Nicole Berard, MarCom associate director of content strategy, who led user research for the project. The dining website draws more mobile traffic than any other site on campus, making accessibility and user-friendliness priorities for the redesign, she says.
The new "Open Now" page can filter currently open dining locations on campus by food offered, location, and even payment method. Students can hit the bright green "Open Now" icon in the upper right corner of the homepage (for mobile users it's the "hamburger" icon), then set preferences using the drop-down menu, or just search for a specific venue in the search bar. It also provides callouts for locations opening or closing soon.
You can also now filter menus, making it easier for students with dietary restrictions or allergies to find food they can eat at specific dining halls. From the "Open Now" page, hit "See menu" for your dining hall—at the top of the list of foods available is an option to "Filter by allergies & dietary restrictions."
Another important feature is an emphasis on providing better information about the nutritional content of various dishes. By simply clicking on the name of a specific dish, you can see a food label–like breakdown of macronutrients, serving size, ingredients, allergens, and how it adheres to certain diets.
"Overall, people have increasingly cared more about what is in their food and where it comes from," says Elizabeth Sauter (Sargent'13), a Sargent Choice Nutrition Center nutritionist. "Any students, regardless of whether or not they have a food-related medical condition, would find this information useful. For students managing intolerances, the menu also provides an easier way to manage their symptoms."
It wasn't easy to compile all this important information. "Dining, unlike most food service places, uses fresh, local ingredients," says lead website redesigner Ashley Kolodziej, MarCom assistant creative director of interactive design. "That presents a real data challenge in that Aramark, BU's food service provider, doesn't have the nutrition info for locally sourced produce like Jonathan's organic sprouts."
To make sure students get accurate data about the food they eat, each menu item's nutritional profile is calculated by Sargent College registered dieticians. The updated information "allows people to make better decisions, or more informed decisions, around what foods they're going to consume," says Riel.
This information makes it safer for students with allergies or dietary restrictions to make food decisions, but Sauter recommends they confirm ingredients and prep methods with a manager at point of service.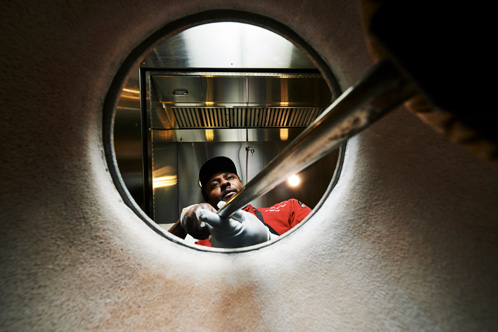 The website's most eye-catching new feature is the stunning food photography. Janice Checchio, MarCom associate creative director of photography, says it took a lot of planning: figuring out which dishes to photograph and where and how to highlight Dining's unique features.
It was important that the photos convey what's available at BU dining venues—not just the food, but the dishes and utensils used as well, to make them as authentic as possible. Students will recognize the square black plates from the dining halls or the red dishes from the George Sherman Union food court, personalized elements that show the photos are not stock images—everything in the photos is available from dining halls or retail spaces on campus.
"This website is very specific to our population and our university," says Riel.
Some students feedback:
"It's much more mobile-friendly and easier to navigate than last year's site," says Benjamin Wuesthoff (CAS'21), who checks out menus on the site before going to a dining hall. "Also, I find that the nutritional information is much more accessible, and what counts as a specialty meal—like vegan or halal—is pretty clearly identifiable."
Rachel Jiang (CAS'20) recently accessed the site on her mobile device. "I knew I was headed into West, so I wanted to see my options for lunch at Warren or Marciano Commons versus West," she says. "The layout is much better, but they list the sides with the main meals now, and that's a little confusing."
As more students use the site, Dining Services and the site design team say they're looking forward to getting feedback and continuing to improve the website to better fit the needs of the University.
After all, says Berard, "it's not just about food. It is the sense of community."
Madeleine O'Keefe can be reached at mokeefe@bu.edu; follow her on Twitter at @mokeefe_