BU Running Club Blazes Its Own Trail
For these athletes, community comes first, the sport second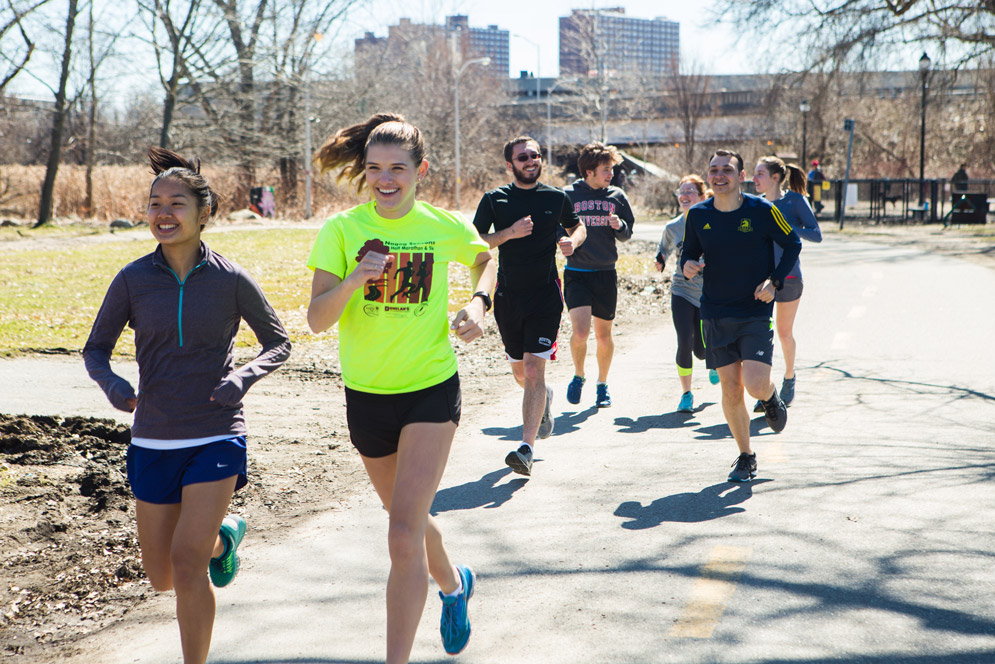 On a chilly late afternoon just before spring break, about 15 students are stretching in the Case Gym lobby before heading to the track to form smaller groups for more warmups. Neither the weather nor the improvised digs (they usually practice at the Track and Tennis Center) are a deterrent for these determined runners.
"Is anyone going on a run?" asks Hayley Gambone (CAS'20).
The answer: a resounding yes. The pack quickly splinters off, some heading into Brookline, some in the direction of Mass Ave or Cambridge for two-to-six-mile runs. This is how the members of the BU Running Club spend their weeknights.
The club began four years ago when friends Nicole Milani (CAS'16) and Jillian Rosati (CFA'16) were looking for a group to train with. There was no club track or cross country team, so they checked with Club Sports and Intramural Sports. Undaunted when they learned that there was a long waiting list for other club sports, they created a Facebook page that night, called it Boston University Club Cross Country and Track, set up a practice schedule, and made a registration form. Since then, the club (now recognized by Student Activities) has grown from a handful of students to more than 90 this past fall. (Attendance dips spring semester because of New England's temperamental weather.)
"It's incredible how many more people we have, and how many more people are really passionate about the club," says club president Cole Wirtz (CAS'19), noting that just two years ago membership was about 30.
In addition to daily workouts and runs, the club hosts a series of athletic and social events throughout the year. Open to runners of all levels, it offers routes ranging from a two-mile excursion around Chandler Pond in Brighton to six mile-plus loops to and around the Chestnut Hill Reservoir or Jamaica Pond. Many routes can be tailored for two-, three-, four-, or five-mile runs.
There are also special runs, like Marathon Sports Night, where club members run to Marathon Sports in Copley Square to buy running gear, or a weekend run through Cambridge and Arlington on the Minuteman Bikeway. Other social events include pasta-fueled dinners, nacho nights at Sunset Cantina, and trips to karaoke bars.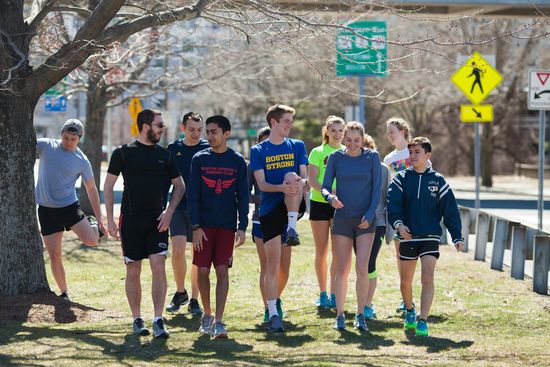 "Our club is sort of founded on the idea that you can be really devoted to running or you can show up once a month, and we'll still accept you," says Gambone, club vice president. "We're really open to everyone. There's no pressure to be a regular member or do any races or anything like that. You can just go because you want to be there."
Members say that the club's laid-back atmosphere accounts for much of its success.
"My favorite part of the club is the competitions, but not because they're intense," Wirtz says. "It's because they're not intense."
Members also pride themselves on the club's sense of community. It draws under- and upperclassmen alike, from across majors and schools. And upperclassmen often take younger runners under their wing.
"My closest friends are in the club, and my mentors are in the club," says Gambone. "I've gotten so much college advice and life advice from other runners, which I think is hard to find in a group at school. The members are good friends of mine, and I think it's probably my favorite part. I appreciate them."
But the club's success—its size and the closeness among members—can be a bit intimidating for recruits, and club officers try to make newcomers feel welcome.
"I want to make sure our new members feel like they can participate in our social events and that they understand the creed of our club," Gambone says, adding that it's about striking a balance that allows the club to continue to grow so it can be successful while also making new members feel comfortable and welcome at practices.
For Wirtz, that means starting by learning each person's name. "It's really good to make people feel like they can get something out of the club, and that they are part of it, that people care about them," he says. "Because running, as much as I think it's a very solitary sport, it's also really a social sport. Every single running group or organization that I've been a part of has been super-social, and members love doing things together."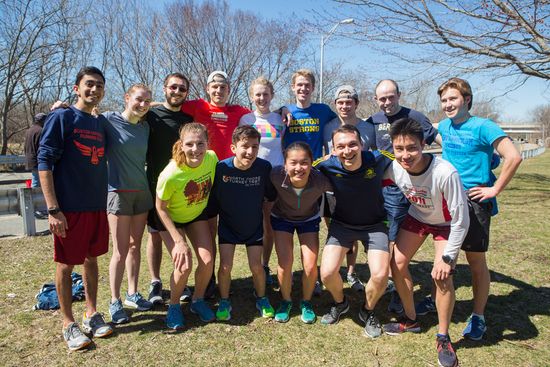 New members Juan Estela (CFA'21) and social chair Jess Schuler (CAS'21) feel like they fit right in with the club.
"Especially with the freshmen, we clicked immediately," Estela says. "Instant connections are made through our shared passion."
Not surprisingly, the club's runners plan to spend next Monday watching the Boston Marathon together. It's become a special Patriots Day tradition.
"We all go and watch the Marathon," says Wirtz. "I think we're one of the few social groups at BU that actually watches the Marathon on Marathon Monday."
Find out more about the BU Running Club here or on its Facebook page.
Jacob Gurvis can be reached at jgurvis@bu.edu; follow him on Twitter @JacobGurvis.