Fun-Filled Fourth of July Events around Town
A guide to the Hub's 2018 Independence Day happenings
A record 46.9 million Americans will travel this year to celebrate the Fourth of July. But since the holiday hits midweek, many will stay home. And there's no better place to celebrate America's birthday than in Boston, the birthplace of the American Revolution. Whether walking the Freedom Trail, whale watching, taking in a free outdoor movie, or heading to the Esplanade for the 45th Boston Pops Fireworks Spectacular, you're sure to have a festive Independence Day. So break out the sunscreen and check out our guide below.
Friday, June 29
One of the nation's largest Fourth of July events, Harborfest pays tribute to Boston's waterfront and colonial history. This year's celebration runs through July 4, offering numerous family-friendly activities. Today, you can set sail on a Boston Harbor Cruise from Long Wharf to Spectacle Island, take a behind-the-scenes tour of Old North Church, or stop by Paul Revere's House for a visit with one of Boston's most famous colonial patriots. Other highlights: a dazzling fireworks display over the Boston Harbor on Saturday and two events on Sunday, Arts at Harborfest, featuring artists selling historical and maritime-themed artwork, interactive art demonstrations, and live performances, and Chowderfest, a chance to sample chowder from local restaurants and enjoy live music at Christopher Columbus Park.
The 37th annual Boston Harborfest runs today, June 29, through Wednesday, July 4. Find a full schedule of events, many free, and locations here. Some events require tickets, which can be purchased online.
For history buffs, the JFK library has numerous exhibitions dedicated to the life and work of our 35th president. Catch the special exhibition, JFK 100: Milestones & Mementos, a celebration of the centennial of JFK's birth, before it ends November 25.
The John F. Kennedy Presidential Library and Museum is at Columbia Point, Boston. For GPS, use the address 220 Morrissey Boulevard, Boston, MA 02125. Find hours, admission prices, and directions here.  
Visit the MIT Museum and/or catch a Lyric Stage Company production—both for free today—courtesy of the Highland Street Foundation's Free Fun Friday's program. The Lyric Stage Company offers an afternoon showing of the Broadway hit musical The Wiz at 3 pm. The MIT Museum has several special exhibitions, like The Beautiful Brain: The Drawings of Santiago Ramón y Cajal and György Kepes Photographs II, and ongoing exhibitions like the popular Robots and Beyond: Exploring Artificial Intelligence at MIT.
The Lyric Stage Company's production of The Wiz is at 3 pm at the Lyric Stage Company, 140 Clarendon St., Boston, second floor. Tickets are first-come, first-served and available starting at 11 am. A theater tour will depart at 1 pm. Four tickets allowed per party, no children under 5.  
The MIT Museum is at 265 Massachusetts Ave., Building N, Cambridge. Find hours and directions here. 
At the USS Constitution Museum, guests will learn all about the fascinating history of the USS Constitution, the world's oldest commissioned warship, and the vital role it played in the War of 1812. The museum provides hands-on exhibitions interesting to seafarers and history buffs of all ages. When you're finished at the museum, you can visit the USS Constitution, just across the pier. The ship has recently undergone a two-year, $15 million restoration. The museum and ship operate separately and have separate hours.
The USS Constitution Museum is in the Charlestown Navy Yard, Charlestown. Find information on admission, hours, and directions, here.
The USS Constitution is inside Boston National Historical Park, next to the USS Constitution Museum. Find information on admission, hours, and directions here. 
Each summer Friday, the Boston Harbor Hotel hosts free outdoor movie screenings at dusk next to its gazebo. Tonight it's the hit musical Grease, starring John Travolta and Olivia Newton-John. It's best to arrive early for a good seat. This is the 20th anniversary of the Boston Harbor Hotel Summer in the City series, a daily lineup of waterfront entertainment over the summer. You can buy food and drink from Rowes Wharf Sea Grille.
The Boston Harbor Hotel's Movies by Moonlight screening of Grease is tonight, June 29, at the Boston Harbor Hotel, 70 Rowes Wharf, at dusk (8:25 pm). Free and open to the public. Find directions here. In the event of rain, the event is canceled.
Saturday, June 30
This elegant mansion was designed by architect Charles Bulfinch, best known for the US Capitol and the Massachusetts State House. This was the first of three houses he designed for Congressman Harrison Gray Otis, the third mayor of Boston. The house was constructed in 1796 near Massachusetts General Hospital and is the last surviving Federal era mansion in Boston's West End. A marvel of early American design, the building's classical proportions and symmetry are hallmarks of the Federal period. Visitors get a fascinating glimpse of Boston history as docents describe the home's various uses over the centuries. Now a National Historic Landmark, it has brilliantly colored walls and fabrics—not surprising as it was later owned by a prosperous local paint merchant, John Osborn. Visitors will learn about the many fascinating people who've lived at Otis House and how it reflected the changing neighborhood over more than two centuries.
Otis House is at 141 Cambridge St., Boston. Find tour information, admission, and directions here.
Discover Boston's role in the nation's battle for independence with a guided tour of the Freedom Trail. The standard tour, Walk into History, takes visitors to 11 of the 16 official Freedom Trail sites, including the Boston Common, the Massachusetts State House, and the site of the Boston Massacre. And today, from noon to 2 pm, you can watch a special Redcoat Changing of the Guard on Washington and Summer Streets, with guides playing both British soldiers and colonists.
Guided Freedom Trail tours are led throughout the day and depart from either the Boston Common Visitor Information Center, 139 Tremont St., or Faneuil Hall, 4 S. Market St. Find directions to participate in the Freedom Trail tour here and purchase tickets here.  
This annual family-friendly festival, hosted by Boston's historic Old North Church, celebrates colonial life. Try your hand at activities such as fifing and sewing, or participate in making chocolate, fashioning a tricorne hat, or writing with a quill pen. Bell ringing at the Old North Church traditionally happens around noon on Sundays, but the bell ringers can sometimes be found practicing on Saturdays from 11:15 am to 1:15 pm. Guided tours of the Old North Church, which take you from the crypt below to the bell tower above, provide another deep dive into history.
Colonialfest! is Saturday, June 30, from 11 am to 4 pm at Paul Revere Mall, next to Old North Church, 193 Salem St., in Boston's North End. The event is free. Find information about separate, guided tours of the church and crypt here.
Since opening in 2014, the Lawn On D has become one of Boston's most popular outdoor gathering places. Today, the 2.7-acre space in the waterfront district, hosts its weekly Southie Saturday, featuring lawn games (bocce, ping-pong, and cornhole included), a turn on the Lawn's famous circular white swings, and more. Hang out to enjoy live music by Red Line, one of Boston's most popular dance bands, from 3 to 6 pm. Food and adult libations for those 21+ are available for purchase from Rebel Restaurants.
The Lawn On D is at 420 D St., South Boston. Entry is free and open to the public. Find info about days and hours here. Find food, bar, and games hours here. Find directions here.
Harborfest fireworks are back. Stop by Christopher Columbus Park for a night of live music, capped by fireworks over Boston Harbor. The fun kicks off with the Squeezebox Stompers, who will perform an assortment of American music, followed by show tunes courtesy of Sweet Harmony, all leading up to a dazzling fireworks display, visible from Charlestown to the Seaport to East Boston.
The Boston Harbor Fireworks is at Christopher Columbus Park in the North End starting at 5 pm, when the Squeezebox Stompers take the stage. Sweet Harmony performs show tunes starting at 7 pm and the fireworks display begins promptly at 9 pm. The event is free and open to the public. Arrive early for a good seat. Find directions here.
Sunday, July 1
As part of Harborfest, Christopher Columbus Park is hosting two events today, one arts-related, the other food-related. Arts at Harborfest showcases the work of some 20 local artists, among them painters and jewelry makers, from 11 am to 7 pm, curated by the arts events organization Artists Crossing. The artists will be exhibiting and selling original works, and there will also be  live performances by local musicians. Come hungry, because also in the park is Harborfest's annual Chowderfest. You can sample New England clam chowder from nearly a dozen local restaurants. Best of all, it's free. 
Arts at Harborfest is at Christopher Columbus Park from 11 am to 7 pm. Chowderfest is from noon to 3 pm. Admission to both is free. Find directions here. Find a list of participating artists here and a list of Chowderfest restaurants here. 
Monday, July 2
Whale Watching
A whale watching excursion is a terrific way to spend a summer day. Board one of the Boston Harbor Cruises high-speed catamarans for a trip to Stellwagen Bank National Marine Sanctuary, which USA Today voted the best place in the country to view marine life. Hang on tight and watch out for a variety of whale species, like humpbacks, pilot whales, finbacks, right whales, and minkes—Stellwagen is home to all of them. Naturalists from the New England Aquarium are on hand to answer questions and provide information about Boston Harbor's aquatic life during the three- to four-hour trip. In the unlikely event that no whales are seen, you will be given a free ticket for another whale watch. Food can be purchased on board, but  bringing cash is recommended.
Boston Harbor Cruises whale watching excursions depart from One Long Wharf throughout the day on weekends and from 9 am to 2:30 pm on weekdays. Note: On July 4, boats will run from 9 am to 5 pm. Arrive 30 minutes in advance. Because the trips often sell out, making reservations ahead of time is recommended. Purchase tickets online here.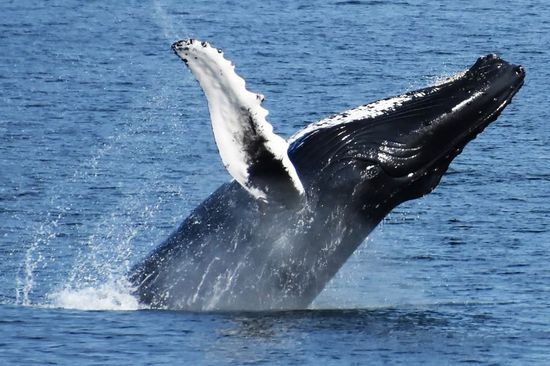 Founded in 1686, King's Chapel is one of the oldest congregations in the United States, with its roots in the Anglican Church. The original church was replaced in 1754 by a larger stone church, which is still in use today and is the fifth stop on Boston's Freedom Trail. The building features German chancel windows, box pews, and other distinct architectural features. Learn about King's Chapel's fascinating history and how it has evolved over the years with a tour led by chapel staff, titled Revolutionary King's Chapel.
King's Chapel is on the corner of Tremont Street and School Street at Downtown Crossing. The Revolutionary King's Chapel tour is free and open to the public. The tours begin at 10:15 am and depart every half hour until 4:15 pm. Find more information on directions, parking, and public transportation here.
Tuesday, July 3
Each year, the high point of Boston's Independence Day celebration is the Boston Pops Fireworks Spectacular on July 4, which draws hundreds of thousands of spectators. But you can beat the massive crowds by attending the Pops annual dress rehearsal the night before. The fireworks get saved for the big show on the Fourth, but you'll still get to enjoy a free concert featuring the Grammy-winning Pops and this year's headliners, who include the Indigo Girls and recording sensation Rachel Platten.
The Boston Pops Concert dress rehearsal is from 8 to 10 pm at the Hatch Shell, 47 David G. Mugar Way. Attendees can enter the lawn and seating area in front of the Hatch Shell beginning at 5 pm. Security will be tight—read what you need to know here.
Wednesday, July 4
Fourth of July Kickoff Ceremony and Parade
Kick off your Fourth of July with the annual ceremony each year at Boston's City Hall Plaza at 9 am. Stay for the parade that follows, which takes you to the Granary Burying Ground—the resting place of three signers of the Declaration of Independence: Robert Treat Paine, Samuel Adams, and John Hancock. After a wreath-laying at their graves, the parade continues on to Faneuil Hall, often referred to as the "Cradle of Liberty," for its role in the nation's battle for independence.
The kickoff ceremony and parade, free and open to the public, begin at 9 am at City Hall Plaza, One City Hall Square. Find directions here.
For more than two centuries, Bostonians have gathered in front of the Old State House to hear the Declaration of Independence read aloud from the balcony by a member of the Ancient and the Honorable Artillery Company of Massachusetts. The document was first publicly read in Philadelphia on July 8, 1776, and its first Boston reading was at the Old State House 10 days later. After the reading, head over to the Old State House Museum to learn more about Boston culture and history.
The Declaration of Independence Reading, free and open to the public, is at 10 am at the Old State House, 206 Washington St. Find directions here. This event is subject to cancellation for inclement weather.
A beloved tradition for 45 years, the Boston Pops Fireworks Spectacular draws an annual audience of a half million spectators, who begin setting up blankets on the Esplanade early in the morning to get a good seat. The free Boston Pops concert begins at 8 pm, led by Pops maestro Keith Lockhart (Hon.'04). This year's concert will feature performances by Rachel Platten, the mega-hit singer behind the chart-topper "Fight Song"; Rhiannon Giddens, the lead singer with the Carolina Chocolate Drops; Amy Ray and Emily Saliers, better known as the Indigo Girls; and Broadway and Hollywood star Rita Moreno, who won a best supporting actress Oscar for her work in 1962's West Side Story. The concert will pay tribute to legendary composer and conductor Leonard Bernstein, whose centennial is being celebrated worldwide this year. In keeping with tradition, the concert ends with a soaring rendition of Tchaikovsky's 1812 Overture, accompanied by the sound of church bells ringing throughout the city and of course, fireworks over the Charles River.
The Boston Pops Fireworks Spectacular concert begins at 8 pm, with fireworks at 10:30 pm at the Hatch Shell, 47 David G. Mugar Way, and  is free and open to the public. Note: plan to arrive early. Gates open at 9 am and are expected to fill by early afternoon. Security will be tight; find a list of banned and allowable items and other security details here.
Other places to watch the fireworks
If you hate being in a crowd, consider traveling away from the Hatch Shell. The locations below offer spectacular (but less populated) views of the fireworks.
Along the Charles River, Cambridge
Walk across the Longfellow Bridge to Cambridge and bear left on Memorial Drive for a dazzling view from the Charles River.
23 Newton St., Brookline
A popular viewing spot for families, Larz Anderson Park offers excellent views of the fireworks thanks to its high vantage point. The park has several picnic areas and charcoal grills, making it an ideal spot for a Fourth of July picnic or barbecue.
401 Belmont St., Watertown
Park at the entryway to the country club and arrive early so you can grab a spot on one of the highest points on the golf course to score a good seat.
More information about fireworks displays in nearby towns is available here.
Carina Imbornone can be reached at carinami@bu.edu.