Associate General Counsel Dennis Hart Retires
Saying good-bye after more than 30 years at BU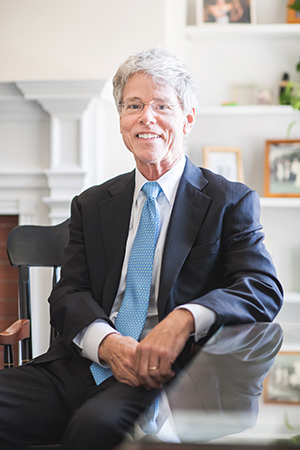 Ask Dennis Hart about favorite projects in his more than 30 years of working in BU's Office of the General Counsel and he pulls a children's book from a shelf. "There's something tangible you can put your finger on," says Hart, an associate general counsel.
How the Piloses Evolved Skinny Noses (Tumblehome Learning, 2017) is designed to help children understand Darwin's theory of natural selection by following the evolution of fictional creatures called "piloses." It was written by Deborah Kelemen, a College of Arts & Sciences professor of psychological and brain sciences, whose team conducted a crowd-funding campaign and donated all royalties to sending the book free to elementary schools across the United States. Hart, who helped out with intellectual property issues, smoothed the way for publication of the book and for a second book that will be published in June.
"Dennis got the overarching goal of the project and responded more as a human being than as an attorney," Kelemen says. "He spent a lot of time helping to make publication happen, gave fantastic advice, and I remain hugely grateful to him."
Hart, who retires this week, is known throughout the University as a human being first, an attorney second. His responsibilities have been as broad as his tenure is long. They have included intellectual property and technology transfer and research and scholarly activities. His first contact with BU's Sponsored Programs office came on his second day of work in 1987, and the most recent contact, he says, was "lunch yesterday."
He clearly loves talking about the work of the BU researchers he has assisted, among them Edward Damiano, a College of Engineering professor of biomedical engineering, whose "bionic pancreas" provides hope for people with type 1 diabetes, and Theodore Moustakas, ENG Distinguished Professor of Photonics and Optoelectronics Emeritus, whose blue LEDs (light emitting diodes) are used in countless cell phones, tablets, laptops, and lighting products. And Hart is just as happy to recount his explanation of the rules concerning their portrayal of living people and real events to students in the graduate playwriting program.
Erika Geetter, vice president and general counsel, has worked with Hart for more than two decades. She says he "gets this real joy from the accomplishments of everyone around him.
"He loves what his clients are doing, and he feels deeply about it," she says, "whether it's something fairly small—there's an article they're trying to publish and there's some question with the journal—to really major endeavors that have been done at the University. I think everyone who talks to him comes away feeling this is the most important thing Dennis Hart has ever done. He cares about it, and he wants to make it work for me."
Geetter points out that when a counsel's work is done well, it passes unnoticed, because it steers clients around troubled waters rather than through them. "I think people leave phone calls with him feeling more positive than when they started," she says. "It might take them a while to realize he actually said no."
Before joining the Office of the General Counsel in 1987, Hart worked in private practice and for Digital Equipment Corporation, where he became one of the few litigators with computer law experience. He still handles cases concerning digital issues, he says, along with contracts, media issues at WBUR and the College of Communication, and general legal matters.
"The way I like to work is to enter into the client's world and sort of draw on the energy of what they're doing," says Hart, a graduate of Yale and Harvard Law School. "It's more fun, more rewarding, if you understand and appreciate and really value what they're up to."
Hart's exceptional energy is often witnessed by colleagues who see him running almost daily, usually at lunchtime. He has no plans to stop after he retires.
Why retire? Why not? His wife, Joan Gulinello, also a lawyer, has been retired for a few years. Their two children are grown, and last July their first grandson was born.
"My wife is taking care of him a lot, and I want to get in on that," he says. He also wants to write, both words—beginning with a personal history of his brother Brian, who died of leukemia as a relatively young man in 1998—and music.
"I'll be at a keyboard, either writing or at a piano," he says. "I 'play' piano—and you need to include the air quotes. I say I play jazz, meaning I can't read music and I don't know what I'm doing." He's had a teacher recently and for a recital even started composing his own songs. "I don't have to read music, because I make it up, and nobody knows if I make a mistake, because they've never heard it, and I can play it differently every time."
Todd Klipp, senior vice president, senior counsel, and secretary of the Board of Trustees, says Hart is one of the best lawyers "and one of the finest people I have ever known. Dennis is kind, humble, and generous—in many, many ways." Klipp, too, is retiring, after 34 years at the University, and for much the same reasons. Geetter is replacing him as Board of Trustees secretary.
Soon after Willis Wang, deputy general counsel and vice president and associate provost for global programs, came to BU two decades ago, he and Hart were running on the BU track with a couple of others when Wang mentioned that he was about to become a father.
"Dennis shared how important it is to live a balanced life and make time for your family," says Wang. "He said it was important to allow yourself to see those first baby steps or hear those first words. He's a wise person."