2018 BFA Thesis Exhibition: A Reflection of 42 Individual Journeys
Painting, printmaking, graphic design, sculpture on display at 808 Gallery through Friday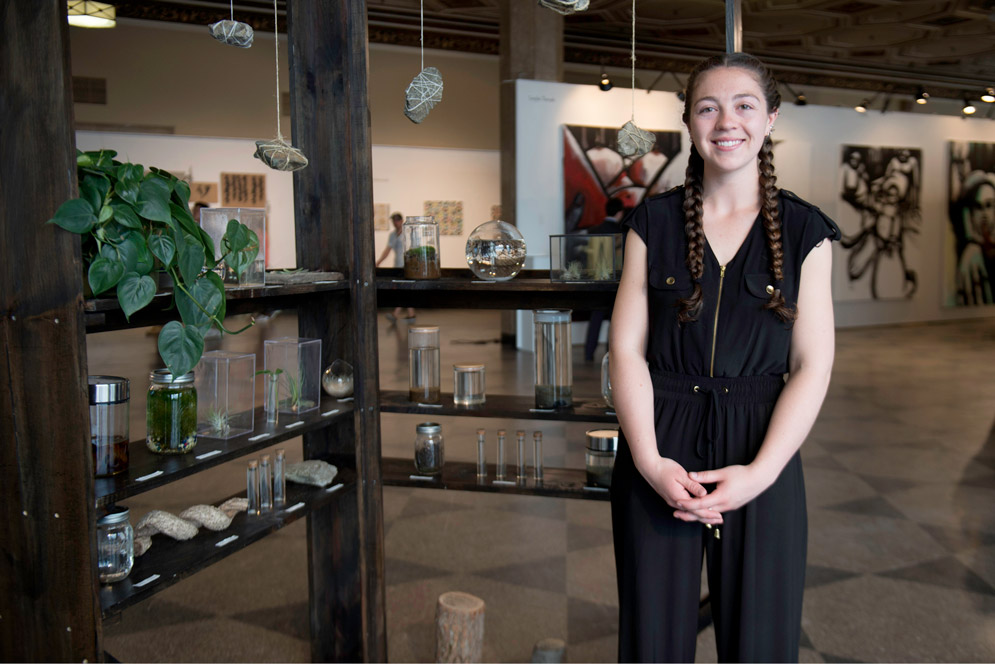 For four years, School of Visual Arts seniors have been discovering new techniques and exploring new materials as they hone their work as painters, sculptors, printmakers, and graphic designers. As they prepare to graduate, the culmination of their extraordinary exploration is on view in the 2018 BFA Thesis Exhibition, at the 808 Gallery through Friday, May 11. Featuring work by 42 artists, the show, titled Continuum, is striking for its versatility.
"It's kind of an interesting idea, where they're all working on the same timeline, and it's been this journey of four years, but they all ended at a very specific point in their work," Lydia Musco, a College of Fine Arts lecturer in art and sculpture, says of this year's exhibition theme. "It's a very broad idea, but an interesting idea for a show that's about developing your own voice."
At the center of the gallery is an arresting sculpture by DeeDee Hughes (CFA'18, CAS'18). The wood and concrete structures, accompanied by potted plants and hanging rocks, create a sense of serenity, addressing the juxtaposition of nature and built environments. "I think there's a lot of art in the world that can scream at you, and for me it's not about screaming," Hughes says. "It's about trying to give people a place to breathe for a second and have a moment of thought."
Hughes grew up in suburban Connecticut, surrounded by nature. She had some initial culture shock when she came to Boston. "You move here and it's kind of stark and you come into this white box and you're expected to make stuff. So that triggered this urge on my part to bring natural materials into the studio." A large wooden structure with shelves holds a collection of jars, each containing natural materials that Hughes collected near her home and other places that have shaped her work. Geographic coordinates of where the materials came from are adjacent to the jars. The artist also created concrete tables and added plants to them to explore the relationship between nature and man-made construction. She cites the artist Andy Goldsworthy and his site-specific sculpture and land art as a major influence. "My hope is that with the integration of all these natural materials, people feel calmness," she says.

Adjacent to Hughes' eye-popping creation is another sculpture, this one a bit less tranquil. Extractions by Olivia Hamilton (CFA'18) appears at first glance to be a heap of garbage. On closer inspection, the viewer can see that amid wood structures are tattered cloths that have been sewn together into jackets and other articles of clothing. There are also patches of grass, plants, and even fabric arms that jut out near a large hut-like creation. The work has a decidedly political undertone, addressing the way we consume—and willingly dispose of—material.
"I have a lot of guilt about making art in the first place, because it's sort of useless, and I'm spending my time making useless things," Hamilton says. "I have guilt about using materials knowing that a lot of it will become garbage." The artist says she wanted to repurpose fabric and other materials and extract as much life from them as possible. She began by taking discarded bolts of fabric and first making jackets with them, then using them for what she calls anti-fashion garments, and finally, shaping them into sculpture. Along the way, Hamilton made a video showing her layering the jackets on top of one another, then created a book from her photo shoot of the anti-fashion clothing; both video and book are on display in the gallery. "It's sort of like recycling, but I don't like that word," Hamilton explains.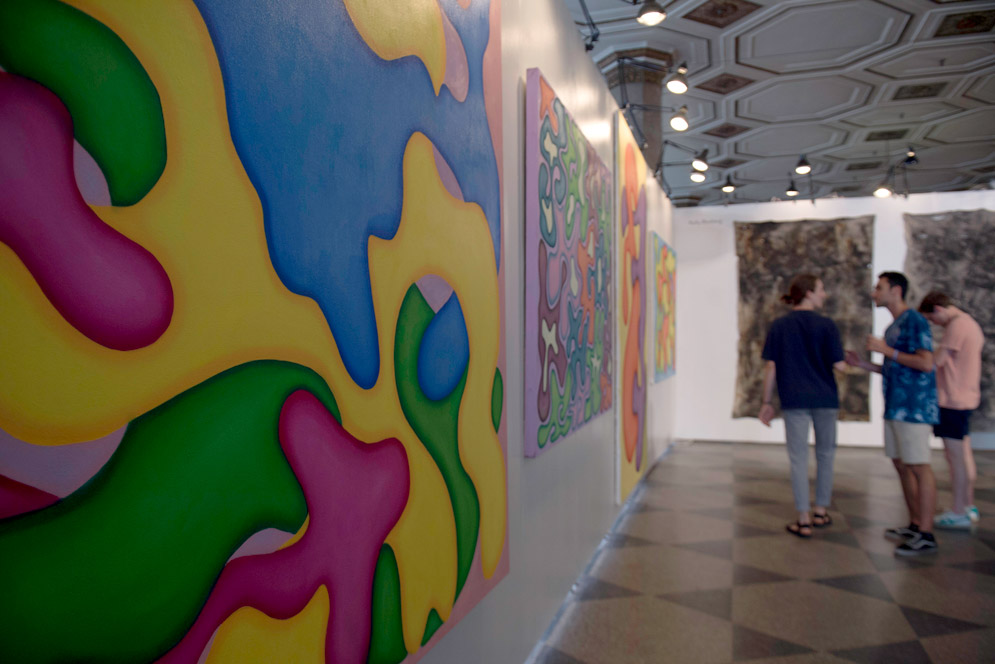 One of the most arresting installations in Continuum is a series of paintings titled Synapse by Danielle Dinstman (CFA'18). The oil on canvas works use abstracted neuronic forms as a metaphor for human interaction. The forms' large scale and bright colors create a playful and humorous tone. But the work takes on darker undertones as the viewer continues to explore the paintings, evoking what Dinstman describes as "a dichotomy of attraction and discomfort for the viewer," and eliciting something vaguely sexual. Vivid, neuron-like blobs dance around each other and are closely connected, signaling to the viewer that the bright paintings are not as harmless as they may first seem.
"The emotion I create in my work is intended to confront the viewer as well as make the viewer empathize with the work," Dinstman explains. "It aims to please and overwhelm the viewer and the viewer's body by its large and overpowering scale."
By far the majority of this year's CFA seniors—30—are graphic designers. And there are too many striking works to mention them all. But one show-stopping design you won't want to miss is a mural by Sammi Sexton (CFA'18). Titled ¿Quién Realmente Eres? or "Who Are You, Really?" the autobiographical work grew out of the artist's own sense of isolation. She presents as white, but grew up in New Mexico, steeped in Native American and Hispanic cultures. "We live in a world where your skin color defines your culture…. Society tells individuals that they must identify with the culture that's associated with their race. Rarely is it acceptable to reconcile race and cultural identification," Sexton says. Her sense of isolation results from the fact that "my race doesn't reflect my culture…. I wanted to create a piece that shows exactly who I am and where I come from."
In the interactive work, comprising six panels on paper, viewers peer through three separate colored lenses that explore cultural identity on different levels, the artist says: "how we define ourselves, the way our friends and family define us, and how society defines us." Only by looking through each lens can viewers get a full picture of the artist's identity. Three separate sets of vinyl stickers correspond to each lens: words such as "student" and "black hair" appear in the "society" lens, and show the more obvious traits of the artist. The "family" lens contains words like "hopi" and "zia," which reflect Sexton's culture and upbringing on a deeper level. Words like "sassy" and "energia" appear in the "myself" lens, offering a look at how the artist sees herself. "I want people to enjoy seeing the mural, and I hope that they take something away from it and kind of keep their culture in mind," she says.
An installation by Naomi Tenenini (CFA'18) called The Proprium Method is also sure to pique viewers' interest. This interactive project was created to help visitors identify and confront their fears. "I think that it's worthwhile to put time into your own self, and I want to give people the keys to walk through the door themselves," Tenenini says.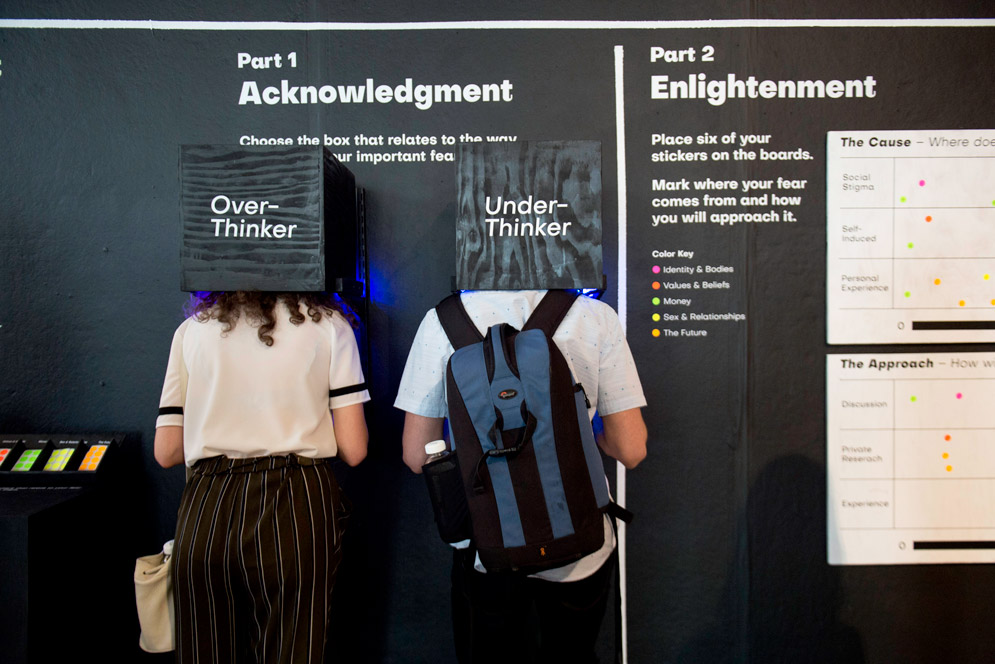 The installation has three parts: acknowledgment, enlightenment, and sanity. After visitors write down their fear, they are asked to classify themselves as either an overthinker or an under-thinker. Then, depending on their answer, they peer into a box mounted on the wall and listen to a narration designed specifically for each type of thinker. Next, they place stickers under both the cause and the approach of their fears. Categories such as "identity and bodies," "sex and relationships," "money," and "the future" allow participants to choose general, topic-based fears. Finally, they place their last sticker on a board to signify completion of the process. They look at themselves in the mirror and read the final message: "You have spent time thinking about bettering yourself and that is worthwhile."
James Grady, a CFA assistant professor of art, graphic design, says that while their teachers guide the students through creating their senior theses, the exhibition is really a reflection of their individual journeys. "I think what's so special about the class in general is that everyone does have a unique path, and they're really letting themselves be taken on that journey," he says. "They've gotten their training over the last four years, and now it's their time to use all of those specific courses they've taken and bring it together for the final show."
The 2018 BFA Thesis Exhibition is on display at the 808 Gallery, 808 Commonwealth Ave., through Friday, May 11. Gallery hours are noon to 5 pm Wednesday and Friday and noon to 8 pm Thursday.
Sara Frazier can be reached at smfrazie@bu.edu; follow her on Twitter at @Sara_Frazier.