Fire at 722 Comm Ave BU Student Residence Causes Evacuation
One minor injury reported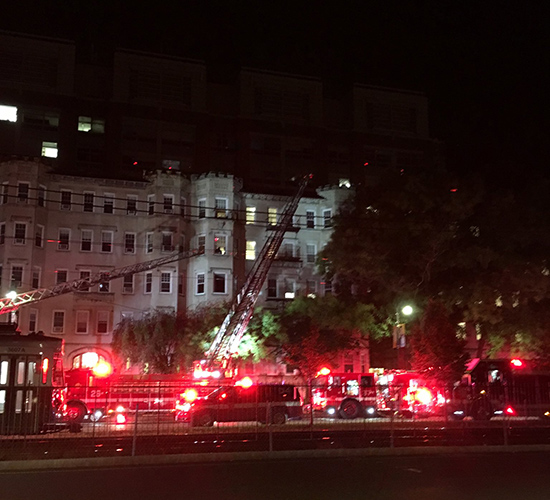 Updated at 8:40 pm on Sunday, September 2.
The Boston Fire Department is reporting that a lit candle caused the fire at 722 Commonwealth Avenue on Saturday night.
Updated at 2:30 pm on Sunday, September 2.
Most residents of 722 Commonwealth Avenue can begin to return to their apartments at 5 pm this afternoon.
All fire alarm and electrical systems are fully operational and the building is safe.
Residents of apartments 104, 105, 106, 204, 205, 206, 207, 304, 305, 306, and 307 cannot return yet. The University  will put them up at the Residence Inn in Kendall Square, Cambridge; transportation for these students will be provided from 722 Comm Ave to the hotel at 5 pm and 6 pm Sunday evening. Those residents are being told to plan on at least a two-night stay. The University is making arrangements with Lyft for free rides to and from the Charles River Campus while they are staying at the Residence Inn.
---
Updated at 11:50 am on Sunday, September 2.
All 79 students living in 722 Commonwealth Avenue have been given temporary meal plans until they can reenter the building.
A designated area where the students affected by the fire can gather has been set up at BU Central in the George Sherman Union, 775  Comm Ave. 
BU administrators expect to provide an update to students at 2 pm on Sunday.
---
A one-alarm fire broke out Saturday evening at approximately 10 pm on the third floor of BU's 722 Commonwealth Avenue student residence, forcing an evacuation of the building on Move-in weekend. No serious injuries were reported, but one student was sent to Brigham and Women's Hospital with minor leg injuries. She was released a short time later.
Kenneth Elmore (Wheelock'87), associate provost and dean of students, told building residents they would be unable to return to the building Saturday night because of "basic safety issues." They were advised to make alternate housing arrangements for the night and told they might be able to return to the building sometime Sunday afternoon.
Boston Fire Department spokesman Brian Alkins said late Saturday that the call came in at about 10 pm, and the fire, which had set off the building sprinkler system, was contained to one room. He said there is water damage down from the third floor to the first, estimated at around $200,000.
Alkins said that rugs have to be dried, the water damage has to be cleaned up, and that it was unclear when students would be able to return. BU sent out an emergency alert telling students to meet at the front of the building to coordinate their overnight accommodations.
Students were also urged to contact their resident assistants or to stay with friends. BU Residence Life staff were working with the Boston Fire Department to allow residents to collect belongings for overnight from the building, which sits between St. Mary's Street and Cummington Mall. The Boston Fire Department says that the University is providing housing for approximately 40 displaced residents.
Robert Molloy, assistant chief of the BU Police Department, says there has not yet been an official determination of what caused the fire.
The roadway was closed briefly, and the power in the building, which also houses the historic Dugout Cafe in the basement, was cut off. Dugout owner Bill Crowley, Jr., says the cafe was having a busy Saturday night and he is just grateful everybody got out safely.
The adjacent residences, 726 and 728 Commonwealth Avenue, were briefly evacuated as well, but students were readmitted to those buildings.
Michael Donovan, the University's vice president for campus planning and operations, says that power was restored to the building early Sunday morning and the fire remediation and recovery group were on site to assess what water and smoke remediation would be needed before the building could reopen.
Several students were shaken up emotionally by the fire. BU officials said if any students wanted help, they should contact Student Health Services Behavioral Medicine office at 617-353-3569.
Students and others were tweeting about the fire Saturday evening: "Hoping everyone in 722 is okay," one tweet said. "Honestly was my favorite building to live in at BU. This fire news has me somewhat startled and greatly saddened."