Women's 39th Beanpot Tournament Kicks Off Tonight
Terrier hockey team takes on rival BC at Northeastern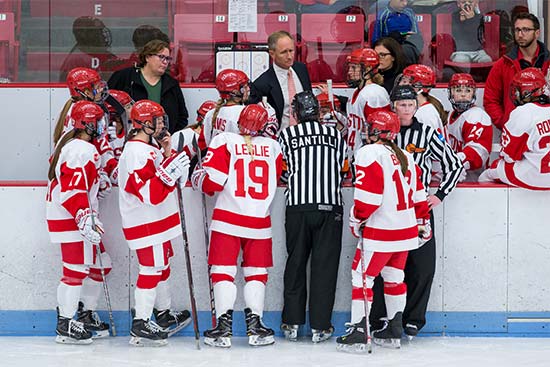 When the BU women's ice hockey Terriers begin play in the 39th annual Women's Beanpot Tournament tonight at Northeastern's Matthews Arena, they will once again embark on a quest for the crosstown tournament championship—a goal that has eluded them since 1981, when they won as a club team.
"We're all aware that our team hasn't won it since the '80s," says goaltender Victoria Hanson (Questrom'17). "As seniors, it's a goal of ours to go out and play as hard as we can and hopefully to be the first team to accomplish that in 36 years."
To earn a shot at the trophy, the Terriers must first beat rival Boston College in tonight's opening round. In three matchups this season, the teams each claimed a 5-3 victory, with the third game a 1-1 overtime draw.
To get past the Eagles—a team head coach Brian Durocher (SED'78) says loves to pressure competitors into making mistakes in their own end with a heavy forecheck—the Terriers must get the little things right.
"They're a team that has enough talent to get a few more shots on goal than you and some good opportunities, but they'll give up some opportunities, too," Durocher says. "You've got to capitalize on those two-on-ones and three-on-twos, because they're going to generate plenty of opportunities with their talent and the way they play. Our job is to take extra caution to get it out of the zone and to capitalize when we get a chance."
The January 7 tie with BC has been a recurring theme throughout BU's current campaign. With 27 games under their belt and just 4 remaining in the Hockey East regular season, the Terriers have already skated to five ties, as many as they posted in the last two seasons combined.
After opening 2017 with a 0-1-4 stretch, the team pulled off its first win of the new year January 22, coming out on top of Providence 5-2.
"We had a little bit of a tie streak, which can become frustrating," Hanson says. "We had to remind ourselves what type of team we wanted to be, about the work ethic we wanted, and about the heart that we have to play with."
The Terriers have been plagued by inconsistency this season, something that has weighed on upperclassmen.
"As captains and as seniors, I'd say that's our biggest struggle right now," says cocaptain Natalie Flynn (CGS'15, SHA'17), "making sure everyone is on the same page and knows that every game matters. We can't just be looking at what we consider the big ones. The small ones count, too."
Flynn points to the team's response to the 5-1 loss of the first game in a two-game series against national powerhouse Minnesota in December as an example of the kind of game BU is capable of playing. In the series' second game, the Terriers fought to a 6-5 overtime win.
That series "showed the kind of team we can be, but we can't pick and choose when to turn that on," she says. "We have to always bring that intensity."
The Terriers will be looking for a strong performance tonight from Hanson. The netminder, who owns a .928 save percentage this season and has started 19 of the 27 games, says getting more consistent playing time has strengthened her game markedly.
"Just getting a little more playing time allows me to create some more consistency," she says. "I feel a lot more confident in the net, and I'm getting a lot more shots. I think I've been communicating really well with the defense, because it's consistently been me in the net and the same defense on the ice, so we get in a rhythm."
Hanson says that a Beanpot win would cap off her BU career. Raised in Stoughton, Mass., she revered the Beanpot growing up and says that upperclassmen like her have been educating the team's younger players about the tournament's importance. "It's our job as upperclassmen to pump them up for it, especially those that aren't from the Boston area," she says, "and let them know that this is a big deal for our school. It's something special."
While Durocher says there's significant depth to the talent on his club, the Terriers will certainly be looking to leading scorer Victoria Bach (CGS'16, COM'18) to carry tonight's game. Bach currently has 36 points, good for second in the conference.
"She's probably as dynamic as anybody in Hockey East. She's a world-class skater with magnificent hands. She doesn't have the hardest shot in college hockey, but she's awfully accurate with it," Durocher says. "We've got a lot of potent players, but without a doubt, Victoria is the one that sticks out, along with Mary Parker (MET'18) at this point."
Typically, the Beanpot offers the Terriers a chance to improve their status in the PairWise rankings, a list put together by USCHO.com that attempts to mimic the selection process used by the NCAA when choosing which teams will be awarded an at-large bid to the annual NCAA Tournament.
However, this year, Durocher says, his club may have to do it the old-fashioned way.
"From a PairWise standpoint, that's something that's always in our minds early in the year. I'm not a math major, but I think that opportunity might have flown the coop," he says, after the loss to Merrimack January 28. "We'll probably have to win the Hockey East Tournament to get into the NCAA Tournament."
Flynn says that as much as she and her teammates would love to hoist the 2017 Beanpot trophy, the important thing is continuing to improve, one game at a time.
"Even if it doesn't go the way we want in the Beanpot, as long as we're building as a team as the end of the season is approaching, that's all that matters," Flynn says. "Every game matters at this point."
The Terriers will open the 39th annual Women's Beanpot Tournament tonight Tuesday, January 31, with a matchup against rival Boston College, at 5 p.m. at Northeastern University's Matthews Arena. Tonight's second game, at 8 p.m., pits Harvard and Northeastern. The tournament second round is next Tuesday, February 7, with tonight's two winner facing off at 7:30 p.m. and the two losing teams at 4:30 p.m., both also at Northeastern. Tickets are $10 for adults, $5 for children 12 and under and groups of 10 or more, and free for faculty, staff, and students from the participating schools, with a valid school ID. Purchase tickets at tickets.GoNU.com or call 617-373-4700.
Taylor Raglin can be reached at traglin@bu.edu.