Rhett Talks Kick Off Tonight with Discussion of LGBT Issues
Students can connect with faculty in annual TEDx-style talks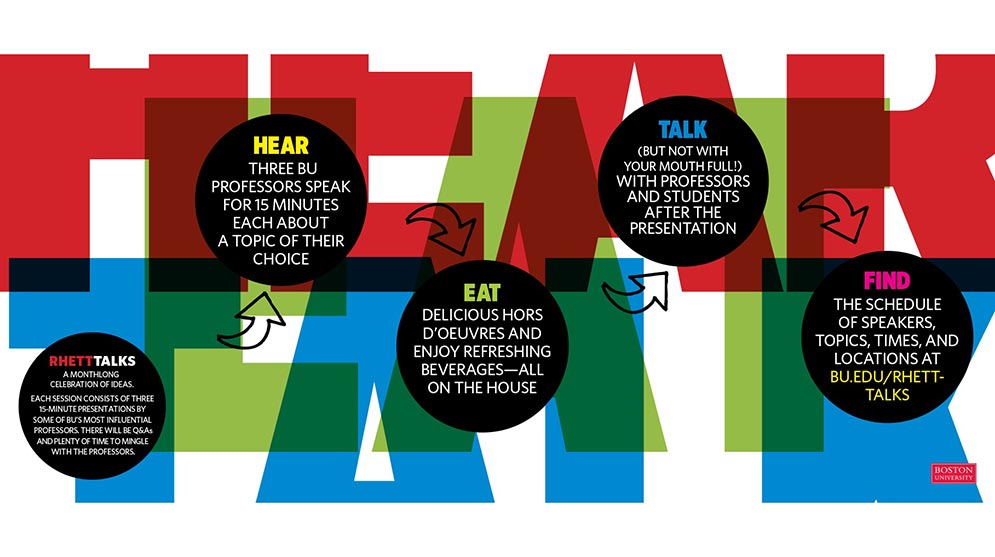 Starting tonight and continuing over the next three weeks, BU hosts its annual Rhett Talks series, 15-minute lectures by professors from a variety of disciplines across the Charles River and the Medical Campuses.
Billed as BU's spin on the popular TEDx Talks, the series allows faculty the chance to give brief, innovative, and engaging presentations on topics of their choosing. Each begins at 7 p.m. and is followed by an ice cream social, so students have the opportunity to talk to the night's speakers.
"Rhett Talks is designed to connect students with faculty outside of the classroom," says this year's organizer Paul Hughes, assistant director of Residence Life for Upper Bay State Road. "Faculty are invited to highlight their research or share a personal story."
This year's first Rhett Talk, which is cosponsored by the Howard Thurman Center for Common Ground, is in the GSU Metcalf Ballroom and has a single topic—LGBT rights. (Subsequent Rhett Talks will be on a range of subjects.) Faculty speakers are Anthony Petro, a College of Arts & Sciences associate professor of religion and a Women's, Gender & Sexuality Studies Program faculty member, Angela Bazzi, a School of Public Health assistant professor of community health sciences, and Robert Volk (LAW'78), a School of Law associate professor of legal writing and director of the Legal Writing and Appellate Advocacy Programs. Petro will speak about the intersection of religion and politics regarding LGBT issues, and Volk will discuss LGBT rights under the Trump administration. Bazzi will talk about disparities in the era of biomedical HIV prevention.
"I plan to discuss the many steps that the current administration has taken to reverse the gains made by LGBT Americans under President Obama, as well as what may lie ahead," Volk says. "In this way, I hope to encourage students to stay involved in the political process in the hopes of safeguarding the rights of all Americans in the future."
Three additional Rhett Talks are scheduled this month. The next, on Monday, September 11, will be held at Kilachand Hall and will feature Mark Stanley, a College of Fine Arts associate professor of theater, James Rebitzer, a Questrom School of Business professor and chair of markets, public policy, and law and Everett W. Lord Distinguished Faculty Scholar, and Katherine Einstein, a CAS assistant professor of political science.
Stanley, who is also lighting designer for the New York City Ballet, will give a talk titled Everything Is Beautiful at the Ballet, which he says "will explore the unique relation between light and movement and sneak a look behind the curtain of what it takes to design lighting for dance and theater." Rebitzer will discuss incentives in health care, and Einstein will address the ways neighborhood opposition creates exclusive communities.
On Tuesday, September 19, the topic of Sonja Ardoin, a School of Education clinical assistant professor of curriculum and teaching, will be Social Class Complexities Influence Our Life Experiences: Have You Explored Yours? Also speaking will be Stephanie Nelson, a CAS associate professor of classical studies and assistant dean, who will connect Homer's epic Odysseus to the modern world, and Michael Siegel, an SPH community health sciences professor, who will dive into the intricacies of the firearms debate. That talk will be in the Warren Towers multipurpose room.
The final round of talks is Monday, September 25, in the Rich Hall multipurpose room. On the roster are Rhoda Au, a School of Medicine professor of anatomy and neurobiology, discussing brain health in the digital era; Nancy Harrowitz, a CAS associate professor of romance studies, talking about embracing difficult histories; and David Roochnik, a CAS professor of philosophy and Maria Stata Professor of Classical Greek Studies, with a talk titled Why Aristotle Matters.
Roochnik says he hopes to use the unique platform to connect the modern age to one of history's great thinkers. "Aristotle's science seems totally outdated. After all, he was a geocentrist who thought that stars were weightless and eternal. Nonetheless, I will argue that there is much that he can teach us today."
The Rhett Talks series, which began in 2013, draws hundreds of students each year and has earned national recognition from Student Affairs Administrators in Higher Education (NASPA). More information and past talks can be found here.
The Rhett Talks series begins tonight, Wednesday, September 6, at the George Sherman Union Metcalf Ballroom, 775 Commonwealth Ave. The additional Rhett Talks will be on Monday, September 11, at Kilachand Hall, 91 Bay State Rd.; Tuesday, September 19, at Warren Towers, 700 Commonwealth Ave.; and Monday, September 25, at Rich Hall, 277 Babcock St. All talks begin at 7 p.m. and are free and open to the public. Each event will be filmed and the videos will be available on the Rhett Talks website.
Taylor Raglin can be reached at traglin@bu.edu.