A Room of Her Own
Alum chosen Associates of the Boston Public Library Writer-in-Residence
Lisa Rosinsky has been scribbling in notebooks as long as she can remember. Growing up in suburban Baltimore, she was filling marble composition books with poems and illustrations by age six. As a fourth grader, she was assigned to write a short story based on a picture in a book. With her teacher's encouragement, she wound up turning it into a novel, taking two years to complete the project.
"That was when I figured out that maybe I wanted to be a writer," Rosinsky (GRS'17) says.
At 28, she has achieved that goal. After earning a BA in creative writing from Johns Hopkins (after a short foray as a premed student) and an MFA from BU (the Creative Writing Program), her debut young adult (YA) novel, Inevitable and Only, is set to be published this fall. The idea for the story—about a 15-year-old girl who finds out that her father has another daughter who is coming to live with them—came to Rosinsky one night while she was driving on a long car trip. "I usually get my best ideas when I'm either behind the wheel or in the shower," she says.
The plotline had its genesis in her childhood. She made up an older brother when she was 12 and for months convinced friends of his existence. "I tricked them for a very long time," Rosinsky says. The older of two girls, she had long pondered what it would be like to have an older sibling. When the idea came to her, she put her "ancient clunky android phone" on voice record and dictated the plot while she drove.
Last spring, Rosinsky was mulling over an idea for a second YA novel—an LGBTQ retelling of the Robin Hood legend—when she learned about the Writer-in-Residence program run by the Associates of the Boston Public Library, an independent nonprofit dedicated to conserving and digitizing the library's special collections of rare books and manuscripts. The nine-month residency, funded by an anonymous donor, began in 2004 to help foster the careers of young children's book authors. It has been a springboard for several writers, including Hannah Barnaby (Wonder Snow), Elaine Dimopoulos (Material Girls), Nathalie Anderson (the just-released City of Saints and Thieves, which has been optioned for a movie), and Annie Hartnett (the upcoming Rabbit Cake). The program, which annually provides one writer with a $20,000 stipend and a room to write in at the BPL in Copley Square, attracts hundreds of applicants.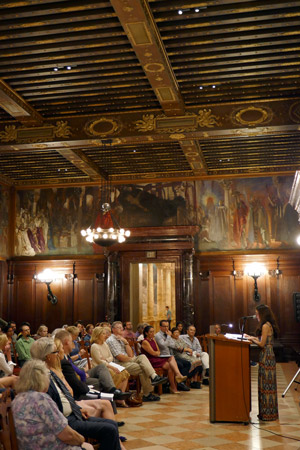 Rosinsky heard about the fellowship at a Simmons College symposium, where Dimopoulos spoke. She decided to apply "kind of as a kick in the butt," she says, to get herself started on the retelling of the Robin Hood saga, titled Robin and Mariana. So she wrote up a synopsis and a sample chapter, trying to capture the voices of her two main characters, Robin Chen, a slam poet from Baltimore, and Mariana, a sci-fi nerd from Berkeley, who meet online, fall in love, and take a road trip halfway across the country, to meet up in Nebraska.
As a child and a teenager, Rosinsky says, she was captivated by fables, fairy tales, and myths, especially the stories of Robin Hood and Peter Pan. "Those were my two favorites, kind of the outlaw and the never-wants-to-grow-up figure." As much as she loved those stories, though, she couldn't identify with them completely. "For me, personally, as a kid who was still figuring out that I was bisexual, I didn't see bisexual people represented in anything I read," she says. In the rare instances where there was an LGBTQ character, "they never had happy endings."
"I do feel a huge responsibility to write characters that kids can look at as examples of ways to be who they are with dignity and respect," she says. "For kids to read those stories recast through the lens of queer characters, or at least with the possibility that you don't have to interpret these tales in the heteronormative way they've always been told, is incredibly powerful."
That said, she's quick to note that she's not writing for an exclusively LGBTQ audience. "I think that it's just as important for straight readers to read about kids who are just like them except that they happen to be attracted to different people or they express their gender differently. This is something I didn't see as a kid, and now as a 20-something, I wish I could go rewind that and give myself a redo."
Plotting adventures with road maps and a diary
The road trip the book's two characters take is based on a trip Rosinsky took with a close friend from home who was moving to Berkeley when they were about 20. Road maps charting their cross-country course are on the wall in her BPL office, and she refers to them in plotting Robin and Mariana's adventures. She's also using a diary she kept during the trip.
The two lead characters in Robin and Mariana befriend a number of LGBTQ teens living on the streets (an estimated 40 percent of the nation's homeless youth identify as LGBTQ) and decide to start a community for them—think Robin Hood's band of Merry Men. In the course of her research for the book, Rosinsky talked to many local case workers and homeless advocates working with LGBTQ teens. "It turns out there are a huge number of shelters and a lot of resources for homeless teens here in the Boston area," she says. "I've been really lucky to connect with some great people who are helping me out."
The book is not just a road trip novel, she says, but a story about crime, poetry, and true love. It weaves together issues that resonate with young readers: class, race, poverty, sexual identity, and gender equality.
"She has a fresh, clear, yet poignant way with language and life's complex issues," says David Leonard, president of the BPL. "Situating the struggles of life in the life of a relatable fictionalized character makes them all more accessible and understandable."
Rosinsky says she's drawing on her experience as a BU grad student to help craft Robin and Mariana. In addition to teaching undergrads, last year she taught a creative writing seminar for high schoolers at Boston Arts Academy, where she became aware of the spell of slam and performance poetry on young people—and that's been invaluable in creating Robin. Rosinsky is an accomplished poet, but has found attempting slam poetry for the first time exhilarating. While vastly different from the poetry she wrote for classes and her master's thesis, she feels it is important to give her readers a sense of how slam poetry can be an agent of social change.
When the Associates of the Boston Public Library panel of judges—comprising children's book authors, editors, and librarians—read Rosinsky's submission for the fellowship program, they were so impressed that they unanimously voted her the 13th Associates of the Boston Public Library Writer-in-Residence.
"The distinctive voices of the characters in her proposal were both memorable and alive," says Alan Andres, an Associates of the Boston Public Library board member and a former editor at Houghton Mifflin.
"After hearing Lisa read an excerpt from Robin and Mariana, my reaction was: this is great," says Vivian Spiro, chairman of the board of the Associates of the Boston Public Library. "She is definitely the right person for the job."
For Rosinsky, winning the fellowship has been life-changing. "Having a vote of confidence like this changes the way you think about your work," she says. "It makes you think this is not just something that I do because I believe in it—I'm doing it because a community of people out there want to read it, and that's really exciting."
Word of the residency coincided with two other significant turns in Rosinsky's life: she landed a job as a children's book editor (her dream job, she says) with Barefoot Books in Cambridge, and at the same time received word from Boyds Mill Press that it planned to publish Inevitable and Only. Since starting the residency last September, she has worked a grueling schedule, spending days at her editing job and nights and weekends at the BPL, where she has already completed several chapters of the new book. (Fellows are expected to complete a "submission-ready" manuscript by the end of their residency in May.)
The author says she's drawn to writing for teenagers both because of the challenge it poses and the satisfaction it provides.
"You have to grab them right away and then you need to give them a reason to keep reading and not put the book down, which is excellent training as a writer," she says. "You can't have a slack plot. It's got to be paced just right. And I don't think you have to write down for kids. I want kids to feel like they can relate to what I'm writing."
What informs all of Rosinsky's writing is the belief that literature has the power to make a tangible difference in young readers' lives.
"Kids 12 and up are still figuring out who they are and who they want to be, and that's a really exciting time," she says. "Books were what shaped me at that age, and I think that as a writer, you have a tremendous power and responsibility to help kids figure those things out. I want kids to think that there's a world in stories that they can escape to, and that by reading about them they can explore parts of themselves that maybe they're not comfortable exploring in their own lives yet."
Applications for the 2017–2018 Associates of the Boston Public Library Writer-in-Residence program will be available online soon at www.writer-in-residence.org.