Inaugural Sargent College Travis Roy Professor Named
LaDora Thompson to work with researchers, therapists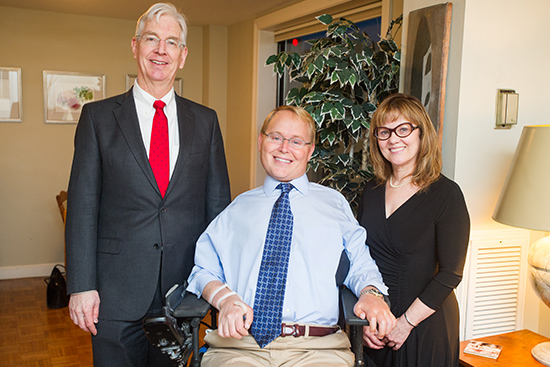 Hundreds of people came together at Agganis Arena in October 2015 to honor Travis Roy (COM'00, Hon.'16), who 20 years earlier had been paralyzed from the neck down playing in his first BU hockey game. At the gala, sponsored by the city of Boston and BU, more than $1 million was raised for the eponymous foundation he began to help others with spinal cord injuries. The same evening, Christopher Moore, dean of the College of Health & Rehabilitation Sciences: Sargent College announced the Travis M. Roy Professorship in Rehabilitation Sciences at Sargent, established by a $2.5 million gift from a group of anonymous donors.
LaDora Thompson has been named the first Travis M. Roy Professor. Thompson, who arrived at BU in October from the University of Minnesota Medical School, also chairs the department of physical therapy and athletic training. She says she sees the professorship as a unique opportunity to translate basic research to clinical application—to collaborate with other scientists, students, and patients to improve the lives of people with spinal cord injuries and other disabilities.
"There are experts here at Sargent College who investigate what are the optimal tools that will assist individuals to have a greater quality of life. There are also leaders in the field of technology development for those that have disabilities," says Thompson, a physical therapist whose current research focuses on understanding how muscles function at the cellular and molecular levels.
"The ability to investigate rehabilitation from the molecular level, all the way through the community level, is a unique opportunity that rarely occurs in other colleges of health sciences and rehabilitation, she says. "My research is really focused in basic bench research. I'm a muscle physiologist. But what drives my research are the experiences that I had as a physical therapist when I practiced in rehabilitation."
Moore says that Thompson is an internationally recognized leader in aging and muscle function at the cellular level, and that her experience as an academic leader made her a natural choice to be the first appointee to the Travis M. Roy Professorship. "She is very personable, a very lovely person. It is easy to imagine that your faculty would want to rely on, and trust in, her leadership," says Moore. "To find a person who has all of that in one package is pretty remarkable."
He says that the professorship's endowment includes support for ongoing research—a rarity in the physical therapy field. The commitment to long-standing support means Thompson will have continuity in her research with a lab team she can develop and sustain.
The position also boosts the standing of Sargent College at the national level. "This endowed professorship is immediately recognized throughout the discipline of physical therapy," Moore says. "This signals to our peers that we are committing significant resources to this research focus."
Thompson earned a BS in physical therapy and a PhD in the biology of muscles and exercise at Marquette University and trained and worked as a physical therapist in rehabilitation settings. She was the director of the physical therapy program at the University of Minnesota Medical School, where she worked for 23 years, and was a director and a past president of the American Aging Association.
She says she wants to connect her research into muscles to the ongoing investigations into treatments for spinal cord injuries and other conditions. "What happens to muscles under different conditions, which could be disease, aging, inactivity, bed rest, or spinal cord injury is poorly understood. I am really interested in determining what causes muscle atrophy," Thompson says. "Muscle atrophy is a serious complication following many chronic diseases such as spinal cord injury, and understanding the multitude of processes involved will help maintain muscle to be ready for different cures for spinal cord injury and different chronic diseases."
The professorship solidifies a partnership between the University and the Travis Roy Foundation, which Roy founded in 1997 and which funds spinal cord injury research and makes quality-of-life grants to those with spinal cord injuries. The gift establishing the professorship also provides the foundation with office space and staffing assistance over the next 10 years, as well as outreach support for the shared objectives of the University and the foundation.
Roy told the audience at last year's gala that his foundation's work motivates him to press for continued progress on spinal cord injuries.
"Whenever that cure does come, we'll have our fingerprints on it, and that is pretty neat to be able to say," he said. "And it has given my life a lot of value and meaning and I'm proud of it. And it's a really good thing."
Michael S. Goldberg can be reached at michaelscottgoldberg@gmail.com.