BU Leaders Oppose Trump Shutdown of DACA
Congress given six months to devise alternative fate for program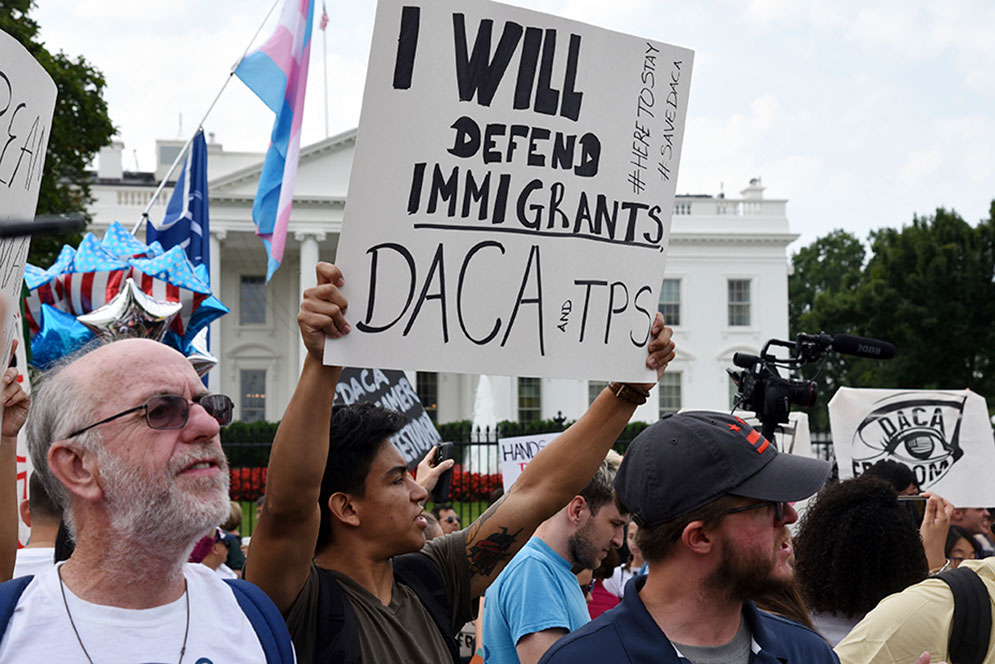 Updated September 5, 3:40 p.m.: A prayer vigil for DACA students will be held Tuesday, September 5, at 5 p.m. on Marsh Plaza, led by the Rev. Robert Hill, dean of Marsh Chapel.
President Trump's delayed unraveling on September 5 of a program that allows undocumented immigrants brought here as children to stay in the country is not "consistent with our highest ideals and national history," says BU President Robert A. Brown.
Trump's decision gave Congress six months to legislate an alternative fate for Deferred Action for Childhood Arrivals (DACA), which was put in place by an executive order from President Obama in 2012.
"I am hopeful that…the Congress will achieve consensus on a legislative solution that is humane and inclusive, while addressing concerns about enforcement of our immigration laws," Brown says.
"We will continue to speak up on this matter as we have opportunities to do so," he adds. "We will not provide information about students who are undocumented unless specifically compelled to do so by a warrant or subpoena, and we will provide advice and counsel on a case-by-case basis to students who self-identify as undocumented and come forward to seek our counsel."
The University does not track or keep records of undocumented students here, but "we also suspect that BU does not have many DACA students," says Willis Wang, vice president, associate provost for global programs, and deputy general counsel.
"We do not seek out information about these individuals," Wang says, "nor do we track those who have applied for DACA relief. We are careful about identifying those individuals who have self-disclosed." Those who do disclose they're undocumented and seek University assistance are given it in confidence, he says.
BU students with questions about the program's status, or their own immigration status, may contact the University's International Students & Scholars Office in confidence at 617-358-3565 or by email. They may also seek help from Marsh Chapel, the Howard Thurman Center for Common Ground, and Student Health Services. The federal government has a list of frequently asked questions about DACA here.
Announcing Trump's decision yesterday, US Attorney General Jeff Sessions said the government will stop accepting DACA applications. The current 800,000 or so DACA immigrants nationally, known as Dreamers, will be allowed to stay until their DACA permits expire, with those whose permits expire by March 5, 2018, permitted to apply for a two-year renewal by October 5.
Trump also gave Congress six months to pass legislation determining the future of Dreamers.
As a presidential candidate, Trump promised to end the DACA program, but once in office, he found himself in a tug-of-war between advocates and opponents on his own staff, prompting the punt to Congress. That body and the Republican Party controlling it have been unable to agree on immigration reform in the past.
"We've been waiting for comprehensive immigration reform for a very long time, so the idea that all of a sudden Congress is going to act within six months is unlikely, to say the least," says Sarah Sherman-Stokes, a School of Law clinical instructor and associate director of LAW's Immigrants' Rights & Human Trafficking Clinic.
"We have nearly 790,000 young people who have benefited from the DACA program, who are business owners, college graduates, getting master's degrees and PhDs, and contributing to our communities," says Sherman-Stokes. "They and their families are terrified and essentially at risk of deportation."
In his announcement, Sessions described the move as an attempt to rein in executive branch interference with immigration law. "Prosecutorial discretion has long been an important facet of US immigration law and policy," Sherman-Stokes says, "so the suggestion that this program is unconstitutional or illegal is completely erroneous."
The LAW clinic currently has only one DACA client, she says, and it will counsel that person and any others who come forward about possible alternative avenues of immigration relief. "It's a really difficult time to be a noncitizen in the United States," she says.
Sessions was among the advisors urging Trump to kill the program, media reports said, while the president's chief of staff, former general John Kelly, supports DACA and has sought a way to avert threatened lawsuits against the program from conservative states.
Last year, Brown cosigned a letter with more than 200 higher education leaders requesting that the government leave DACA in place.
Mary Sue Coleman, president of the Association of American Universities (AAU), a consortium of leading research schools that includes BU, urged Congress to pass legislation protecting DACA immigrants from deportation.
"I am appalled by this administration's disregard for the lives of thousands of young people brought to the United States as children," she said in a statement. "American in every way except birthright, they are upstanding individuals who contribute to their communities and our nation. At a time when we face increasing global competition, we should be embracing these hardworking and driven young people, many of whom are studying at AAU universities."
Wang says that "the individuals registered under DACA are indistinguishable from many other hardworking Americans other than their birthplace, and they deserve support. Hopefully, Congress will do the right thing by acting appropriately and quickly to provide the needed relief from deportation."
Joel Brown contributed to this story.