Double Arm Transplant Recipient Will Lautzenheiser at BU Tonight
Stumped, film about an alum by an alum, screens at COM's Cinemathèque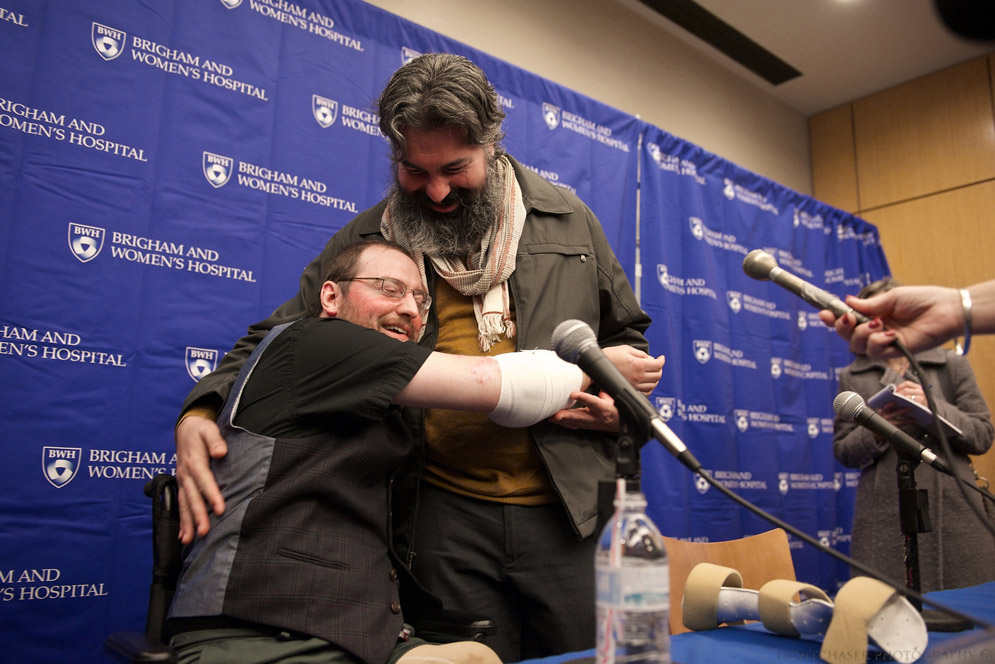 Two BU alums—one the director, one its star—made the documentary Stumped
Stumped follows a Boston man through a cutting-edge double arm transplant
Stumped began as an 11-minute short, expanded to a full-length documentary by filmmaker Robin Berghaus
---
Will Lautzenheiser is especially proud of a recent culinary achievement: scrambled eggs. It's a simple dish, but the coordination needed to make it is surprisingly involved.
Lautzenheiser (CAS'96, COM'07) is working on that coordination after undergoing a double arm transplant at Brigham and Women's Hospital three years ago. The popular former College of Communication screenwriting lecturer lost both arms and legs in 2011 when a group A streptococcus infection ravaged his body. Lautzenheiser has been working incredibly hard to get the arms up and running since the transplants.
His journey is captured in the feature-length documentary Stumped, directed by former BU Today video producer and film grad Robin Berghaus (COM'06). The inspiring film, released in April 2017, follows Lautzenheiser's day-to-day life, his trials as a local stand-up comic, and his surgery and its aftermath.
The film won the Global Health Competition at the 2017 Cleveland International Film Festival, was named the Best Feature Documentary, Youth Film Jury Award, at the 2017 Rhode Island International Film Festival, and was selected as an Opening Night Film at this year's Independent Film Festival Boston as well as at the Milwaukee Film Festival.
The Stumped team often invites representatives from local organ procurement organizations to screenings, where they help register organ donors.
Berghaus and Lautzenheiser are tonight's guests at the BU Cinemathèque series, a COM program that brings accomplished filmmakers to campus to show and discuss their work.
Bostonia spoke with the duo about Lautzenheiser's progress, the film's development, and their experience as filmmakers.
Bostonia: Will, let's start with you. It's been three years since you received the transplants. How are things going now?
Lautzenheiser: Things are amazing. Years ago, I couldn't have imagined those things that I'm able to do again now, and it keeps getting better. I'm beginning to adjust and learn more about how to use my arms—my new, transplanted arms. I find that I'm able to do a lot more activities. For me, this was 100 percent the right thing to do, and nothing so far has caused me to have any second guesses or regrets.
Just in the last couple of weeks, I've had a bunch of screenings and regular research appointments for my three-year follow-up. This is the type of thing that we have done every six months since the transplant, and now that I've reached the three-year mark, it will shift to every year. Some of that involves MRI work and other functional tests, but I did better on the functional test this time than I've done in the past. I can see the improvement, even in activities that are kind of stupid.
Can you give an example?
Lautzenheiser: What's artificial about the test is that I can only use one hand at a time, and of course, in my day-to-day life, I use both hands working together. But even though I was using one hand at a time, with each hand, I did better this time than I did previously. When I can actually work on my own life skills in reality, instead of in a testing situation, I'm doing even better, so I know that I'm improving.
A few weeks ago, I thought that I might try to make some scrambled eggs, and I was able to do so. And that was, start to finish: I got the pan out of the pantry. I heated it up on the stove. I got the eggs out of the refrigerator. I beat the eggs. I cracked them open. The whole thing.
How were they?
Lautzenheiser: They were excellent. They were just like they were supposed to be. I didn't want to burn myself, so I thought removing them from the pan might've been a little risky, so actually, they were 20 seconds overdone because there was a lag when I asked Angel [his partner] to help me. But you don't have to write that. They came out great.
Can you give some examples of your progress?
Lautzenheiser: Well, fine-motor control will probably never come back, so things like buttoning shirts are likely to elude me forever, but not to say that that's 100 percent off the table. It's just extremely unlikely at this point. Just the normal—getting out of bed, showering, and getting dressed, and getting myself breakfast—are major accomplishments.
For me to have a semblance of a normal morning is huge. To be independent is huge. And I'm finding more independence in getting out. The change is dramatic. I'm never going to be totally independent, but I can get through a lot of the day without much help.
That's fantastic. Robin, I know that Stumped began as an 11-minute short. When was the moment you realized it could be a longer feature-length film?
Berghaus: When Will was approved for the arm transplant, I thought that there would be a really fascinating story there. Brigham and Women's Hospital was really supportive of us continuing to document Will's journey, and it was convenient to have a short film ready to show them so that they could see the kind of story that we were looking at creating, and they loved it. They gave us full access to continue working with Will.
It was also really remarkable for me to see how Will was getting through this experience, just the way he was facing adversity with a lot of courage and humor. It was beautiful to see the way his family came to support him and his partner, Angel, and so there were a lot of elements that I thought converged that would make for a fascinating story.
Will, was it weird being on the other side of the camera?
Lautzenheiser: Yeah. You may not think it from watching the movie, but I'm a pretty private person. And in a way, I had to shift a lot of thinking in choosing to be public with this story. When something like this happens to you—a disaster, a medical catastrophe, or whatever—there are a lot of ways it can be isolating, and that's not really good for someone going through this type of thing.
So I made the decision pretty early on when we were asked whether we wanted to make this into a public story. I thought, well, it might not just help me, but it might help other people going through something similar. They won't feel so isolated. And maybe it can be a way to let people know what was going on with me, and maybe folks will reach out, and that will help me.
Did you find yourself calling Robin and saying, 'I have this appointment coming up, and it might be good for the film to show it'?
Lautzenheiser: Of course. We talked about that stuff all the time. Right, Robin?
Berghaus: Will truly knows what would be cinematic and what would make for a beautiful part of the journey for the viewers to go on. And so those conversations were productive and efficient, working with someone who has that experience and who has that eye.
Lautzenheiser: We had a kind of shared language. And that probably came from coming from the same COM program and whatnot, but we were able to talk with each about those kinds of things. Not just what angles do we need for the camera, or what the light should be like, something like that, but what the content should be as well.
Berghaus: And Will was more willing, probably because he's a filmmaker, to show his vulnerability. That's not easy for anyone to do, but Will understood the importance of communicating. I wouldn't have been able to work on the project had he not been open like that, and had his family and Angel all not agreed to be part of the story. So the fact that everyone was so supportive of Will and willing to share their stories, that's what made for a great film.
Robin, what are you working on next?
Berghaus: I'll probably work on some freelance projects before I potentially take on a bigger project. We spent five years on this project: four in production, a year in post, and we're still on our festival run through next year. And we'd love to get it out on broadcast and eventually on streaming, at educational institutions, so there's still a lot of work that I need to do to make that all happen.
So, this might be on Netflix one day?
Berghaus: Yeah, potentially.
Will, what are you working on?
Lautzenheiser: I'm still working on a little short film of my own regarding the memory of my donor in some ways. It's a project that's shifted from my original concept, because subsequently I met the donor's family and learned a lot more about whose arms I have.
I've also been getting back to teaching—not in any traditional way—but I've been talking at conferences and to occupational therapy groups, to patient-experience groups, hospital associations, and so on, to really raise awareness about issues of transplantation and hospital experiences.
Stumped will screen tonight, Friday, December 1, at 7 p.m., at the College of Communication, Room 101, 640 Commonwealth Ave. The event, part of the BU Cinemathèque series, is free and open to the public. The film will be screened with English subtitles. ASL interpreters and CART services will be provided during the pre- and post-film discussions. The screening room has limited wheelchair-accessible seating. Contact Disability Services at 617-353-3658 or access@bu.edu for more information.
Stumped will also screen on Tuesday, December 5, at 7 p.m., at the Emerson Paramount Center, 559 Washington St., fourth floor, Boston. The event is part of the Emerson College Bright Lights series.
Want to know where Stumped will play next? Like the film on Facebook and follow the team on Twitter.