COM Prof's Study Sheds Light on Undergrad Facebook Habits
Finds heavy users share more personal information, online and off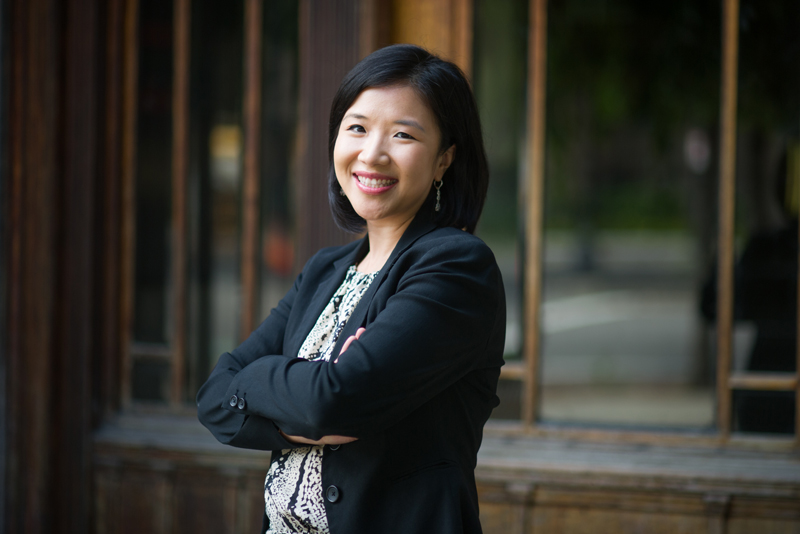 The hours young adults spend on social media networks every day influence their behavior and attitudes about privacy. Heavy social network users who read friends' updates and share information about themselves become acclimated to the act of posting their information as they read daily about their friends and the world, spurring them to post more themselves—and to share more during off-line encounters.
This effect of social media is one of the big takeaways of a new study of undergraduate-aged Facebook users coauthored by Mina Tsay-Vogel, a Boston University College of Communication (COM) assistant professor of mass communications and codirector of BU's Communication Research Center.
"People sometimes don't realize the powerful socializing role of social media," says Tsay-Vogel. "Yes, we are maintaining relationships with others, and we might all get to know the most current news and what people are doing, and it's very satiating. But we might not realize that it's also affecting how we're seeing information disclosure in the real world, and how it's also impacting us to then disclose our own personal information. Not only in the virtual world, but in the off-line world."
The study, published in New Media & Society, analyzed five years' worth of surveys from 2,789 18-to-25-year-old students in the United States. Researchers surveyed students in introductory communications courses between 2010 and 2015, asking them about their Facebook habits and their attitudes toward privacy and government regulation in order to discern patterns in their behavior and attitudes about sharing information on Facebook. This multiyear look at the same age group gave researchers more insights into users' attitudes than a one-time snapshot, Tsay-Vogel says. The study was coauthored by James Shanahan of Indiana University (formerly at BU) and Nancy Signorielli of the University of Delaware.
The data showed that heavier users of Facebook, defined as being on a social network for more than the sample average of 3.17 hours a day, had more relaxed privacy attitudes and were more likely to share personal information, Tsay-Vogel says, suggesting that these users develop an expectation that disclosing information is part of the online culture. Heavier users also showed more support for a governmental role in privacy protection. "If you are using Facebook a lot, it can make you more relaxed in your privacy attitudes. But for heavier versus light users," she says, "we're seeing different patterns. Heavier users' risk perceptions actually increase, but light users' stayed relatively stable over the five years."
The study also found that Facebook was used fewer hours a day on average as the years went on, and as other networks, like LinkedIn, Twitter, Instagram, and Pinterest, grew.
The study resulted from previous research about the effects of watching television by Tsay-Vogel and colleagues, including Shanahan. Researchers have come up with a concept known as cultivation theory: that the more time viewers spend seeing similar messages or storytelling on TV—about sex or violence or affluence in certain professions, for example—the more they feel like their world mirrors what they see.
This theory was used as a framework for the Facebook user study. "When you're in social media, you're also engaging in the behavior of self-disclosure, and you're reading what people are self-disclosing," says Tsay-Vogel, whose campus nickname is Dr. TV. "This whole environment actually is telling us a story about the virtual world: that self-disclosure is not only everywhere, but that everyone engages in it in some way, shape, or form, to be gratified through these social networking sites." That led her to broach her coauthors with the questions: "Can we study mediated self-disclosure? And how, over time, do social media sites actually cultivate our perceptions of reality?"
The findings raise other questions Tsay-Vogel hopes to explore in the future. For example, this study asked respondents to report on their Facebook habits and attitudes, but did not delve into what, specifically, they disclosed. What do users consider personal? What does that say about the medium?
Another inquiry she'd like to pursue: can people find comfort and community through participating in social networks? "I'm really interested in whether or not media, especially social media, and the conversations we're having, the support we're getting in these groups, these online communities, is fostering a much more healthy, selfless view of the world," she says.
In a separate study, Tsay-Vogel is examining how people in China and Taiwan use social media in conjunction with their television viewing—what she calls social TV. "Asia is very much a collectivist culture. The way they communicate in groups is actually very different than the way people communicate in online groups here in the United States," she says. "So that's a theme I'm looking at, how differences in collectivist mind-set actually may have influenced how social media is used and how those users are impacted."