Thinking about Smart Cities
BU, other experts confer in a Washington forum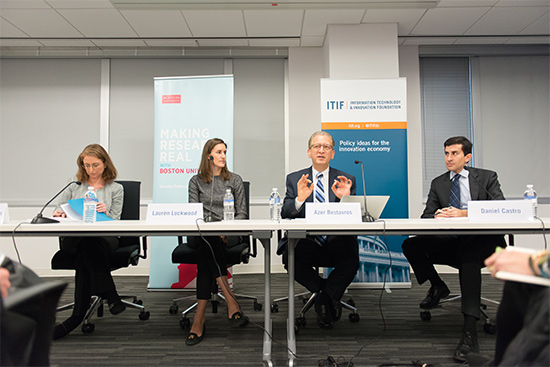 While proponents of smart cities differ about the details of what exactly makes a smart city smart, they all agree on one thing: life is better in a smart city. It's safer, greener, less congested, cleaner, and more cost- and energy-efficient. From the streets to municipal services, it is easier to navigate. It's about collecting and acting upon the data that is available from an ever-increasing number of sources—sensors in roads, mobile phones, commercial transactions, census and other public records, even personal fitness trackers.
In a smart city, people don't spend half their lives sitting in traffic. That's because sensors embedded in roads, traffic lights, and tollbooths collect data and share it through wireless technology to keep vehicles moving (while reducing carbon emissions). City hall quickly learns about potholes, because the drivers hitting them report their location on their smartphones.
If Boston were a smart city, the traffic lights on Commonwealth Avenue would know that BU students cross the street between classes—and would also know where they cross—and the lights would flash red accordingly. During snowstorms, student data could tell the snowplows when and where to start plowing.
These are a few of the things that Azer Bestavros, director of BU's Rafik B. Hariri Institute for Computing and Computational Science & Engineering, and a group of other experts talked about during a panel discussion on smart cities hosted by Boston University and the Information Technology & Innovation Foundation (ITIF) at its offices in Washington October 27.
"A smart city has to be programmable," said Bestavros, a College of Arts & Sciences (CAS) professor of computer science. "Cities are not smart. It's people that are smart. People can put their smarts into programs and as a result, cities can be adaptable, customizable, nimble, personable."
One major theme of the discussion was the need for smart infrastructure to address problems in America's cities related to congestion, grid security, and aging roads, bridges, and water supply networks.
"At the federal level, in smart transportation, we invest on the order of what we could build 10 miles of road with—that's how little we're investing," said Robert D. Atkinson, ITIF president, who introduced the panelists. "We're spending massive amounts of money on dumb cities, or dumb things that have no intelligence to them, and really very little on making them smart. Luckily, that's beginning to change both here and around the world, but we need to accelerate that change, and that's part of what this conversation is about." Atkinson noted that ITIF has been working closely with the Obama administration on its National Smart Cities Initiative, launched in September 2015. He held up BU, and Boston, as examples of places that are working on model smart city efforts.
The other panelists were Daniel Castro, ITIF vice president, Lauren Lockwood, chief digital officer for the city of Boston, and Elizabeth Grossman, director of civic projects in Microsoft's Technology and Civic Engagement group.
"Right now with smart cities, there are two paths forward," Castro said. "They can choose to go down this route and invest heavily in digital or they can choose not to." What will happen to cities that don't invest? Castro pointed to the example of the past, when "we saw cities and towns that chose not to be on the railroad line, or to get bypassed by the interstate, not thrive after a while."
Grossman, who works with cities across the country on various smart initiatives, told the group that "there is a complex interplay between information technology, infrastructure, and humans, with their messy views and values." Grossman and the other panelists emphasized that smart cities can't focus just on software programs, data collection, and the latest technologies. They have to be about people—all kinds of people.
Lockwood, who became Boston's first chief digital officer in 2014, talked about using digital communication and online services to humanize city government and help people more easily navigate such things as applying for a birth certificate and moving around the city. Her team recently redesigned the city's website to make it more people-friendly. "Accessibility has to be part of your process from the beginning," Lockwood said. "Accessibility is not just about people with disabilities. It's about people who speak English as a second language, people with vision impairment, people who can't read above an eighth grade level. It's important that no matter what kind of tools we're creating, it's not just for a techie crowd, but for everyone."
That was something her team kept in mind in the city's web page redesign, she said. "Low-income residents disproportionately use mobile phones and their data plans to access the internet, and you don't want them using up their data plans to load a photo from the home page."
The smart cities movement has brought together government officials—the National Science Foundation (NSF) is the lead federal agency for the National Smart Cities Initiative—with university researchers as well as people from industry, foundations, and other nonprofits. BU, with the MBTA running through its urban campus, can be thought of as a laboratory for smart cities, Bestavros said. As part of an NSF-funded project called SCOPE (Smart-city Cloud-based Open Platform and Ecosystem), BU researchers from the Hariri Institute, CAS, the College of Engineering, and the Initiative on Cities, are testing a wide range of possibilities, from smart parking apps to using traffic data to reduce carbon emissions, he said. Students are contributing to these projects through the CAS Data Mechanics course.
"Students need something they can relate to," Bestavros said, "and there is nothing they relate to more than the city where they live."
For all the promise of smart cities, Bestavros and the other panelists expressed concern about the risk of deepening the digital divide. "When we talk about technologies for smart cities, we should think about how to lessen the divide or eliminate it altogether," Bestavros said. Even more important than collecting the data and making it available is "providing the tools and services that allow this data to be used—services that don't require people to be techies."
Governments and municipalities should insist on open design and open sourcing, he added. "The whole point is to connect all these things together. You cannot just have traffic controlled separately from the parking system. They have to play together."