BU Mourns CFA Dean Emerita Phyllis Curtin
Beloved teacher, famed soprano, Opera Institute founder dies at 94
By all accounts, Phyllis Curtin, one of opera's most graceful and versatile sopranos, was not a diva, always putting the music first. Following a celebrated career on stage, Curtin was dean of Boston University's College of Fine Arts from 1983 to 1991 and founded the School of Music Opera Institute in 1987. After she retired, she continued to offer master classes at CFA until a few years ago, and for more than half a century she was also a beloved voice teacher at the Tanglewood Music Center. Curtin died Sunday, June 5, at her home in Great Barrington, Mass., at age 94.
"The world has truly lost a remarkable person," says Lynne Allen, CFA dean ad interim and a professor of art. "Curtin's exceptional talent and presence made her a star, but more than that, she was an intelligent, bright, charismatic lady who led this college as dean. It's amazing how one person can leave such an indelible mark on the lives of colleagues, students, and audiences. Phyllis was beloved and Boston University mourns the passing of our dear friend."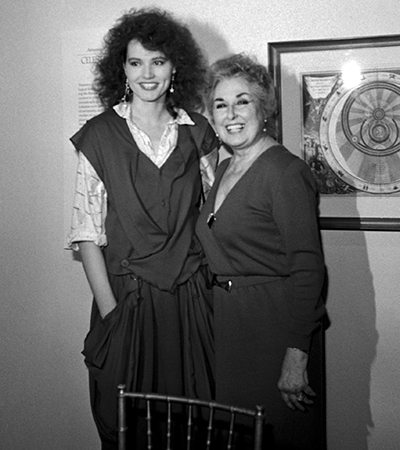 A major figure with the New York City Opera in the 1950s and 1960s, Curtin sang roles in operas by Verdi, Wagner, and Richard Strauss, in addition to performing all of Mozart's major heroines. But she was an ardent supporter of modern composers as well and championed work by noted 20th-century composers such as Benjamin Britten and Darius Milhaud. As New York Times chief classical music critic Anthony Tommasini (CFA'82) noted in a 1998 Times piece, Curtin achieved widespread success and respect, "but never quite the recognition she deserves."
A New York Times obituary hails Curtin as a consummate professional known for "the purity of her voice, the sensitivity of her musical phrasing, and the crystalline perfection of her diction."
As a teacher, she instilled in her scores of students and protégés, who included Dawn Upshaw and former CFA faculty member Simon Estes, a reverence for the music and confidence in their instrument. "Don't worry about the audience," Curtin was quoted in a 2013 article in the Berkshire Eagle as telling one student. "If you think about the audience, of course you'll get nervous. Sing it to the universe!"
"To know Phyllis Curtin was to love her," says Shiela Kibbe, School of Music director ad interim and an associate professor of music. "Her radiant embrace of music and musicians was generous and contagious, and the School of Music at CFA will ever be grateful for her fierce advocacy, her passionate teaching, and her constant example of professionalism in both artistry and demeanor."
"Phyllis Curtin is unique among famed American artists for a career that was equally distinguished as a homegrown opera star at a time when the European brand was favored, for her teaching—first and for over 45 years at the Tanglewood Music Center, then at Yale, and here at BU—and for her premieres and passionate advocacy of new works," says longtime friend Phyllis Hoffman (CFA'61,'67), a CFA professor and chair of the voice department and former director of the School of Music and of the BU Tanglewood Institute.
"As dean, she put our school on the map not only via her celebrity status," Hoffman says, "but especially for her artistic ideals, inspirational teaching, eloquent advocacy for the arts, and her ability to put into words the indescribable in regard to music, performance, and artistry. She perhaps is most remembered as the founder of the Opera Institute, but her legacy is alive and enduring for her myriad achievements during her deanship."
A native of Clarksburg, W.Va., Curtin earned a bachelor's degree in political science from Wellesley College in 1943. While there she studied singing and went on to pursue graduate studies in vocal performance at the New England Conservatory of Music. Among her early teachers was soprano Olga Averino.
Curtin made her opera debut in 1946 as Tatyana in Pyotr Ilyich Tchaikovsky's Eugene Onegin with the New England Opera Theater. In 1954, she rose to become a principal soprano at New York City Opera, where she remained until 1960. Her many leading roles included Fraulein Burstner, Frau Grubach, and Leni in the US premiere of Gottfried von Einem's The Trial, Alice Ford in Verdi's Falstaff, Antonia in Offenbach's The Tales of Hoffman, Katharina in Vittorio Giannini's The Taming of the Shrew, Rosalinde in Die Fledermaus by Johann Strauss II, Violetta in Verdi's La Traviata, and the title role in Richard Strauss' Salome. She also performed in the world premiere of two operas by Carlisle Floyd: as Catherine Earnshaw in Wuthering Heights, and in 1955 the title role in Susannah, which would become her most famous.
Critics cite Curtin's association with 20th-century music as a reason she never achieved the mainstream recognition given her contemporaries Beverly Sills, Joan Sutherland, and Maria Callas. "Where we make our big mistake is thinking that all opera is Tosca and that everything else is something beyond the pale," Curtin told the Times in 1961. "A new musical show on Broadway gets plenty of attention, but some sort of ridiculous barrier has been set up between the musical and the opera."
After leaving New York City Opera, Curtin performed with Royal Opera House, London, the NBC Opera Company, the American Opera Society, the Cincinnati Opera, the Glyndebourne Festival Opera, the Tanglewood Music Festival, and the Metropolitan Opera, among others. She taught at Yale University as well as at BU.
Curtin is survived by a daughter, Claudia d'Alessandro, and three grandchildren.
Donations in Curtin's memory may be made to the Phyllis Curtin Opera Fund at Boston University College of Fine Arts, care of the Office of Development, 855 Commonwealth Ave., Boston, MA 02215, or online here.