Men's Ice Hockey Plays Home Opener Tonight
Touted Terriers look to get back on track after two losses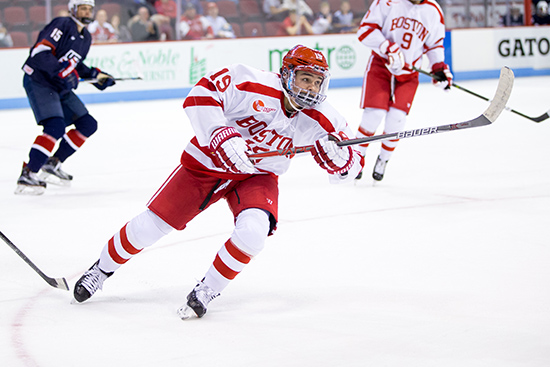 "You know who people are sick of? You. And I know that because I'm sick and tired of hearing how good we're going to be."
That's how BU men's hockey head coach David Quinn (CAS'89) greeted his Terriers in early September at the first team meeting of the 2016-17 campaign. Quinn's tongue-in-cheek message set the tone for how he wants a team loaded with young talent to approach a season surrounded by an unprecedented amount of hype.
In all, 11 NHL draft picks will suit up for the Terriers this year. Of those, 6 were taken in last summer's entry draft, and 4 were selected in the first 19 picks of 2016. Clayton Keller (CGS'18) went 7th to Arizona, Charlie McAvoy (CGS'17) 14th to Boston, Dante Fabbro (CGS'18) 17th to Nashville, and Kieffer Bellows (CGS'18) rounded out the Terriers' first-round picks when he crossed the stage as the 19th pick and the New York Islanders' newest prospect. Also taken were Chad Krys (CAS'20), going 45th to Chicago, and Patrick Harper (CGS'18), 138th to Nashville.
The nine-man freshman class gathered by Quinn and his staff has been touted as one of the best ever assembled, and preseason polls reveal the extent of this national recognition. BU snagged 10 of 12 first place votes to top the annual Hockey East Preseason Coaches Poll and was tabbed as the fourth-best team in the nation in the 2016 Preseason USCHO.com Division I Men's Poll.
For Quinn, all this attention has made his job that much more important. "It's the job of the coaching staff, really," he says. "You've got to block out all the noise and focus on what's going on inside the walls of your arena and locker room. That's what coaching's all about. It's not about the fancy plays and the systems. It's about keeping your team straight-minded, focused, and challenged on a daily basis."
Quinn has entrusted the delivery of this message to captain Doyle Somerby (CGS'15, COM'17) and alternate captains Jakob Forsbacka Karlsson (Questrom'19) and Nikolas Olsson (CGS'16, COM'18). However, on a team with just three seniors, all of the returning Terriers will be expected to lead.
"The only difference between us and the others—because everyone who's returning is a leader in their own way—is that we have letters on our jerseys and we can talk to refs," Olsson says. "We have a ton of leaders, and I'm really excited to work with those guys and to lead our incoming freshmen."
The program's newest members sprinted out of the gate, making the Terriers look every bit the powerhouse they were predicted to be. Harper tallied eight goals in preseason tilts against Prince Edward Island and the US Under-18 team, with Keller joining him at the top of the preseason scoresheet with three of his own.
When BU opened regular-season play at Colgate on October 8, Harper picked up where he left off, scoring on his first official shot as a Terrier and following up with a second tally in the 6-1 BU victory. Goaltender Jake Oettinger (CGS'18) turned in 29 saves in the winning effort. The strong start catapulted BU to second place in the October 10 USCHO.com poll.
However, back-to-back losses last weekend to Denver, the team that ended BU's 2015-16 season with a dominating 7-2 victory, knocked the Terriers' USCHO ranking to eighth and handed the youthful team its first taste of what life is like when the entire country is looking to topple the giant.
When the Terriers host Sacred Heart tonight in their home opener, they're determined to get back on track and continue their dominance inside Agganis Arena, where they went 14-2-2 last season.
"Our guys understand what consistency is and how mentally tough we need to be if we're going to have success," Quinn says. "The date's circled when BU comes to town, the buildings are sold out, and we usually get everybody's A game. We've got to be ready to bring it night in and night out."
To that end, he will look for Forsbacka Karlsson to build on his 30-point effort last season. He "was on the All-Rookie Team last year and is a high-profile guy. He's mature beyond his years. We're really anticipating him making the next step as an all-around player," Quinn says. "I think we'll be a little bit deeper this year up front, which will allow him to maybe free up a little bit. We're going to lean on him heavily."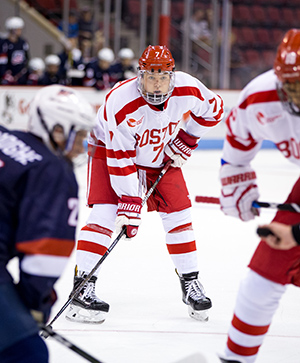 On the other side of the puck, the coach highlighted McAvoy as a player he hopes will embrace a leadership role. "I see a more mature player and a more mature person. He's been the youngest player on every team he's ever been on," he says. "This is going to be his first real opportunity to be a leader, and he's done a great job of it so far. Guys gravitate toward him, and it's been a lot of fun watching him grow."
Tonight's game marks the first time a men's hockey regular-season game will be broadcast online in high-definition as part of the program's new partnership with Campus Insiders, announced September 27. A nonconference matchup with Quinnipiac on Saturday will be BU's last chance to tune up before Hockey East play begins.
"This is one of the most competitive conferences in the NCAA, if not the most competitive," Olsson says. "Every game is hard-fought, and there are no easy points in this league. Every day you have to show up and go to work."
Quinn hopes that the chemistry that has already formed in the Terrier locker room will carry the team through a long season in the spotlight. "I love how they've all blended in," he says. "Our upperclassmen have done a great job bringing them into the culture and into the hockey program. You walk in that locker room and you can't tell who the freshmen or the juniors are."
While he is excited about the makeup of his team and the most recent crop of recruits, the veteran coach's experience has taught him to temper expectations and be wary of praise that's not yet earned.
"I'll let you know in four years," he says. "I've been around way too long watching hyped players or hyped classes, where you scratch your head after the four years are over and say, well that's not how I thought it was going to work out. Let's let the dust settle. They're still freshmen."
The BU men's ice hockey team takes on Sacred Heart tonight, Friday, October 21, at 7:30 p.m. at Agganis Arena, 925 Commonwealth Ave. Tickets are free for students with a sports pass, $17 for BU students, faculty, and staff without a sports pass, and $22 for the general public. Purchase tickets at the Agganis Arena ticket office. The game can be viewed online at GoTerriers.com/TerrierTV.
Taylor Raglin can be reached at traglin@bu.edu.