Men's and Women's Lacrosse Terriers Gain Momentum
Both teams to host Lehigh on Saturday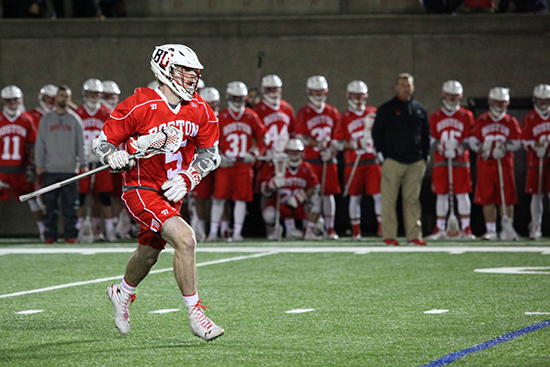 This season has been one of improvement for both the men's and the women's lacrosse teams as they prepare for their 2016 homestretch. With just a handful of games remaining before their Patriot League tournaments, Saturday promises to be a big day for each team as they host conference foe Lehigh. The men's game begins at 12:30 p.m., followed by the women's matchup at 3:30 p.m., both on Nickerson Field.
Men's Lacrosse
The BU men's lacrosse team is looking to extend its best season to date in the four games, all against Patriot League teams, leading up to the league tournament. The Terrier men (8-2, 3-1 PL) are fresh off back-to-back wins over number 14/15 Harvard and Lafayette heading into tomorrow's showdown. This is the Terriers' third year as a varsity team.
"We're very pleased with our team's play, being 3-1 in the league and holding our own after knocking off Navy, the preseason number one team," says head coach Ryan Polley. "With Lehigh, we're going to concentrate hard on ground balls, because we think that's going to be an important factor in the game. When we're winning those 50-50 ground balls, killing possessions on the defensive end, and retaining possession, it really puts pressure on the other team."
The Terrier men have greatly improved last year's 6-8 record. The team has been nationally ranked in the USILA/Nike Coaches Poll for the first time—a feat achieved several weeks because of consistent play and victories over ranked teams Navy and Harvard.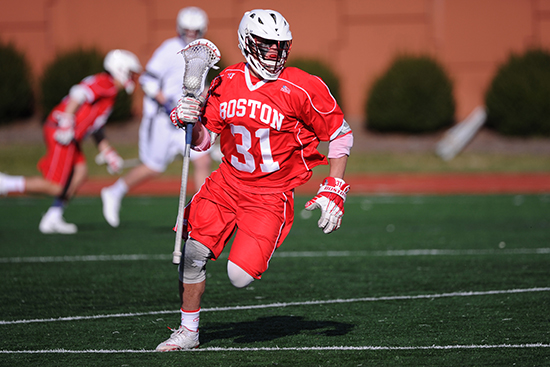 Better rankings aren't the only thing this impressive Terrier squad has earned: face-off specialist Sam Talkow (Questrom'17) just became the first Terrier in program history to be added to the watch list for the Tewaarton Award, given annually to the nation's top lacrosse player. Talkow has won 68.9 percent of the face-offs he has taken this season, making him fifth-best in the country. The Delray Beach, Fla., native, a preseason All-Patriot League Team selection, also leads the Terriers in ground balls, with 71.
"He's definitely an asset to have and he masks some of our deficiencies," says Polley. "We're not great at clearing the ball, we turn it over sometimes at too high a rate, but given the fact that we win so many face-offs, we still dominate possessions."
"Whenever the ball is not on our end, it's always beneficial for us," says defenseman Dominick Colisto (Questrom'17).
Heading into the postseason, another Terrier midfielder has been gaining attention as well. Cal Dearth (SHA'17) has logged 11 goals and 11 assists in the last six games, including a outstanding 4-goal, 2-assist performance that helped upset Harvard 9-8 in Cambridge March 22. Dearth was also named to the preseason All-Patriot League Team and is tied for second on the BU team in points, with 23.
Justin Domingos, the team's assistant coach, "has done a great job over the last couple of weeks of really encouraging Cal to shoot more," Polley says. "When teams put their best defensive midfielder on him, he can still typically beat that player, which puts us at an advantage."
Women's Lacrosse
Liz Robertshaw, women's lacrosse head coach, says her players have made tremendous strides over the past eight weeks, and she marvels at their improvement.
"When I look back to the beginning of our season in February, I see a different team," says Robertshaw. "I think that with every game, we've gotten better—unfortunately it doesn't always show in the win-loss column, but I've been really pleased with the progress the team has made."
The Terrier women (5-5, 3-1 PL) have gained momentum as they prepare to take on Lehigh Saturday. The team has won three of the last four games, including a come-from-behind 14-11 win over Colgate on Wednesday. Heading into the game's second half, the Terriers were down 6-4, but Mallory Collins (COM'15, MET'16) quickly erased the deficit by scoring two goals in the first 40 seconds, two of four unanswered goals that gave BU the lead for good.
The Terrier women have benefited this season from the leadership and experience of seven returning seniors. In fact, at the beginning of the season the players elected the entire senior roster as captains, an acknowledgment of the women's collaborative contributions.
"We're all leaders who work well together, and we all step up at different times," says midfielder Jill Horka (CGS'14, SAR'16).
With just six regular season games to go before the Patriot League tournament kicks off May 3, a victory tomorrow against Lehigh could prove crucial. Last year, the team fell 14-7 in the tournament's semifinal round to eventual champion Loyola Maryland. The Terriers dropped a rematch with Loyola last Saturday, 10-6.
"From the start of the season we've said that we want to win the Patriot League," Collins says, "and even though we had a tough game against Loyola, we're taking that and learning from it."
Robertshaw is confident as the team heads into the regular season's final stretch. "We've had so many different players step up at different times that I don't know if I can pinpoint one," she says. "We have a better sense of identity and who we are and the style of lacrosse that we want to play."
The BU men's lacrosse team takes on Lehigh tomorrow, Saturday, April 2, at 12:30 p.m. at Nickerson Field, 285 Babcock St. The BU lacrosse women then host Lehigh at 3:30 p.m. Admission to both games is free. Preceding the games, from 11 a.m. to 3:30 p.m., is the first-ever Lacrosse-A-Palooza, a free barbecue for BU students, with lawn games (cornhole and more) and giveaways, sponsored by the BU Off-Campus Council, the Residence Hall Association, and both lacrosse teams. Students can RSVP here and must bring their BUID. Enter the barbecue area across from Sleeper Hall. A brew tasting and cash bar will be available for students 21+.
Josh Gutchess can be reached at jgutch12@bu.edu.