Celebrating the Holiday Season in Boston
Markets, plays, free photos with Santa, and much more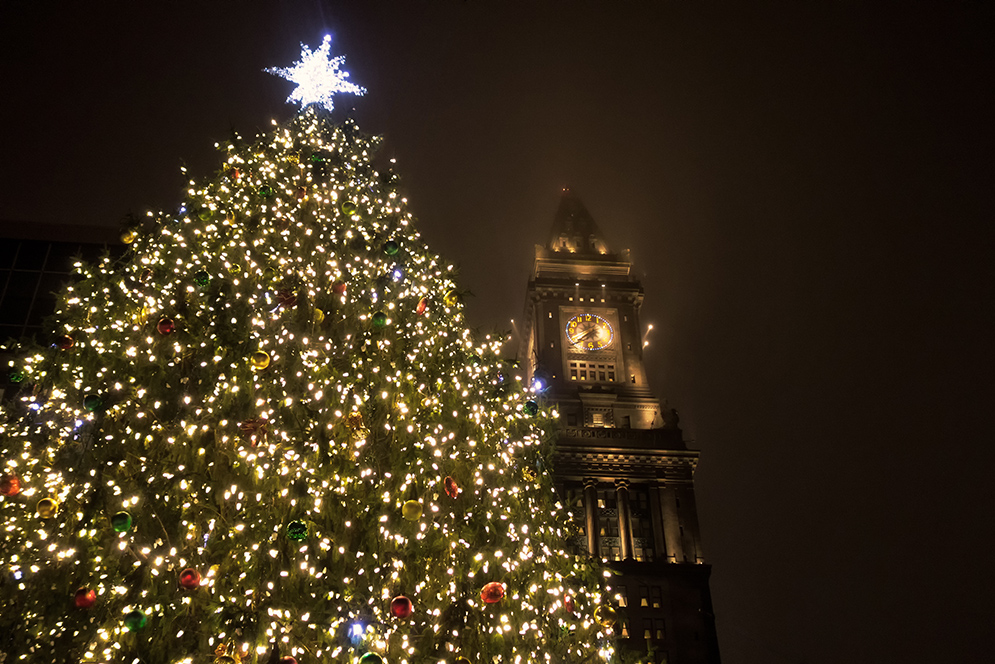 As that popular holiday song declares, "It's the most wonderful time of the year." Finals end today, December 21, and that means it's time to shift gears and start getting in the Yuletide/Hanukkah spirit. Residence halls close at noon on Thursday, December 22, and remain closed until 10 a.m. on Friday, January 13. Dining facilities close after dinner on December 21 and reopen for dinner on Saturday, January 14.
Those staying in Boston for the holidays are in luck. The city is alive with special events this time of year, among them a new seasonal ice rink and holiday market at City Hall Plaza, holiday concerts, light shows, and a world-class production of The Nutcracker. Did we miss any events? Let us know in the Comment section below.
Shopping
The CambridgeSide Galleria is offering free photos with Santa Claus for the first time ever. Any family visiting Santa will receive two complimentary 4-inch by 6pinch Santa photo prints and a digital download of a single image. After your photos, take advantage of the holiday sales and your student discounts at stores like Express, Club Monaco, JCrew, Macy's, and Banana Republic. Get your purchases wrapped on the third floor; all proceeds benefit the local charity A Bed for Every Child.
Free photos with Santa are available through Saturday, December 24, on level one of the CambridgeSide Galleria, 100 CambridgeSide Place, Cambridge. Santa's hours are Monday to Saturday, 10 a.m. to 8 p.m., and Christmas Eve, 8 a.m. to 5 p.m. Charity gift wrapping is available on level three between GNC and Charlotte Russe through December 24. Hours are available here. The Galleria's holiday hours are available here. Take any MBTA Green Line trolley to Lechmere.
This annual juried holiday market features hundreds of one-of-a-kind gifts. You'll find handcrafted jewelry, art, pottery, clothing, bath products, home décor, and more from over 40 vendors, including New England craftspeople and world-traveling importers.
The Harvard Square Holiday Fair is on the upper floor of 50 Church St., Harvard Square, Cambridge. Vendors will also be outside on the corner of Church Street and Mass Ave. The fair is open through Saturday, December 24. Hours: 11:30 a.m. to 7 p.m. weekdays and 10 a.m. to 7 p.m. Saturday. Admission is free. Find a full list of vendors here. Take an MBTA Red Line train to Harvard Square.

Newbury Street
The retailers in Boston's premier shopping district, the eight-block-long Newbury Street, range from chain stores like Forever 21 and H&M to high-end boutiques like Chanel, Burberry, and Dolce & Gabanna. You'll also find a lively mix of art galleries, salons, one-off boutiques, and restaurants. If you're looking for children's gifts, don't miss the new pop-up Misha & Puff, at 91 Newbury St. through December 24, which specializes in vintage-inspired knitwear for little ones handmade in Peru and ideal for cold Boston winters. Find a full list of Newbury Street stores here.
Take any MBTA Green Line trolley to the Hynes Convention Center, Copley, or Arlington stops.
Stop by Santa's Winter Wonderland in the Belvidere Arcade to have your picture taken with the right jolly old elf, but leave time to hit some of the mall's nearly three dozen shops, among them Lord & Taylor, Vineyard Vines, and Saks Fifth Avenue. Take your purchases to Barnes & Noble in the Prudential's Huntington Arcade and local nonprofits will wrap your gifts for free; your charitable donations will support participating organizations.
Santa in the City! is in the Belvidere Arcade at Prudential Center, 800 Boylston St., Boston, through December 24. Santa will be available for photos December 21 and December 22, 10 a.m. to 7 p.m., December 23, 9 a.m. to 7 p.m., and December 24, 9 a.m. to 6 p.m. Photo packages start at $19.99. Find more information here. The Charity Gift Wrap, sponsored by Barnes & Noble, is in front of the store in the Huntington Arcade from 9 a.m. to 9 p.m. through December 23, and from 9 a.m. to 6 p.m. on December 24.
Couldn't find what you were looking for at the Pru? Take the walkway over to Copley Place. Featuring nearly 75 stores, including JCrew, Gap, Banana Republic, Tiffany, Eileen Fisher, Emporio Armani, Boss, Coach, and Neiman Marcus, you'll find plenty to choose from. Find a full list of stores here.
Copley Place, 100 Huntington Ave., main entrance at the corner of Dartmouth and Stuart Streets, Boston, is open during the holidays Monday through Friday, 10 a.m. to 9 p.m., Christmas Eve to 6 p.m.

Worship
Christmas Eve Services at Marsh Chapel
In the spirit of "quiet celebration and joyful meditation," Marsh Chapel is offering two worship services this Christmas Eve. The early afternoon service is convenient for families with children. The Marsh Chapel Choir will sing at the Candlelit Christmas Eve service at 7:30 p.m.
The services, free and open to the public, are on December 24 at 1 and 7:30 p.m. at Marsh Chapel, 735 Commonwealth Ave.
Theater and Performing Arts
The world-renowned Boston Pops Orchestra returns to Symphony Hall for the 43rd annual Holiday Pops concerts. Keith Lockhart (Hon.'04) leads the orchestra through a delightful mix of classic holiday tunes, a Pops sing-along, and an appearance from Santa. Programs and artists vary by performance. Families with young children may want to attend a matinee performance specifically designed for young concertgoers, which are shorter and include a children's sing-along and postconcert photos with Saint Nick. The concerts run through Christmas Eve but sell out fast, so order your tickets before they're gone.
The 2016 Holiday Pops Orchestra spreads joy through December 24 at Symphony Hall, 301 Massachusetts Ave., Boston. Limited tickets are available here. Children under four are not permitted at Holiday Pops concerts, but all ages are welcome at Holiday Pops Kids Matinees. Order tickets for the December 24 kids matinee here. Take any MBTA Green Line trolley to Copley, then a Green Line E trolley to the Symphony stop.
The Boston Ballet's production of The Nutcracker promises to "capture your imagination and transport you to a magical world of brave toy soldiers and dancing snowflakes." This annual crowd-pleaser features choreography by Boston Ballet artistic director Mikko Nissinen. The show runs through Saturday, December 31 (no performances Christmas Day). Tickets go fast, so best to order in advance.
Boston Ballet's The Nutcracker is at the Boston Opera House, 539 Washington St., Boston. Purchase tickets, $65 to $189, here or call the box office at 617-695-6955. Take any MBTA Green Line trolley to Park Street.
This modern, urban version of the classic ballet, now in its 16th year, produced by the Tony Williams Dance Center, features 130 dancers from diverse backgrounds. It fuses classical ballet, urban tap, hip-hop, swing, and flamenco with music by Tchaikovsky and jazz great Duke Ellington. This year's production includes guest artists during the Prologue section, a traditional Georgian folk dance, and recently revamped costumes and sets with Boston icons like the Kenmore Square Citgo sign.
Urban Nutcracker is at John Hancock Hall, 180 Berkeley St., Boston, through December 31. Show times are here. Regular tickets, $25 to $88, can be purchased here or at the box office (schedule here). Discount tickets, $17.50 to $27.50, can be purchased here while available.  LGBT night is December 29. Take any MBTA Green Line trolley to Arlington.
This lighthearted musical murder mystery stars just two actors: one plays the detective, the other all of the suspects. The twist: both play the piano. Murder for Two combines music and comedy to create a tongue-in-cheek homage to old-fashioned, closed-room murder mysteries. If you're looking for some levity in your holidays, be sure to check it out. Find out why Time Out Chicago declared, "Murder for Two could get belly laughs from a corpse."
Murder for Two runs through December 24 at Lyric Stage Company of Boston, 140 Clarendon St., Boston. Find a list of showtimes and purchase tickets, $49 to $73, here. Student rush tickets are available, first-come, first-served, for $10 (cash only) 30 minutes before the show with a valid BU ID. Take any MBTA Green Line trolley to Copley.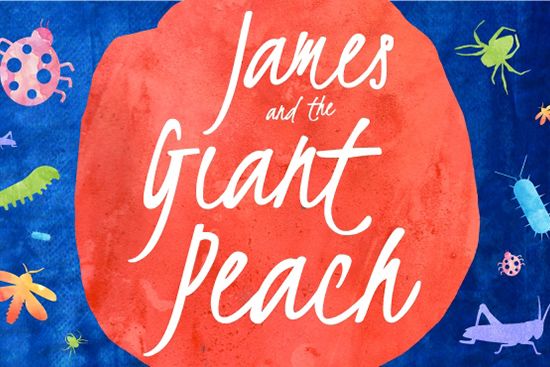 The Actors' Shakespeare Project is gifting Boston audiences with a production of one of the Bard's greatest plays, The Tempest, directed by Allyn Burrows. Prospero, a sorcerer and the Duke of Milan, has been overthrown and banished to an island, where he uses his magical powers to restore his daughter, Miranda, to her rightful place. Viewers will be treated to magic, wonder, and a "tangled journey toward forgiveness."
The Actors' Shakespeare Project's production of The Tempest runs through Sunday, January 8, at Willet Hall at United Parish, 210 Harvard St., Brookline. Find a  list of showtimes and buy tickets, $30 to $50, here or by phone at 866-811-4111. There are a limited number of $15 tickets available with a student ID an hour before performances. Take an MBTA Green Line C trolley to Coolidge Corner and walk two blocks south on Harvard Street.
Here's a family-friendly show children and adults can enjoy. Actors from the A.R.T. Institute Class of 2017 star in this stage adaptation of the classic tale by Roald Dahl about young orphan James Trotter, whose miserable life is transformed after he receives a mysterious gift: a giant peach that houses enormous bugs who befriend the lonely boy. When the peach rolls out to sea, James and his new friends set sail on a transatlantic adventure. Note: the 2 p.m. performance on Friday, December 30, is sensory-friendly and welcomes those with sensory needs, including people on the autism spectrum, as well as first-time theatergoers and young children. Learn more about that performance here.
The A.R.T. Institute production of James and the Giant Peach is at the American Repertory Theater, 64 Brattle St., Cambridge, through December 31. Find more information and tickets ($20) here or by phone Tuesday to Sunday, noon to 5 p.m., at 617-547-8300; find more information about possible discounts here. Take an MBTA Red Line train to Harvard Square.
Some of Boston's best comedy writers, performers, and producers once again mine the humor in the holidays, and you can enjoy it at ImprovBoston's annual Holiday Spectacular. The show, "part scripted, part improvised, and all hilarious," is interactive and promises "no-holds-barred comedy." Those over 21 can increase their merriment with libations from the cash bar.
The ImprovBoston Holiday Spectacular is at ImprovBoston, 40 Prospect St., Cambridge. There are two remaining shows: Friday, December 23, and Friday, December 30, both at 10 p.m. Tickets are $18 and can be ordered here. Take an MBTA Red Line train to Central Square.
Festivals and Light Shows
Boston's frequently maligned City Hall Plaza has been transformed into a winter wonderland for the first time this holiday season. Billed as Boston Winter, it is presented by Berkshire Bank and modeled on European-style holiday markets, featuring dozens of chalets with retailers selling ornaments, holiday decorations, and more, food vendors, and wine and chocolate tastings. The undisputed star attraction is a custom-designed 11,000-square-foot outdoor skating path that loops around a cluster of light-adorned Christmas trees. Special events include a weekly Rock 'n Skate with live DJs, games, and prizes. Among the 40-plus vendors are Etsy artists based in Boston, selling handmade wares like jewelry, candles, original illustrations, clothing, and ceramics. There will also be photos with Santa. Based on the early enthusiastic reception, this should become an annual happening.
Boston Winter is at City Hall Plaza, One City Hall Square, Boston, through December 31. The skating path is open through February 26. Find more information here. Hours are Monday to Thursday, 11 a.m. to 7 p.m., Friday to Saturday, 11 a.m. to 8 p.m., and Sunday 10 a.m. to 5 p.m. Find holiday hours and closures for the market, skating, and attractions here. Find more general information here. Buy tickets for special events like photos with Santa here. Drinks and food are available at the Urban Lodge. Take any MBTA Green Line trolley to Government Center.
This holiday light and sound extravaganza returns to Faneuil Hall Marketplace for a fifth year. The dazzling display features 350,000 LED lights that dance to holiday music recorded by the Boston Pops, with shows every half hour, starting at dusk. The spectacle draws more than 225,000 visitors each year. Be sure to admire the marketplace's 85-plus-foot Christmas tree—the largest in the Northeast (it even trumps New York City's more famous Rockefeller Center tree in height this year). Its 30,000 lights only add to the glow.
Blink! is at Faneuil Hall Marketplace, One Faneuil Hall Square, Boston, through January 1 (the marketplace is closed Christmas Day). The seven-minute show runs  every half hour from 4:30 to 9:30 p.m. in the South Market. The North Market show runs daily from 5 to 9 p.m. on the hour. Admission is free and open to the public. Take any MBTA Green Line trolley to Government Center or an Orange Line train to State Street.
Movies and Art Exhibitions
If you're tired of watching It's a Wonderful Life for the zillionth time, the Coolidge Corner Theatre is offering a holiday alternative: a screening of the horror comedy Jack Frost. The film revolves around notorious serial killer Jack Frost, who morphs into a snowman after colliding with a hazardous waste truck on his way to be executed, then embarks on a murderous rampage throughout the snowman-themed town of Snomonton. Can the residents fight back and stop this wintry monster? Go see the straight-to-DVD, so-bad-it's-good movie, on view Friday, December 23.
The Coolidge Corner Theatre, 290 Harvard St., Brookline, will show Jack Frost on Friday, December 23, at 11:59 p.m. Tickets are $11.25 and can be purchased online here or at the door. Take a MBTA Green Line C trolley to the Coolidge Corner stop.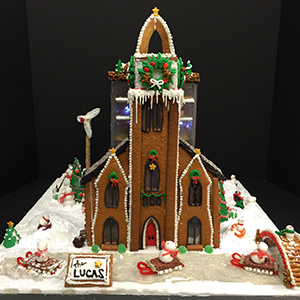 The Boston Society of Architects (BSA) is hosting its annual crowd-pleasing Gingerbread House Design Competition. A dozen local architecture and landscape firms have constructed a series of delectable dwellings inspired by this year's theme, Boston, You're My Home. Visit this fundraiser to judge how the creations stack up. You can vote for your favorite online or in person. Admission is free, and donations made to your favorite design benefit the BSA's community design programs, and the structure with the most donations wins. Last year's competition raised over $18,000.
The Boston Society of Architects' Fifth Annual Gingerbread House Design Competition is on view at BSA Space, 290 Congress St., Suite 200, Boston, through January 2. The exhibition is open Monday to Friday, 10 a.m. to 6 p.m., and weekends and holidays, 10 a.m. to 5 p.m. Note: closed on Christmas Day and New Year's Day. Take any MBTA Green Line trolley to Park Street.
While everyone is familiar with the work of French Impressionist painters such as Claude Monet, Pierre-Auguste Renoir, and Berthe Morisot, fewer are familiar with the American Impressionists. One of the most gifted is William Merritt Chase (1849-1916), the subject of a stunning retrospective on view through mid-January at the Museum of Fine Arts. The first complete exhibition of his work in more than three decades, the 80 pieces comprise portraits, landscapes, and elegant interiors done in oil and pastels. They shed new light on an artist the museum hails as an "important and overlooked master."
William Merritt Chase is on view at the Museum of Fine Arts, 465 Huntington Ave., Boston, through January 16, 2017. Find hours and admission prices here (free to BU students with ID). Find directions here. Note: the museum is closed Christmas Day and New Year's Day.
Looking for ideas on how to celebrate New Year's Eve and New Year's Day in Boston? Check back with BU Today on December 26 for a list of events you won't want to miss.
Kylie Obermeier can be reached at kylieko@bu.edu; follow her on Twitter at @kyliekobermeier.