David Quammen to Speak at NEIDL Symposium Sunday
The craft of science writing, the importance of BSL-4 labs
On assignment for National Geographic 16 years ago, science writer David Quammen spent eight weeks following a field biologist and conservationist named Mike Fay as he made an epic trek across the Congo, bushwhacking his way through swamps and forests. Fay was gathering data documenting the richness of the ecosystems he was passing through. A team of Bantu and Pygmy men carried tents and food. They were all sitting around the campfire one night, Quammen writes, when "there comes a weird, violent, whooshing noise that rises mystifyingly toward crescendo, and then crests—as, whoa, an elephant charges through camp, like a freight train with tusks…Anybody hurt? No. Dinner is served and the pachyderm in the kitchen is forgotten." Fay walked for 456 days and 2,000 miles, in shorts and Teva sandals. Quammen, who adopted Fay's uniform on the trail, made periodic trips in and out of the Republic of the Congo and Gabon to join him, getting to field sites by dugout canoe, bush plane, and helicopter.
The journey illustrates one of Quammen's principles of science journalism: go there. A contributing writer for National Geographic and an author, whose books include The Song of the Dodo (1996); The Reluctant Mr. Darwin (2006); Spillover (2012), about the science, history, and human impact of emerging diseases; Ebola (2014); and his latest book, Yellowstone: A Journey Through America's Wild Heart (August 2016), Quammen has been going there for over three decades. In his quest to explore the natural world and how humans are connected to that world, Quammen has gone to the Russian Arctic with a boatload of Russian and American biologists, to the jungles of Indonesia with park rangers who track Komodo dragons, to biosafety level 4 labs where virologists study Ebola and other dangerous pathogens.
Readers should recognize that Ebola and other emerging diseases "reflect things that we're doing, not just things that are happening to us," Quammen writes in Spillover. "The purpose of this book is not to make you more worried. It's to make you more smart."
Spillover was shortlisted for eight national and international awards and won three. Quammen, who is a three-time recipient of the National Magazine Award, "is not just among our best science writers but among our best writers, period," the New York Times critic Dwight Garner wrote in his review of Spillover.
"His ability to communicate with the public about complicated issues—not just complex scientific issues that are at the interface of ecosystems and how humans impact them, and the unintended consequences, but also to communicate why we should care—is just extraordinary," says Ron Corley, director of Boston University's National Emerging Infectious Diseases Laboratories (NEIDL).
Kicking off a symposium on the importance of research on emerging infectious diseases organized by the NEIDL, Quammen gave a public talk at BU on September 18, 2016, on "Scary Viruses in a Globalized World: Telling the Story." Anthony S. Fauci, director of the National Institute of Allergy and Infectious Diseases, delivered a talk on the scientific challenges of emerging infectious diseases.
Quammen graduated with a degree in English from Yale, where he studied Faulkner with Robert Penn Warren, who became his mentor. He was 22 when he published his first novel, To Walk the Line. He was a Rhodes Scholar at Oxford, in England, and wrote his master's thesis on the structure in Faulkner's novels. He moved to Montana in 1973, hoping to make his living as a novelist, but eventually turned to nonfiction and became a science writer.
BU Research talked with Quammen by phone from his home in Bozeman about the importance of "going there," his admiration for scientists and the work they do, and his first close encounter with a bat, at age 11, in suburban Cincinnati. The following interview has been edited and condensed for clarity.
BU Research: With the cuts in mainstream media budgets, a lot of journalists are finding it harder these days to get the money to travel. Do you still feel it's important for science reporters to go to hard-to-get-to places?
Quammen: Yes, it's still important. It's hard to find the money sometimes. It was hard for me when I was starting as a freelancer. It was hard enough to make a living, let alone buy an airplane ticket to somewhere. I didn't do a lot of that in the beginning, but when I had a little bit more freedom, a little bit more support, it became clear to me that that was a cardinal principle. If you want to understand how the AIDS virus, how HIV, may have spread down the Congo River system to the big cities of central Africa, you have to go there. You do the research, read all the journal papers, but then you go there and walk around on the ground and talk to some people and see what they're buying and eating and what they're doing for a living and how they're traveling. That's probably going to help you understand it.
Has there ever been a trip where you thought it was too hard?
For a few moments at a time (he laughs). But, no, there's never been a trip I thought was too hard. I've gone to some pretty difficult places, just tagging along, with explorers and scientists, biologists, and some of the trips have been physically very difficult, but even at the time, let alone afterward, I was aware that these were extraordinary opportunities that I was getting and that most people wouldn't get.
Are you one of those people who doesn't care about things like hot showers, or a comfortable bed?
I like those things, but I can live without them. Or you find substitutes. Walking with Mike Fay, through the Congo, I learned a couple things quickly from him. One is to wear sandals and shorts. Do not wear long pants and boots because it's easier to keep your skin clean and dry than to keep your clothing clean and dry. It was hot, sweaty, muggy. There were mosquitoes, other kinds of biting insects, a lot of biting ants. There were some miserable, hard days and then we would get to a campsite and you had to have a little bit of water, maybe it was only a stream with three inches of clear water running off the top of mud, and you would take that three inches of clear water and you would take a bath in it. You would wash yourself at the end of the day and then dry off in front of the campfire and then climb into your tent clean and dry.
What an amazing trip that must have been.
It was four amazing trips and it was an amazing epic for Mike Fay. I'm still in touch with him. I got an email from him yesterday talking about a new adventure he wants me to be part of if he can get it supported. In response I said, "Mike, three words: count me in."
When the Ebola outbreak in West Africa started making news two years ago, one of the things Ron Corley, the director of the NEIDL, said is it showed why we need BSL-4 labs, so scientists can learn more about these viruses. How do you feel about these labs?
We need them badly, we need the work that's done in them. You saw that quote from me—"Some people admire surgeons, or astrophysicists, or medical missionaries. I admire field biologists." Well, I admire disease biologists, whether they're in the field or the lab, and I value their work hugely, and BSL-4 labs are one of the absolutely essential tools for doing this work. The discovery of the microscope was hugely valuable for human understanding of nature. The invention of the electron microscope, the invention of genome sequencing, were hugely important as well. The BSL-4 lab is in that category.
You've said that when you're writing you get up in the morning, drink coffee, sit in a chair, stay there, and produce pages. You never get frustrated and just walk away?
I occasionally get up and walk away, but very, very, very seldom. Like a number of other writers that I've heard talk about this, I think that it's important just to stay there. You need to put in the hours, you need to put in the effort, and you can't expect that it's always going to flow. It's easy to become despairing when it doesn't go well, especially if you're a young or an inexperienced writer and you lack confidence, and to say, "Well, I'd be better off if I got the lawn mowed or if I got the oven cleaned because I'm wasting my time here." You have to avoid that. You have to stay with the long task because otherwise it never gets done.
You write about how hard scientists work, about their patience and perseverance. Do you see a connection with them in terms of how you work as a writer?
I have almost no scientific training. I studied not very much science during my formal education. Eventually I did a bit of it. I became a non-degree graduate student in zoology—at the University of Montana. Basically, I'm not educated as a scientist. I'm an autodidact. Whatever science I know, I've learned on the job over the last 40 years, reading and talking to scientists. I'm slow to make an analogy between myself and scientists—their mode of operation and the scientific model—because I respect what they do so much. I mostly see the difference between what they do and what I do.
Did you really keep a bat in your bedroom when you were a kid growing up in Cincinnati?
Not for very long.
Where did it live?
Well, I had a cage, but I very quickly discovered that I should release the bat because he tried to bite me. Even then I was smart enough to know that you do not want to get bit by a bat. You know where I got that bat?
No, where?
I was in a Catholic grade school and one of the nuns from the convent brought it to school. They had trapped it in the dormitory room in their convent. This nun caught this bat and she said, "I'm going to put it in a jar and take it to David Quammen."
Because you were the kid who loved animals?
Because I was that kid—yeah. For some reason the adults, my dear parents, and this nun, didn't know better than to give an 11-year-old kid a live bat. It's crazy—it's bad for the bat, and it's bad for the boy. I had saintly parents when it came to that kind of thing. I don't think I was spoiled, but there was nothing really that I wasn't allowed to bring home and put in a cage in my room.
You said you had snakes, too.
Yeah, a lot of snakes, I loved snakes, I thought I was going to be a herpetologist at one point because I loved snakes so much.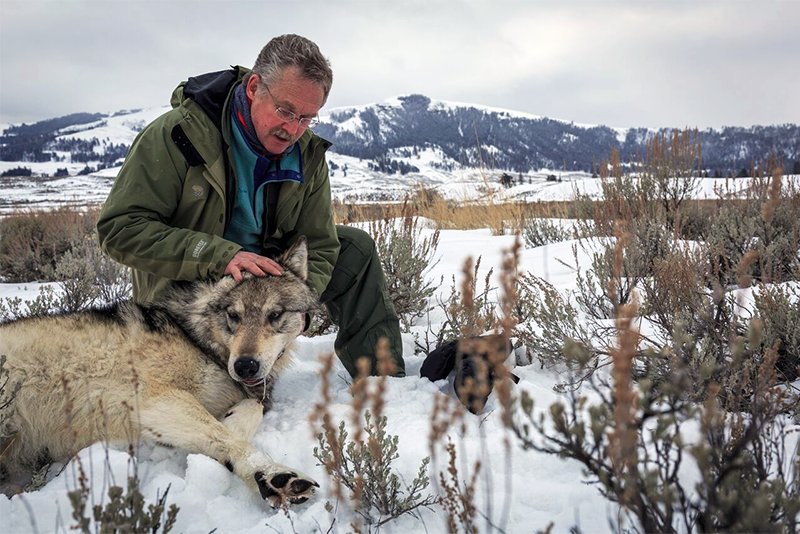 Were there many surprises in reporting your book on Yellowstone? You must know Yellowstone pretty well, having lived in Montana for so long.
How do you say something new about Yellowstone? That was the biggest challenge from the beginning. A few things I found surprising and I hope they're surprising to other people. Those things included, for instance, the role of Phil Sheridan, the notorious, heinous Indian fighter and Civil War general who was the first person to say "You made Yellowstone too small because you didn't think about the ecology of the elk." He identified one of the key ecological issues with Yellowstone Park, which is that it needs this land outside of the park, down off the high Yellowstone plateau, in order to support the population of herbivores, animals like elk that migrate through milder temperatures and lower elevations in winter. There were things, in terms of grizzly bear food, that were surprising to me, including the fact that one of the major foods for grizzly bears in the Yellowstone system is these little gray moths, called army cutworm moths, that fly in the summer from Nebraska and Kansas and gather in the gazillions in the rocks at 9,000 feet in the Yellowstone ecosystem. They're escaping the desiccating heat of the Midwest. At night they come out onto the high meadows and feed on alpine wildflowers, on the nectar, and bears come and eat these things. Grizzly bears can eat 40,000 of these moths in a day.
You don't think of grizzly bears eating moths.
That's right, but I've seen it and I've watched it. That was one of those horse trips I made—a pilgrimage to one of those sites, with some biologists and a good backcountry outfitter.
Quammen's talk at the NEIDL symposium, Emerging Infectious Diseases from A to Z, was supported by Shirley P. Horlick Klein (MED'68), in memory of her husband, Joel David Klein.
Quammen will give a talk about his new book, Yellowstone: A Journey Through America's Wild Heart, on Monday, September 19, 2016, at 7:30 pm at the University of Massachusetts, Boston, University Hall, Room 2120. The author will sign books afterward. The event, sponsored by the University of Massachusetts School for the Environment and the National Park Service, is free and open to the public.