Textbooks 101: A Guide for Undergrads
What to consider before you rent, buy new or used, or go digital
Although the cost of textbooks continues to rise—prices have increased by 73 percent since 2006, according to a recent report by Student Public Interest Research Groups—there's some good news: students are actually spending less on course materials than ever before. The College Board estimates that during the 2015–2016 academic year, the average undergraduate at a private university spent approximately $1,249 on books and supplies, down slightly from the 2013-2014 $1,253 average cost. That drop is largely because of the increasing number of books available for rent or for purchase in a digital format.
It's a trend that Barnes & Noble at BU general manager Steve Turco has witnessed firsthand. This fall, 85 percent of the store's textbooks can be rented and 28 percent purchased digitally, offering big savings.
"With all of the pricing policies that we've implemented, the last academic year students saved upwards of $2 million in course materials," says Turco.
For this academic year, Barnes & Noble at BU is also introducing a price-matching program, designed to help students save even more. Here's how it works: if you find a textbook for sale or rent at the bookstore that's available at a lower price on Amazon.com or BN.com (the program will match prices for books sold on only those two sites) and can show proof of the price difference, the bookstore will match the lower price or refund the difference if you've already purchased the book.
"I think that I'll use the price-matching program," says Isabella Romano (CAS'17). "I always compare the prices of my rentals between the bookstore and Amazon and rent whichever is cheapest, so if the bookstore can accurately do this for me, I would use it."
Also new this year at Barnes & Noble at BU is a free mobile app that sends you rental notifications and reminders, allows you to order books from your phone, and shows the different textbook formats and price points available. Since its launch eight months ago, more than 9,000 students and parents have downloaded the app.
"I think students are going to save a lot of money," Turco predicts. "We're going to provide some great options for them, and we'll be able to meet their needs better than we ever have in the past through some of these adjustments."
He says that before students decide what format to purchase their books in or where to purchase them, it's important to consider their individual needs. "There is no one size that fits all," he says. It's also important to read the small print before deciding, especially if you're renting. Otherwise you may wind up having to pay for the book outright at the end of the semester when you go to return it.
So before you decide to buy new or used, rent new or used, or purchase an e-book, we've put together some information to help you make the choice that's right for you.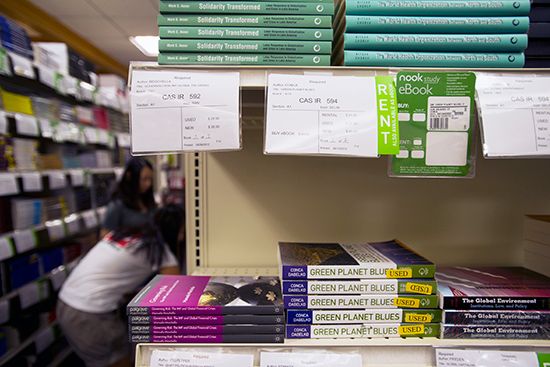 Renting
Renting, whether from websites like Chegg and Amazon or actual stores or other students, usually offers significant discounts, especially if the book has been previously used or is in a digital format. Lesson one: it pays to shop around.
For example, students can rent a new edition of Statistics for $144.15 from Barnes & Noble at BU, or a used copy for $99.80. On a recent visit to the Chegg website, the same book was available for rent for $63.49 and on Amazon for $63.34 Note: neither Chegg nor Amazon specify whether their rentals are new or used.
Turco says that renting offers advantages other than a lower price point: "You know exactly what the price of the book is going to be, you don't have to gamble on its resale value, and provided you give it back at the end of the semester, everything's great."
Today, 55 percent of all college students rent textbooks, according to a survey by CampusBooks, a website that allows you to buy, rent, and sell textbooks.
In addition to knowing how much you're paying up front, many students prefer the convenience of being able to return books when the semester's over. "My freshman year I bought all of my textbooks," says Romano. "Since then I've started renting my textbooks, so I don't have to worry about the clutter of storing them at the end of the semester."
There's been a proliferation of Facebook groups—including BU Textbook Buying/Selling Central, which has nearly 5,000 members—that allow students to buy, sell, and rent textbooks directly from one another.
Buying
A majority of students—67 percent—buy used textbooks, according to CampusBooks. Case in point: Patrick McKay (Questrom'17). "It's cheaper than buying new, and I can still get some money back by selling the books to other students at the end of the semester," says McKay.
Buying used can be cheaper than renting too. For example, a used copy of Cyberlaw: Management and Entrepreneurship, coauthored by Kabrina Chang (CAS'92), a Questrom clinical associate professor, can be bought used at Barnes & Noble at BU for $87.45, but renting it is $116.95.
For students like Hali Letlow (COM'19), buying is sometimes the only option. "I usually try to rent new or used textbooks from websites such as Chegg. However, I often find that the books I need are not available to rent," she says. Textbooks that can't be used again—those with a consumable component, like a workbook, for instance—usually cannot be rented.
One note of caution: if you buy books expecting a certain buyback price at semester's end, be aware that there are no guarantees. The buyback price is largely determined by demand: if the book is being used in a course again the following semester, chances are you'll get more than if it's not.
Digital
Buying or renting a digital copy of a textbook is frequently the cheapest option and has an added advantage: no heavy textbooks to lug all over campus.
"A digital rental in some cases is the best option for a student," says Turco, "but you have to be comfortable in a digital world consuming that data in the learning application that's provided with that content." Some students say that they've tried digital formats only to go back to textbooks.
"Personally, I can't learn anything if I use an e-book or digital version," McKay says. "So the physical copy of the book is the most important part for me."
A few final reminders
Whether renting or purchasing a textbook, make sure you have the edition specified on your professor's syllabus. Publishers frequently update textbooks and the wrong version can create headaches later on.
If you're buying an e-book, make sure it's compatible with your reader.
Again, if renting, read the small print. Each brick-and-mortar store and online site has its own policy about how much highlighting and marginal note-taking is allowed. Exceed those limits and you may have to pay for the book. And if you're renting, make sure that the agreement covers the entire semester.
Finally, if you're buying or renting books online, look for free shipping or you could end up eating whatever savings you thought you were getting.
Jennifer Bates can be reached at jennb7@bu.edu.