Speaking, Cooking and Singing in Zulu
Innovative African language program boosted by federal grant
The daughter of missionaries, Beth Restrick grew up in South Africa, Swaziland, and Mozambique, where she learned to speak miscellaneous words in a swirl of native languages as well as colonial Portuguese. But it wasn't until she arrived at BU as full-time director of the African Studies Library that she learned to converse properly in Zulu. Restrick, who completed four consecutive Zulu courses, is one of a growing number of students, staff, and BU community members participating in the College of Arts & Sciences African Studies Center's innovative African languages program, which since the late 1970s has offered a growing number of classes in a variety of native African tongues including Zulu, Hausa, Swahili, Wolof, Amharic, Ndeble, Igbo, and Xhosa.
After a spell of federal cutbacks put the program in peril, the US Department of Education (DoE), through its National Resource Centers (NRC) Foreign Language and Area Studies (FLAS) grants, recently provided $2.3 million to the African Studies Center (ASC) to offer fellowships for students and support Africa-focused education, particularly African language instruction. The NRC and FLAS four-year grants, part of the Title VI program of the DoE Office of International and Foreign Language Education, promotes greater understanding of countries and regions across the globe through foreign language, cultural immersion, and research.
"When I lived in Africa I never in my wildest dreams imagined that I would have an opportunity to learn Zulu halfway around the world in frigid New England," says Restrick. "And not only that—I was learning from a trained linguist. While immersion is always best, rarely do you find someone who knows how to teach a language—and that was the benefit I had here."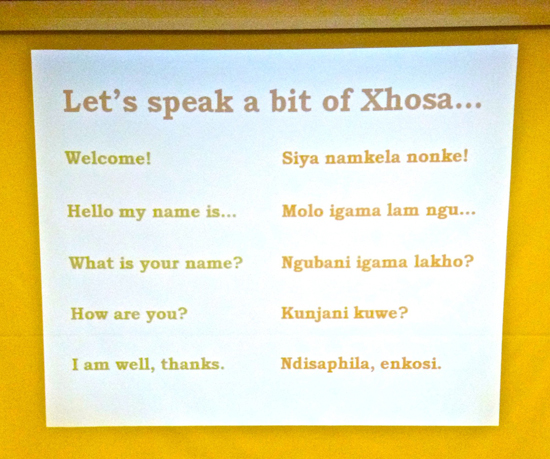 There is a Zulu proverb, Umuntu ngumuntu ngabantu, which translates to, "A human being is a person because of others," says Zoliswa O. Mali, a School of Education clinical assistant professor of curriculum and teaching and coordinator of South African languages. "This means we are interdependent, we need each other as people. No one thrives in isolation." The saying could also describe the philosophy of African language studies at BU, which teaches language in the context of cultures, presenting them with humanity and exuberance rather than in a clinical, rote way in classes taught by untrained instructors. "Yet so many people don't even know we exist," says Mali, whose teaching weaves in the cultural threads of music, film, and especially food. "I give the students assignments to cook African recipes. And we sing a lot," although many insist at the beginning of the course that they can't sing. With a PhD in second language acquisition focusing on linguistics and technology, she also takes a cross-cultural approach, engaging her students at another level. During the Jewish festival of Sukkot, for example, a Jewish student guided the class through a Zulu interpretation and celebration of the holiday. The South African native taught in Fort Hare in South Africa's Eastern Cape region before coming to the United States, and has taken her students on an outing to the South African restaurant Karoo in Eastham on Cape Cod and to a performance of the Soweto Gospel Choir. The class listens to South African broadband network news as well. "We also use South African sitcoms," says Mali, who is developing online courses in Zulu and Xhosa.
The language program was initially created with support from a Ford Foundation grant, with funding taken over by the Department of Defense and later by the Department of Education. The DoE grant's renewal and restoration of funding at its full level will allow the African language program to expand and diversify, adding, for example, courses in Twi, the main language spoken in Ghana. The funding will pay language instructors, develop online teaching materials, develop partnerships with universities overseas, and help fund undergraduate and graduate study fellowships.
The ASC joined the new Frederick S. Pardee School for Global Studies this past fall. "We are delighted that the African Studies Center has once again received this signature honor," says Adil Najam, dean of the Pardee School. "The fact that their funding has been increased despite cutbacks in the national program budget and what was awarded to other universities, is particularly noteworthy and speaks to the quality and stature of African studies at BU. The ASC is not only one of the oldest but also amongst the most prestigious centers of African studies anywhere in the country."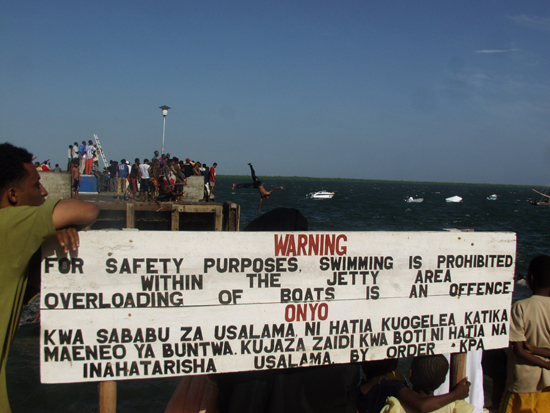 According to ASC director Timothy Longman, a CAS associate professor of political science, "these grants are a recognition of BU's impressive long-term commitment to African studies and of the strength of our faculty." The center currently has 114 affiliated faculty members in 35 departments across 11 of BU's colleges. "We focus on languages for which we can have overseas partnerships, so there's a potential for students to do extensive language study overseas or use the language to do research," says Longman, who has studied three African languages. The program is also designed to dovetail with other fields of study, such as anthropology and global health. "We have people who work in Tanzania, Kenya, and Senegal, so we teach languages from those countries," he says. "The idea is that language study alone isn't enough. You need to know about the culture, politics, and history of places. So we've built a really broad curriculum so students can get some deep knowledge of Africa, and we select languages that we're capable of teaching well."
Among the students who have completed African language courses at the ASC, one is teaching Zulu in a Jewish community in South Africa and another did fieldwork in Swaziland and is now finishing a postdoc in South Africa. For some African languages scholars, mastering Swahili or Xhosa opens a door not just to far-flung locales and cultures, but an ancestral link, pursued by so-called heritage students who may have heard these languages spoken by their immigrant grandparents.
Longman hopes the grant's renewal will also enable the department to attract new students to the classes, which are now very small, typically around 10 students. This semester the center is offering courses in Wolof (Senegal), Hausa (Nigeria), Swahili (a large swath of east Africa: Kenya, Tanzania, Congo, and parts of Rwanda and Uganda), and the South African languages Zulu and Xhosa. Students can also use the fellowship to study Arabic. While other universities offer languages on demand, "we think it's better to focus on a few languages and do them in depth, with developed teaching materials," says Longman. One of these materials is the open source 200 Word project, where students can see basic vocabulary being spoken on videos, or click on spoken words to see them spelled.
After studying Zulu, Restrick volunteered for a week at the Southern African Wildlife College, where she put her new language skills to use. "It was so much fun to sit around the table at meals in the cafeteria and shock the students by speaking to them in their language," she recalls. "The fact that someone was willing to take the time to learn their language spoke volumes to them. It is wonderful that BU can provide these languages, and I just wish students realized what an incredible opportunity it is and how much richer their lives could be as a result of learning them."