Scathing Night at The Colored Museum
Huntington stages Wolfe's comic take on African American life
When it premiered off Broadway in 1986, The Colored Museum knocked the socks off audiences and critics with its 11 "exhibits"—sketches about being black in America that go for the jugular as well as the funny bone—and spare no one.
The Huntington Theatre Company's production of the play, written by two-time Tony Award winner George C. Wolfe, comes at a time when the headlines, from Trayvon Martin to Ferguson, Mo., are holding a mirror up to America's persistent racial divide. From "Cookin' with Aunt Ethel" ("bake yourself a batch of Negroes") to "Git on Board" (a Savannah-bound "celebrity slave ship") to "The Last Mama-on-the-Couch Play" (which lampoons the Lorraine Hansberry classic Raisin in the Sun), the skits skewer racial stereotypes and draw comic fodder from their contemporary African American characters' identities and values. (The play is commonly viewed as the inspiration for the Fox comedy sketch series In Living Color, which originally ran from 1990 to 1994.) The Colored Museum runs through April 5 at the Boston University Theatre.
With a cast of three women and two men playing multiple roles, the exhibits are "startling and hilarious," says Huntington artistic director Peter DuBois, who describes the pairing of Wolfe and director Billy Porter as a dream.
Porter first read the play as a teenager, and he credits the scathing comedy with igniting in him "the fire of possibility" that set him on his creative journey. That journey "included stretching myself beyond what, up until then, I thought was possible for a little black gay boy from the ghetto," he says. Porter comes to the production fresh from his Tony Award–winning performance in the Broadway hit musical Kinky Boots. His 2013 Tony for Best Actor in a Musical was one of a string of honors that included a Grammy, a Drama Desk, and an Outer Critics Circle Award. In addition to his long list of directing and acting credits, Porter recently released an album, Billy's Back on Broadway.
BU Today asked Porter about the continued power and relevance of The Colored Museum and why he loves the play.
BU Today: In what ways do you expect The Colored Museum to resonate differently with today's audience than with 1980s audiences? In what ways will it hit the same nerves?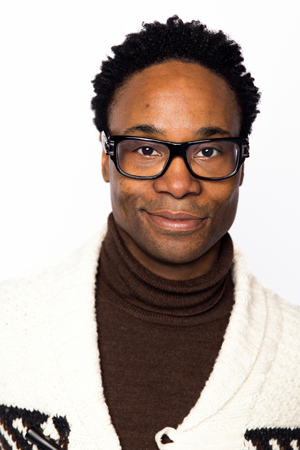 Porter: The more things change, the more they stay the same. How it resonates is not really the point. The fact that it still does resonate now more than ever is what we are examining with the piece.
In the wake of Ferguson and other recent incidences of racism and racial discrimination, do you think the play will pack an added punch?
With all of the racial conflict that still exists in this country…it's a sucker-punch to the gut.
Can you comment on the use of humor to force people to examine their own biases and move them to talk about race?
Complicated topics are always easier to receive when couched in humor. It actually doesn't feel like one is being forced at all. That's the gift that humor gives us.
The exhibits are as poignant as they are satirical—which ones are likely to rattle the audience most?
I would have to say, "Git On Board," the skit about the slave ship, and "The Gospel According to Miss Roj," about a transgendered black man.
In what ways is the play a different experience for people of color and for whites, for young people with short memories and for older people with long ones?
I can't really speak to what experiences anybody will have. As an artist I find the point is the fact that people are present. How they experience the work is not my business. My hope is that everyone leaves hopeful.
What are the challenges, and the rewards, of directing a play comprising a series of sketches, as opposed to a single plotline?
Saturday Night Live and shows of that nature have created an idea that sketches are somehow different from more traditional narratives. And while there is some truth in that, the reality is that every sketch stands alone as its own narrative, with a beginning, middle, and end. The reward is that you get 11 fully realized one-act plays for the price of one.
What does The Colored Museum have to say to a new generation?
Yes, things have changed. Yes, we have a black POTUS. But don't get it twisted—we must not be complacent. We must not tire. Our greatest work is still ahead of us.
Do you think it matters whether audience members recognize the play's use of parody (especially "The Last Mama-on-the-Couch Play")?
No, because the piece is written so brilliantly it stands alone. It need not have any reference point for comprehension.
When did you first know of this play and what was its influence on you?
My high school drama teacher gave me the play back in 1986 when I was searching for monologues for college auditions. My life has never been the same.
How would you like people to feel when they leave the play?
Motivated. Empowered. Hopeful.
The Huntington Theatre Company's production of The Colored Museum runs through April 5, 2015, at the BU Theatre, 264 Huntington Ave., Boston. Tickets may be purchased online, by phone at 617-266-0800, or in person at the BU Theatre box office. Patrons 35 and younger may purchase $25 tickets (ID required) for any production, and there is a $5 discount for seniors. Military personnel can purchase tickets for $15, and student rush tickets are also available for $15. Members of the BU community get $10 off (ID required). Call 617-266-0800 for more information. Follow the Huntington Theatre Company on Twitter at @huntington.