Rite of Passage: A First-Gen Perspective
For Jess Silva (CAS'19), a scholarship makes a dream come true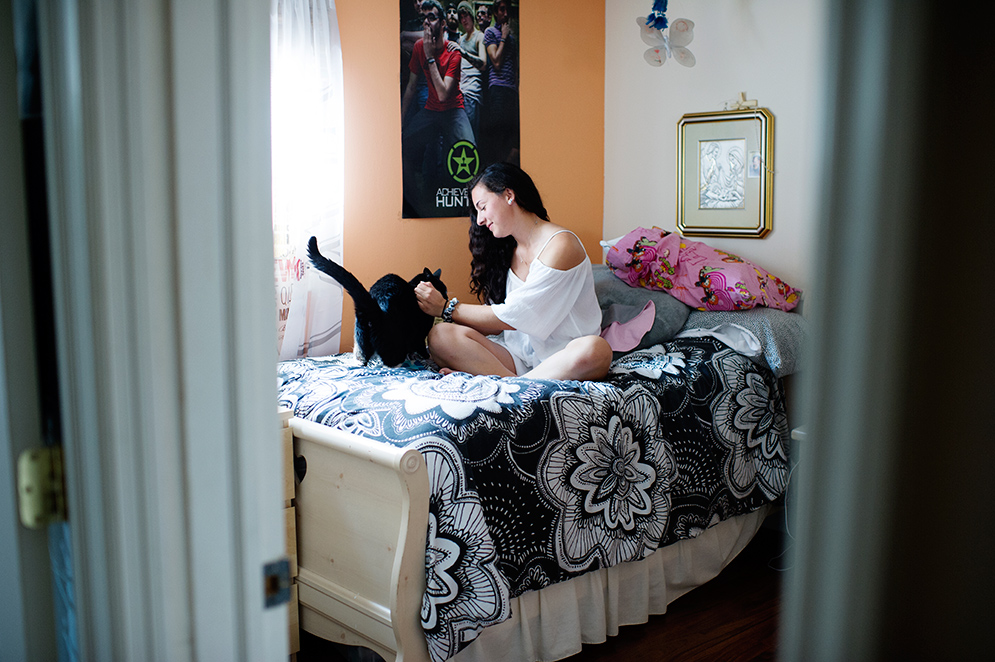 BU recently welcomed 3,625 freshmen, each with a unique journey to campus. Photojournalist Jackie Ricciardi wanted to capture them as they prepared to launch this new chapter. So over the summer, she traveled from Minnesota to New York to Boston's suburbs to photograph several members of the Class of 2019. They welcomed her into their homes and shared their dreams, fears, and the ways their families have shaped their lives. Parents spoke candidly about their anxieties and aspirations for their children. In our series "Rite of Passage," BU Today brings you four students' stories.
Jessica Silva is used to dreaming big. Growing up in Farmingdale, N.Y., on Long Island, Silva was determined to become the first in her family to go to college. Her mother grew up in Malta and finished high school, and her father, who is from Colombia, left school after junior high.
With her mother, she visited BU as a high school sophomore and fell in love with the campus. "My mind was swirling with the idea of going to BU," she says. She was crushed when she found out the cost of tuition, knowing there was no way her mother—a single parent of three—could swing it. Praying for a miracle, Silva went ahead and applied anyway.
She's glad now she persevered. In April, Silva (CAS'19) was notified that she had not only been accepted to BU, but had been awarded two scholarships, which would enable her to attend. "I still can't believe how lucky I am," says the Kilachand Honors College student, who plans to major in biology. "Here I am. Astounded, proud, and absolutely blessed."
On Being a Single Mom
"

I'm Just So Happy that financially they made it possible for her…I didn't want money to be the reason why she can't live her dream.

"
Teresina Bajada
(Jessica's Mother)
Audio — 38 Seconds
On Going to BU
"

It was the best outcome we could have hoped for.

"
Jessica Silva
Audio — 28 Seconds
On Her Fears
"

I'm afraid of how it will affect me, and how it will affect my grades…this is where it really counts.

"
Jessica Silva
Audio — 46 Seconds
On Jess Leaving
"

It's bittersweet…I know it's going to be okay, it's just a little heartbreaking.

"
Teresina Bajada
(Jessica's Mother)
Audio — 45 Seconds
This Series
Also in
November 17, 2016

November 11, 2016

October 31, 2016