CGS Student's Design One of Oprah's "Favorite Things"
Handmade faux-fur key chains are selling out
For a fashion designer, seeing an item you've created on Oprah Winfrey's Favorite Things list is a huge victory. Now in its 20th year, the annual compilation has become so influential that it all but guarantees a product will sell like hotcakes. Just ask Emma Johnson (CGS'17), founder of Em John Jewelry. Ever since her faux fur personalized keychains appeared on the list, the budding designer can barely keep up with demand.
The celebrity's holiday gift recommendations, featured both in her magazine and on Amazon.com, consist of 87 items, ranging from UGG boots to an Apple Watch to a peanut butter and banana cake. Em John's keychains come in as one of the least expensive, retailing for just $15. "Keys will never disappear in the black hole of your bag with these poufy faux-fur key chains with the letter of your choice," Oprah writes in her endorsement. "They were designed by 18-year-old college student Emma Johnson, who also suggests using them as bag charms."
Early this past summer, Johnson sent her keychain out to numerous publications, hoping it might make it into one of their annual "back to school" issues. The staff at O responded immediately.
"They got in touch with me to say the keychains were awesome and that they wanted them to be on the Favorite Things list, since Oprah loves personalized gifts," Johnson says. Orders "have been crazy" ever since, she says. "I sit in class and get hundreds."
When Johnson launched her business in 2013, her goal was to pay for some of her college costs so she wouldn't be burdened with debt after graduation. She's already paid off more than half of her total college expenses
The surge in orders, while welcome, has been challenging, the freshman acknowledges, since she is essentially a one-woman shop, although her family has been a huge help. (Her mother, Tory Johnson, is the consumer correspondent for ABC's Good Morning America's weekly "Steals and Deals" feature.)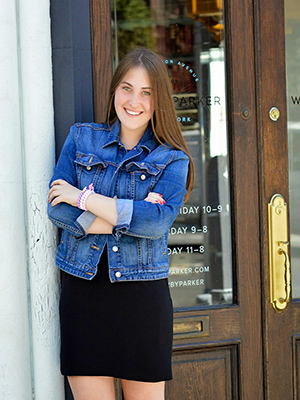 Johnson started making jewelry when she was a junior in high school, cutting up her grandfather's ties, knotting them, and then adding charms to create bracelets. She posted pictures of her work on Instagram and friends were soon asking where they could buy one. Next, she created rubber beaded bracelets with a lucite charm and wore a dozen on her wrist to school so that friends would see them and buy them from her. A store near her home on Manhattan's Upper West Side soon contacted her, wanting to stock them as well.
Today, Johnson's Em John line includes keychains, faux suede clutches, necklaces, and bracelets, and is carried in three dozen stores across the country. An American manufacturer makes the charms, but Johnson assembles all of the jewelry herself. She also handles all inventory, ships orders, and manages the company's website. She estimates she spends four to five hours a day fulfilling orders, and dreams of one day opening a pop-up shop in New York City to sell her creations.
Oprah wasn't the first famous fan of Johnson's designs. She has also heard from Rachael Ray's assistant, who said her boss carries one of Em John's clutches every day, and her products have been featured in E! online and US Weekly and Seventeen magazines.
"I started my business to have a fun way of being creative," Johnson says. "Never could I have imagined the success Em John has achieved, and so quickly. It blows me away and I'm humbled and grateful."