Hockey's Quinn Looks Back, and Ahead to a Possible National Title
BU takes on number three team in nation in the Frozen Four at TD Garden
In just his second season as head coach of the BU men's ice hockey team, David Quinn has led his skaters to a stellar record: a 30th Beanpot title, the 2015 Hockey East regular season title and tournament championship, and a berth in tonight's Frozen Four semifinals, where the Terriers will face North Dakota at TD Garden. It's been an extraordinary turnaround for a team that last season had one of its worst records in recent memory.
During that roller-coaster tenure, Quinn (CAS'89) says, he never once worried about being compared to his storied predecessor, Jack Parker (Questrom'68, Hon.'97), BU's hockey head coach for 40 years.
"I've never for one second thought that, ever," he says after a recent team practice. "I just try to do the best job I can. Jack will always be an icon here, and should be. He and I talk regularly—I talked to him for 20 minutes today. I know people may expect a different answer, but that's just the truth."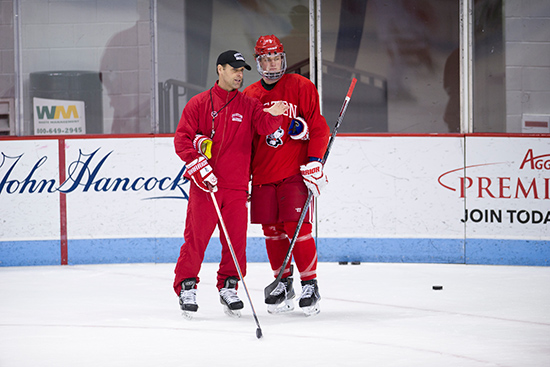 What has Parker said about a season that saw the Terriers lose just seven games? "He's enjoyed it probably just as much as I have, if not more, 'cause he doesn't have to sit through the stress," says Quinn. "He couldn't be happier for us and BU."
Quinn has said his job is not just to make his skaters better players, but better people, able to take adversity of the kind he had to face at their age, when hemophilia derailed his budding pro hockey career. Patience during a tough inaugural season has paid off with this year's success. If the Terriers win tonight, they'll play for the national title this Saturday, April 11. Herewith, Quinn's take on the season past and the Frozen Four ahead.
BU Today: You've had a great season after a challenging first year. What changed?
Quinn: We just got more good players. We had good players here; we just surrounded them with a lot more good players. Recruiting, without question. A lot of these guys were already recruited when I took the job, but that's first and foremost. Next is our team camaraderie and attitude and our work ethic. We are a true team.
You had nine freshmen your first season. Has the fact that they've gotten more seasoning made a significant difference this year?
Well, they're not freshmen anymore. They played a full season and they've faced so many pressure situations, but they've handled the pressure well from the get-go. You don't win all but seven games without facing some adversity throughout the season. We've never lost two games in a row all year. We've been pretty consistent, and they continue to grow as players and people. The returning players have all had great years. Our upperclassmen's attitudes have really allowed us to have the success we've had.
You've said mental intensity wins games. How did you sharpen the team's focus this year?
Bringing 10 new guys in, with their abilities and attitude, just enhanced the guys we already had here who had the abilities and the attitude. It all kind of just blended in. They all relied on each other. They've all elevated each other's games on the ice. They've all elevated each other's mental approach. They're all pushing each other, whether it be physically or mentally.
Do you have to do something different to prepare for the Frozen Four?
We need to approach this game the way we have every game all year long. It's worked so far. We're playing a very good North Dakota team. It's not just another hockey game, but it is, you know? There's going to be two blue lines, two nets, a center red line. We've got to do the things we've done well all year that have put us in this position.
When we spoke last season, you mentioned that coaches worry a lot, that you often wake up at 4 a.m. and can't get back to sleep. In a great year like this, do you wake up more or less often?
Just the same amount. It never stops. It's just an all-encompassing job. I love it; I wouldn't change anything. I'm very fortunate to work at a school that supports the hockey program the way BU does. I don't get more than five hours' sleep a night, but I won't realize how tired I am till April 12. I'm just so used to feeling this way.
Whatever happens, when the season ends what are you going to do?
There'll definitely be some downtime—it's a long year—but like I said, this job's 24/7, 12 months a year. So there'll be some recruiting done, things that we need to do to keep our program at an elite level. But there will be some downtime.