Still Running: an Art Marathon for Boston
CFA student offers Marathon bombing survivors, responders healing through art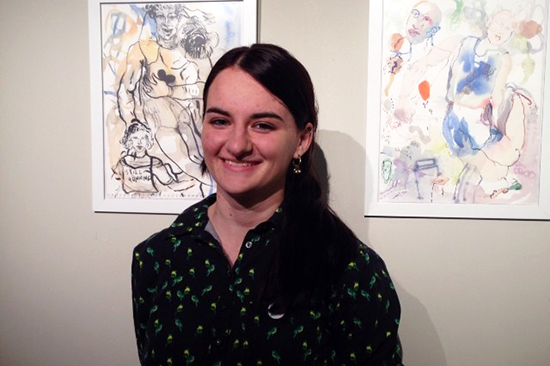 In the sad, surreal days following last April's deadly Boston Marathon bombings, hundreds of citizens offered their skills to help the injured and the first responders and to boost the morale of a city in shock. Taylor Mortell wanted to do her part—but as an artist, what could she offer?
Although Mortell (CFA'16) did not know the victims, she had personally endured the process of healing from a traumatic injury. When she was 15, a speeding volleyball slammed the back of her head, inflicting a concussion that grounded her for many months. "I couldn't take part in normal life," she says. "I couldn't go to school, listen to music, or even watch TV." During that time, she realized all the things she'd been taking for granted, and she "began to think about what I really wanted to do. Making art was at the front of my mind. I was motivated to go into arts and healing, and I hope eventually to study art therapy." Mortell's body of work includes uncontrived, almost contemplative oil portraits in earthy palettes.
As the events of those dark April days weighed on her, Mortell discussed her urge to help with her classmates and with teacher Richard Raiselis, a College of Fine Arts associate professor of art. After the discussion Mortell and graduate teaching assistant Luca de Gaetano (CFA'13) drifted out of class together. De Gaetano identified with Mortell's impulse to do something proactive. "I thought about how such a nonsensical action could be so powerful, destroying so suddenly the happiness of an entire community," says de Gaetano, an abstract painter whose canvases draw on the human form in evocative, mythic incarnations. "Being passionate about my work—which is to make art—and finding myself surrounded by my peers when learning about what happened awoke an urgent need to respond visually and positively to the tragedy."
Mortell and de Gaetano began to talk about what they could do to benefit the victims and help the city heal. As artists who could convey their feelings through painting, they reasoned, they could exhibit their work and the work of fellow artists to the benefit of the victims. Or they could provide the space and art materials for others to give voice to the otherwise inexpressible. They decided to start a project that would encompass both objectives and founded Still Running: An Art Marathon for Boston.
A creative and multifaceted effort, Still Running would include "art marathons," where both novices and established artists could make art together in a kind of freewheeling studio. Mortell and de Gaetano would also host a series of community art exhibitions and then donate the original works to first responders, hospitals, and police stations. The project's website would function as a virtual gallery to extend the scope of the project beyond Boston. But first, they needed funding and volunteers.
They pitched their idea to BU students and professors, Massachusetts College of Art and Design students, and friends during an informal meeting at CFA. Mortell's motivation and persistence were infectious, and she soon gathered an army of volunteers and advisors, including Jack McCarthy (GSM'02), a School of Management associate professor of organizational behavior, who describes Mortell as "one of the most courageous young people" he has ever met. McCarthy was struck by her determination to embrace a challenge more suited to MBA students or seasoned alumni, and he advised her on financial matters. In coordinating Still Running, he says, Mortell displayed "the very traits that we seek to develop in leaders in the business and nonprofit worlds to run organizations that will make a positive difference in our world."
McCarthy steered Mortell to Mark Williams (GSM'93), SMG executive-in-residence, and Mike Sheehan, the public relations executive who helped create One Fund Boston, established the day after the bombings by Governor Deval Patrick and former Mayor Thomas Menino (Hon.'01), now codirector of BU's Initiative on Cities, to benefit victims. And BU's Arts Initiative supported the project with a $2,000 grant that covered the initial costs of purchasing the paints, paper, and other materials for the art-making events.
Still Running kicked off on May 25, 2013, with a three-day "art marathon" event at BU's 808 Gallery. Through the organization's Facebook page, other social media, and fliers, Mortell invited the community to create art in memory of the Marathon bombing victims. Still Running held nine more art marathon events over the course of six weeks in locations across the BU campus. "We occupied a vacant space or a space willing to have us," Mortell recalls. "We filled tables with free art supplies and volunteers who are local artists or art students. People showed up to make art to give to first responders and local hospitals."
The events attracted a cross section of participants who had read about the project, and passers-by who came in off the street. "We got children, we got people ages 4 to 86," Mortell says. "Some said they didn't know anything about making art, and thought at first that they couldn't do it. They wanted help."
Through the interactive art-making events, people of all stripes soon learned what artists like Mortell and de Gateano know well—that the simple act of taking paint or crayon to a blank page can focus grief and deliver solace. De Gateano describes the making of art as "an active and formative way of living and building a strong and open community" that fosters "positivity"—something the wounded city of Boston desperately needed.
"I enjoyed seeing how making art really helped people, not just artists, deal with what happened in their city," says Meghan Dinsmore (CFA'04), Mortell's high school art teacher and one of the people who had come to the original meeting. "Everyone had their own story to tell and dealt with their emotions in their own way when they contributed their artwork." Painter Caitlin Serpico (CFA'16) donated several works to the project, and says that through her art she "was able to release my feelings" about the tragedy. "One piece that I am very proud of is a watercolor painting of a glass of water," Serpico says. "The glass shows signs of cracks and chips, and yet it still retains water. I accompanied this image with a caption that states, 'You may be cracked or chipped but that does not mean you cannot be filled.'"
The art marathon was originally intended as a sprint—just three weeks—but it grew beyond initial expectations into a yearlong effort, with monthly community events hosted at locations around Boston. For Mortell it was the process itself that provided the most comfort, for the organizers as well as participants.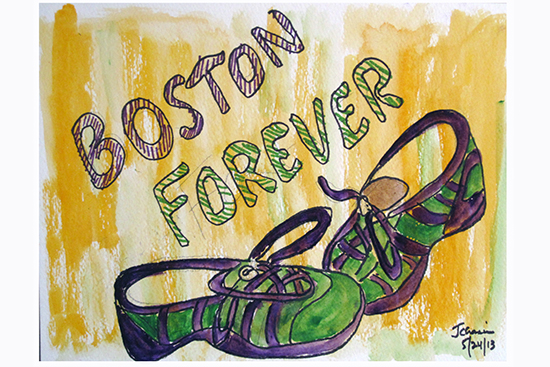 The first show, which opened at the Arnheim Gallery at the Massachusetts College of Art and Design in November 2013, comprised 121 drawings and paintings by a range of artists, from children and others who participated in the community events to professional artists who donated their work.
Some of the works are sophisticated, others naïve, dominated by poignant images of running shoes, hearts, flowers, the Boston skyline, and American flags. "As a group, the show had a homegrown kind of appeal," Mortell says. When the Arnheim exhibition ended, she presented the first art donations to Boston Medical Center. Still Running has since hosted art-making events in association with organizations like Global Youth Service Day, Circle the City Boston, and Next 26, and the artworks have traveled in exhibitions throughout Boston. The project has drawn prominent coverage from the Boston Globe, the Metro, and other media outlets, and the art-making events were named a "can't-miss" by Boston magazine.
On Monday, April 7, Mortell will be the guest of honor at the Healing Boston Arts Reception, being held at Boston's Symphony Hall before the BU Symphony Orchestra and Symphonic Chorus concert, one of their two annual Symphony Hall concerts. The reception celebrates the spirit of determination that unites Boston and honors the University's ties to the tragedy, in particular the death of BU graduate student Lu Lingzi (GRS'13), one of three killed by the bombs. The BU musicians  will perform Hector Berlioz's Grande Messe des Morts, Op. 5, a piece based on the Latin text for the Mass of the Dead. Mortell has curated a Still Running exhibition to accompany the concert.
"Very often art and expression are inspired by what is happening in our world," says CFA Dean Benjamin Juárez. "Just as Berlioz was inspired by his world, the art created through Taylor's Still Running project is an expression of the feelings and emotions of those touched by what happened a year ago in Boston. Art that is conduit."