New Visitor Center Named in Honor of Alan and Sherry Leventhal
BU ties run deep for trustee, corporate leader, philanthropist
For many around campus, the names Alan and Sherry Leventhal may not ring any bells. But the Leventhal name will be one of the first that visitors to the Charles River Campus will see now that the two, among the University's greatest friends and benefactors, were honored Tuesday with the dedication of the new Alan and Sherry Leventhal Center on Bay State Road. The renovated building adjoining the Castle, with sweeping views of the Charles, will house the University's admissions reception and will be the gateway to the future alumni center in the adjoining Castle.
Alan Leventhal (Hon.'09) is a current trustee and a former chairman of the Board of Trustees, a prominent Boston corporate leader, a major philanthropist, and a longtime supporter of BU. Sherry Leventhal is the current chair of the School of Medicine Visiting Committee and a prominent philanthropist as well. They have a long tradition with BU—Alan's father, Norman Leventhal (Hon.'00), mother, sister, and niece and Alan and Sherry's daughters attended or were honored by the University.
Those who have worked with Alan Leventhal, among them BU trustee chair Robert A. Knox, could not be more pleased. "It's a magnificent building and emblematic of the other great buildings we've been able to build since Alan became chairman and Bob Brown became president," says Knox (CAS'74, GSM'75). "I think it's great that students first arriving on campus will encounter the Leventhal name."
As chairman of the Board of Trustees from 2003 to 2008, Leventhal led the board's restructuring from a divisive body grappling with a presidential search to its current transparency, creating a Board of Overseers and administering the development of a 10-year, $1.8 billion strategic plan. It was Leventhal's leadership, fellow trustees say, that cleared the way for BU to bring Robert A. Brown on board as president. Credited with the vision and leadership to initiate major changes on the board that are now the model of best practices for other leading universities, Leventhal is chairman and CEO of the private real estate investment firm Beacon Capital Partners LLC. When BU trustees and Brown first began quietly discussing launching the University's comprehensive campaign, Choose to Be Great, Leventhal was the first to step up with a significant pledge, says Knox, who describes his colleague and friend as extremely thoughtful, calm, friendly, and down-to-earth.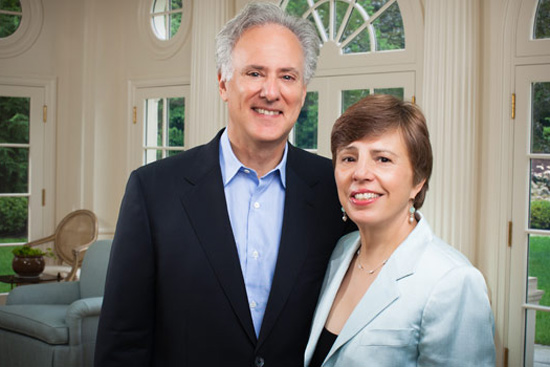 "Alan had been on the board for a number of years leading up to the 2003 so-called leadership crisis," says Todd Klipp, BU senior vice president, senior counsel, and secretary of the Board of Trustees. "That was a very difficult, traumatic time in the University's history, and it was a time when lesser people might have run for cover. But Alan decided to lead. I don't think that he had ever really lusted after the reins of power, but I think that he recognized very quickly and very astutely that the institution was desperately in need of guidance and leadership."
Klipp recalls 2003 as "a time when the ship was listing, and it was important that someone of Alan's stature and reputation, locally and nationally, and his unquestioned commitment to transparency, honesty, integrity, and best practices in institutional government step up to stabilize and lead the institution." As Klipp puts it, Leventhal forged the foundation needed for BU to "go out into the marketplace and find a president as experienced and capable as Bob Brown," former provost of the Massachusetts Institute of Technology, who became president of BU in September 2005. "It wouldn't have happened otherwise," he says. "I think Alan brought BU into the modern era of university governance."
Since 2004, Alan and Sherry Leventhal have made two major gifts to BU, creating the BU Fund for Innovation and Leadership, which inspired dozens of new gifts to support the Campaign. In addition to Alan's leadership on the Board, Sherry has been a member of the Dean's Advisory Board at the School of Medicine and is the current chair. She serves as a vice chair of the Tulane University Board of Trustees and recently was a member of the search committee for a new president. She is a long-standing advocate for education in Boston and helped found the Dorchester Neighborhood House Charter School, serving as chair of its board during the acquisition of its new building and expansion.
"The Leventhal family has made magnificent matching gifts to the University," says President Brown. "Naming the building is an acknowledgement of their role at the University, in giving and especially in leadership. This is a particularly fitting place for their name because the people who will walk through this building will be our future students. Then, as we convert the Castle to a space for alumni, the people who walk through the adjoining building will be former students. And it will all be under the Leventhal name."
Alan and Sherry Leventhal both earned bachelor's degrees from Northwestern University in 1974. Alan earned an MBA from the Amos Tuck School at Dartmouth College in 1976 and Sherry a JD from Tulane University Law School in 1977.
"Alan has been an incredibly important person in the recent history of BU," Knox says. "He's a strategic thinker who is unconditionally committed to this University."