Men's Hockey Terriers Open at Home Tonight
With freshman sensation, icemen hope to rebound from last season
With 5 NCAA championships, 7 Hockey East championships, and a record 29 Beanpot titles in their past, "never again" might seem an unlikely mantra for the 2014–15 BU men's ice hockey team. But after last year's disappointing 10-21-4 season, which saw the Terriers lose in round one of both the men's Beanpot tournament and the Hockey East tournament, those two words have become the battle cry of players as they prepare for tonight's home opener against Michigan State.
"We never again want to live through anything like what we went through last year," forward Danny O'Regan (SMG'16) says. "It left a bad taste in our mouth."
Players have taken to donning "Never Again" T-shirts under their jerseys during practices and games as a reminder of last season's disappointments. But there is plenty of evidence that this season will be different.
With 10 of last season's 11 top scorers returning and 10 freshmen coming aboard, the team prospects look good. One of those freshmen, Jack Eichel (CGS'16), is expected to be a top pick in the 2015 NHL Draft in June. The BU freshman class—the first recruited by head coach David Quinn (CAS'89) since taking over in 2013—has been voted the best recruit group in college hockey by College Hockey News.
The Terriers have already matched last year's total road wins with their domination of the University of Massachusetts, 8-1, in the October 10 season opener at Amherst. "There's hope," Quinn says. "I think when we step onto the ice, our guys expect to win."
During the Amherst game, Eichel tallied two goals and two assists, giving fans reason to believe that the hype about the North Chelmsford, Mass., native nationally may be justified.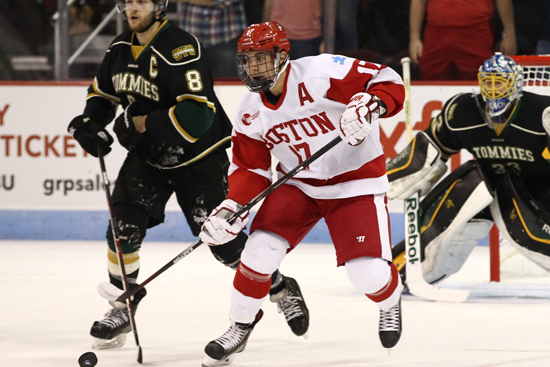 "When you watch him play, he jumps out at you with his physical abilities," Quinn says. "He skates as fluidly as anybody out there. He shoots the puck like an NHLer. There just isn't much he can't do. He allows everyone to play their game."
Eichel is expected to go pro next year, so this may be his only season playing college hockey. But the Terriers want to make the most of his time at BU, and players say that his presence on the team has already raised their game.
One of those players is forward Ahti Oksanen (COM'16), who played defense last season. "I've been playing with Eichel, and it's just so easy," Oksanen says. "He can do stuff that no one else can do. It's simply just easier to play with him." The Finnish forward, who was second on the team in points with 7 goals and 24 points last season, is already off to a strong start, recording 2 assists in last week's UMass matchup.
Another Terrier expected to have a strong showing this season is forward O'Regan, who was drafted by the San Jose Sharks in the fifth round of the 2012 NHL Draft. After a strong debut freshman year, when he scored 16 goals and 38 points, O'Regan scored only 10 goals and 22 points last season.
In addition to O'Regan, Eichel, and Oksanen, the Terriers have plenty of scoring depth. They will look to returning players like last year's leading scorer Robbie Baillargeon (CGS'15) and Evan Rodrigues (SMG'15) and Texas native Cason Hohmann (SMG'15), the two seniors on the team.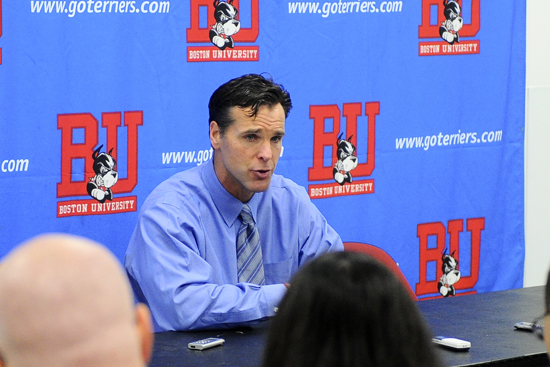 "We really feel like we've got some depth up front," says Quinn. That said, the team hasn't been able to slide away without a couple of hardships. An injury has sidelined goaltender Sean Maguire (CGS'15) for the entire season. He is listed as a medical redshirt. "It's a situation where we're hoping he can get better and come back next year," the coach says.
The Terriers are looking to goaltenders Matt O'Connor (SMG'16), currently out with an injury, and Connor LaCouvee (CAS18) to keep pucks out of the BU net.
"Having only two seniors, the responsibility is going to fall on a lot of guys that are younger to provide leadership," Quinn says.
The Terriers' home opener tonight against Michigan State will be preceded by a Rhett Rally: #Pack Agganis tailgating event, organized by the Student-Athletic Advisory Council (SAAC). The rally, offering free food and T-shirts, other giveaways, and prizes, kicks off at 5 p.m. "We want to foster a stronger, more spirited community by creating a campus-wide event to coincide with the first home hockey game of the year," says Austin Kruger (CGS'14, SMG'16), SAAC community service chair and a senator. "We're hoping to pack Agganis."
The Boston University men's ice hockey team kicks off its home schedule tonight, Friday, October 24, at 7:30 p.m. against Michigan State at Agganis Arena, 925 Commonwealth Ave. The game will be preceded by a tailgating event, Rhett Rally: #Pack Agganis, from 5 to 6:30 p.m. The Terriers will host the University of Michigan on Saturday, October 25, at 7 p.m. at Agganis Arena. Tickets are free for any student with a sports pass, $17 for BU students, faculty, and staff without a sports pass and $22 for the general public. Tickets may be purchased at the Agganis Arena ticket office.
Andre Khatchaturian can be reached at andrekha@bu.edu.