Marsh Chapel Service to Honor Lu Lingzi (GRS'13)
Friends to share memories, music this evening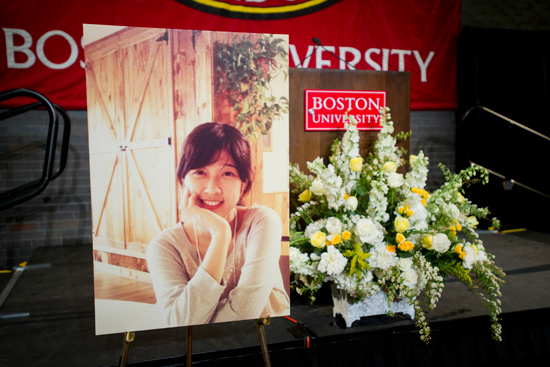 The Boston University community will honor the memory of Lu Lingzi at Marsh Chapel this evening at 7 p.m. at a public interfaith service organized by BU's Chinese Students and Scholars Association (CSSA). Lu (GRS'13) was one of three people killed by the Boston Marathon bombings a year ago tomorrow near the finish line on Boylston Street.
"So many students came to me after spring break and said, 'What can we do to pay tribute to Lingzi?'" says Rev. Brittany Longsdorf, University chaplain for international students, who will offer a brief welcome at the event. The students themselves organized the service under the guidance of Longsdorf and CSSA president Haisu Yuan (CAS'14, COM'14), who will offer brief remarks.
Among other students to speak is Yujue Wang (SMG'15, CAS'15), one of seven runners from the BU community who earned a slot in this year's Boston Marathon in honor of Lu. The Boston Athletic Association, organizer of the Marathon, gave the Lu family 15 spots for runners in this year's race. The family gave seven of the spots to BU.
"I wanted to do something for this event and for Lingzi, so when they came out with the spots to run in her memory, I thought, this is definitely the time for me to show my support and my compassion for her," says Wang, who is from Changsha, the capital of Hunan province. She was among those chosen after members of the BU community were invited to submit brief statements or videos. The runners selected are people "respectful of this occasion" and able to "really demonstrate why a person feels they can engage in this honor that we have been given," says Kenneth Elmore (SED'87), dean of students. The Marathon will be Wang's first race ever. "I'm not that much of an experienced runner, but Lingzi has been a primary motivator for me to run this Marathon," she says. Wang, who has been training on her own and with her teammates, logged 16 miles on a recent Saturday.
In addition to Yuan and Wang, others speaking at the one-hour service include Jingyao Zhang (MET'14), Danling Zhou (MET'14), and Yage Meng (SMG'15, CAS'15), who will read a letter from the Chinese Consul. Pianist Pengyu "Sean" Xiang (MET'15) will perform a song he wrote in Lu's memory, titled "Stay Strong," with violin accompaniment by Samantha Bates (CFA'15). Xiang describes the memorial service as a "precious opportunity to commemorate Lingzi and those who passed due to the Marathon tragedy last year."
"I'm so touched and moved by all the students who wanted to help with the service," says Longsdorf. "It's such a wonderful, compassionate gesture."
At BU, the memory of Lu Lingzi is being kept alive in many ways. In the aftermath of the Marathon tragedy, BU trustee Kenneth Feld (SMG'70), chair of the Campaign for Boston University, proposed establishing the Lu Lingzi Scholarship Fund. In the year since Feld and fellow trustees kicked off the fund with pledges totaling $560,000, it has grown to over $1 million, with donations coming from all over the world. The scholarship fund will endow two scholarships for graduate students; the first will be awarded annually beginning next fall. Each will provide an annual stipend and full tuition for up to two years.
Lu Lingzi's parents are expected to attend tonight's service. Last week, they announced the formation of the Lingzi Foundation, which will provide scholarships and support organizations that reflect Lingzi's passions. In a statement announcing the foundation, Lu Jun, Lingzi's father, wrote, "We hope to carry on Lingzi's positive spirit and encourage others to follow their passion and to pursue their own dreams."
The interfaith service honoring Lu Lingzi is tonight, Monday, April 14, at 7 p.m. at Marsh Chapel, 735 Commonwealth Ave. The event is open to the public, but closed to media.