Lunch, Anyone? Area Four
Kendall Square's award-winning café and pizzeria
Just one bite of an Area Four pizza and you'll know why the eatery holds both the Boston magazine and The Improper Bostonian title for best Kendall Square restaurant.
Staying true to its focus on simple, locally harvested, sustainable ingredients, such as hand-crafted mozzarella, fresh seafood, and homemade pastries, Area Four takes seriously the importance of knowing where the food it serves comes from. But the real secret to the outstanding pizzas may be the dough. It's been fermented for more than 30 hours, with no oil or sugar—just 12-year-old starter, flour, water, and salt.
The restaurant is run by executive chef and co-owner Michael Leviton, a seven-time James Beard Foundation Award nominee, co-owner Michael Krupp (COM'01), and chef and partner Jeff Pond. Together they also have a second location, in Union Square, Somerville, and an A4 food truck that operates along the Rose Kennedy Greenway on Atlantic Avenue from spring to fall. The restaurant takes it name from the neighborhood around Kendall, Central, and Inman Squares, and MIT.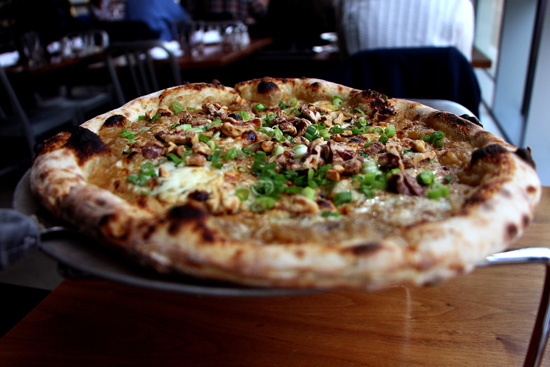 On a recent afternoon, a crowd of MIT students and workers from the biotech and information firms surrounding MIT's Technology Square quickly filled the clean and spacious café, bar, and restaurant. A friendly young staff greeted us. The large menus list its signature pizzas, as well as salads—winter favorites include the smoked trout salad ($14), served with cauliflower, mustard greens, roasted red onion, capers, and croutons in a mustard vinaigrette—mac and cheese ($12), topped with croissant crumbs, desserts, and wine and beer. A nonpizza favorite? Based on word of mouth, consider trying the "kitchen-sink" salad ($13.50), a version of a California chopped salad that favors Tuscan salame over the greens and comes with fontina cheese, mushrooms, green olives, banana peppers, chickpeas, roasted onions, and lemon-roasted garlic vinaigrette.
We opted for pizza and went with our server's favorite: a small caramelized onion and gorgonzola pizza ($15), topped with peppered walnuts and scallions, served on a minimally designed silver rack. Although the walnuts could have been more evenly spread, the flavorful pizza, with a nice combination of crunchy walnuts and bubbly, crispy yet perfectly chewy dough, satisfied our taste buds. But be warned: the gorgonzola may be too strong to order on a date night. Instead, consider the beautifully presented Hawaiian pizza ($16.50, small; $25, large), with mozzarella, tomato, ham, cilantro, scallions, and a roasted pineapple-jalapeño salsa. The prices for these pies ($11-$26.50) may seem pricey for students on a budget, but they're well worth the difference from your usual Domino's order (there's really no comparison).
The pizzas range from the traditional (marinara: basic tomato, pecorino, and basil) to the more adventurous (clam and bacon: clam sauce, pecorino, hot pepper, parsley, and lots of clams and bacon). Whatever you order, though, the ingredients are guaranteed to be fresh, sourced locally wherever possible.
Desserts are excellent. If you're among the very few who think it's too cold to eat ice cream in January, you'd be wrong. Area Four's winter sundaes are too good to pass up. The first, Orange Chocolate S'more ($8): chocolate ice cream, orange chocolate sauce, homemade graham crackers, and toasty orange marshmallows; the other is Passion Fruit Ginger: vanilla ice cream, passion fruit ginger sauce, ginger cookie crumble, and candied coconut ($8).
Large windows overlooking Technology Square let in plenty of light, accenting the restaurant's uniquely designed furnishings, including wooden tabletops that rest on metal that can be separated or combined to accommodate parties of various sizes. Silverware is wrapped neatly in white cloth napkins, giving the restaurant an almost fine-dining ambience. A long, elevated wooden table lines one wall with four large chalkboards—which list other menu offerings and the history of Area Four.
Next door, the equally busy café is a great space for meetings and studying, with long tables and window seating. Along with its delicious pastries, consider trying the house latte ($3.75), which is served with typical latte art in a tall glass—not the best for hot drinks, but certainly enough to warm you up. Or try the bicerin ($3.25), a concoction of espresso, chocolate sauce, and whipped cream. The café features a light lunch menu (pizzas from the restaurant can be ordered), and its coffee has been prepared by guest roasters from around the country.
This award-winning restaurant is definitely worth a trip across the river.
Area Four, 500 Technology Square, Cambridge, is open daily, with lunch served from 11:30 a.m. to 2:30 p.m., dinner from 5 to 10 p.m. (9 p.m. on Sunday), weekend brunch from 10:30 a.m. to 2:30 p.m. The bar is open until midnight (10 p.m. on Sunday). The café is open Monday through Thursday, 7 a.m. to 6 p.m.; Friday, 7 a.m. to 5 p.m.; weekends, 9 a.m. to 3 p.m. Phone: 617-758-4444. Catering is available. The restaurant accepts all major credit cards. The café accepts payments via LevelUp. By public transportation, take the MBTA CT2 bus from Commonwealth Avenue and University Road to Vassar Street and Massachusetts Avenue, or the CT1 bus from the Hynes Convention Center to 77 Massachusetts Ave.

This is part of a weekly series featuring Boston lunch spots of interest to the BU community. If you have any suggestions for places we should feature, leave them in the Comment section below. Check out our list of lunchtime tips on Foursquare.
Sonia Su can be reached at ssu@bu.edu; follow her on Twitter at @SoniaSu_.