Board of Trustees Enjoys New Expertise
Come from finance, technology, medicine, education, public relations, real estate
The Boston University Board of Trustees and Board of Overseers will gain from expanded expertise this fall with the addition of seven people who bring leadership skills from the worlds of finance, technology, public relations, education, medicine, and real estate.
New members elected to the Board of Trustees are Elaine Erbey, chief financial officer of Salt Pond Holdings, Maurice R. Ferré, former president, CEO, and chairman of the Board of MAKO Surgical Corporation, Sandra Frazier, founder, CEO, and managing member of Tandem Public Relations & Marketing, and Stephen Brady, a School of Medicine associate professor of psychiatry and graduate medical sciences and incoming chair of the Faculty Assembly and Faculty Council.
Joining the Board of Overseers are oral and maxillofacial surgeon Shadi Daher, William Kamer, senior advisor of real estate investment company Douglas Emmett, Inc., and Rebecca Norlander, founder, CEO, and chief technology officer of health and wellness technology company Health 123, Inc.
Sidney J. Feltenstein (COM'62), Elaine Kirshenbaum (CAS'71, SED'72, SPH'79), and Sharon Ryan (SAR'70) will complete their terms of service as trustees and join the Board of Overseers.
"Boston University is fortunate to have the outstanding leadership and excellent counsel of these new trustees and overseers," says Robert A. Knox (CAS'74, GSM'75), chair of the Board of Trustees. "We look forward to working with them for the enhancement of the University's status as an international center for academic and research excellence."
Trustees
Elaine Erbey (SED'72) is the chief financial officer of Salt Pond Holdings, the personal holding company for the Erbey family. Salt Pond Holdings' primary investments are five public companies founded by Erbey and her husband, William Erbey, two of which were ranked in Fortune's 100 Fastest Growing Companies as the 8th and 26th fastest growing companies in 2014 and the 12th and 20th fastest growing companies in 2013. Erbey earned a bachelor's degree in early childhood education and then an MBA in accounting at Rutgers University. She started her career at Peat, Marwick, Mitchell, becoming a CPA. She held a number of accounting positions with Fortune 500 companies prior to working with her husband. The Erbeys live in St. Croix, US Virgin Islands.
Maurice R. Ferré (CGS'81, MED'92, SPH'92) is the former president, chief executive officer, and chairman of the board of medical device manufacturer MAKO Surgical Corporation, which makes orthopedic implants and robotic surgical tools. In 1993, Ferré founded Visualization Technology, Inc., a medical device company for image-guided surgery. He was its CEO until April 2002, when the company was acquired by GE Healthcare. In May 2004, he became the CEO of Z-KAT, Inc., a surgical navigation device company, which eventually spun off the orthopedic robotics segment that became the basis for the founding of MAKO Surgical. In 2007, he received the Ernst & Young Entrepreneur of the Year award for emerging companies in Florida.
Ferré's father, Maurice Ferré, was the first Hispanic mayor of Miami, Fla., and the first Puerto Rican–born mayor of a mainland US city. He served six terms in office, from 1973 to 1985. Ferré's grandfather, José Ferré (SMG'24), was a trustee of Boston University from 1961 to 1972 and an honorary trustee until his death in 1990. Several other members of the Ferré family are University alumni: Ferré's sister Florence Ferré (MET'89) and brother Francisco A. Ferré (CAS'84, LAW'93) and his cousins Maria Eugenia Ferré Rangel (COM'91), Luis Ferré Rangel (COM'90), a COM Dean's Advisory Board member, Maria Ferré Rangel (COM'88), and Loren Ferré Rangel (GRS'94).
Ferré attended the College of General Studies and earned a bachelor's degree in biology from Bennington College. In 1992, he earned a master's degree in health services from the School of Public Health and a medical degree from the School of Medicine. He and his wife, Maria, have four children and live in Key Biscayne, Fla.
Sandra Frazier (COM'01) is the founder, chief executive officer, and managing member of Tandem Public Relations & Marketing, based in Louisville, Ky., which provides a variety of services for businesses and not-for-profit corporations. The agency's clients have included the American Red Cross, Yum Brands, Sotheby's International Real Estate, the University of Louisville, and Presbyterian Disaster Assistance. The firm is a member of the Public Relations Society of America, the International Association of Business Communicators, and the Advertising Federation of Louisville. In recent years, Tandem has reported sales of between $1 million and $2.5 million.
Prior to founding Tandem in 2005, Frazier was from 2002 to 2005 a public relations manager for Doe Anderson and from 2000 to 2002 worked on corporate communications, investor relations, and international community reinvestment policy at State Street Bank. She has served numerous high-profile clients, including Reebok, Arthur Andersen, and Louisville Slugger/Hillerich & Bradsby Company. She also worked on the communications team responsible for managing the launch of John Hancock's initial public stock offering in 2000.
Frazier earned a bachelor's in history from Hollins University in 1994 and a master's from the College of Communication. She is a member of the COM Dean's Advisory Board and was a member of the University's Board of Overseers. In September 2013, Frazier pledged $4 million for the establishment of a permanently endowed professorship in public relations at COM. She lives in Louisville, Kentucky.
Stephen Brady is a School of Medicine associate professor of psychiatry and graduate medical sciences and chair of the University's Faculty Assembly and Faculty Council; as such he is an ex officio member of the Board of Trustees. For the past 12 years, Brady, a member of the University faculty since 1990, has been director of the Mental Health Counseling and Behavioral Medicine Program, where his research focuses on HIV/AIDS risk and mental disorders. He is the principal investigator for a five-year National Institutes of Health study of motivational approaches for HIV prevention for mentally ill and homeless adults. He has a long-standing psychotherapy practice focused on the LGBT community.
A past chair of both the American Mental Health Counseling Association's Professional Development Committee and the American Psychological Association Council on AIDS, Brady is a member of the American Association of State Counseling Boards, the International Society for Traumatic Stress Studies, and the New England AIDS Education and Training Center Advisory Committee.
Brady holds a bachelor's degree in sociology from the University of Florida and a master's and doctorate from the University of California, Santa Barbara. His spouse, Rafael Jaen, is a University of Massachusetts, Boston, assistant professor, an award-winning costume designer, and an author. They live in Boston.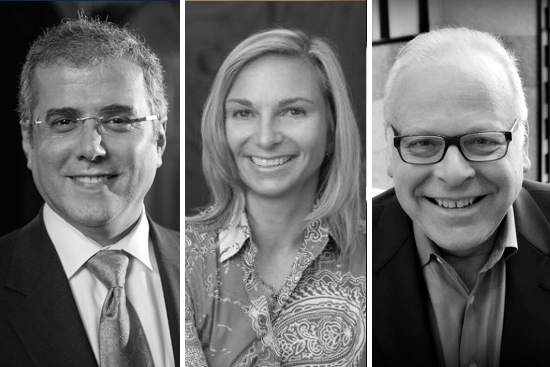 Overseers
Shadi Daher (SDM'90,'94) is an oral and maxillofacial surgeon whose work focuses on dental implants and oral rehabilitation and on aesthetic and reconstructive oral surgery. He is a Goldman School of Dental Medicine clinical assistant professor of oral surgery and maintains a private practice in Boston and Brookline, Mass. He is the surgical director of the Bicon Institute in Boston, a manufacturer and developer of dental implant solutions.
Daher is the president, a founding member of the board of directors, and former CFO of Medical Missions for Children, Inc., a nonprofit that provides free reconstructive surgical and dental care to children and young adults with congenital deformities and traumatic and burn injuries in countries spanning five continents. He is also the medical director of StemSave, a company specializing in collection and storage of stem cells found in dental pulpal tissues. He is a fellow of the International College of Dentists, the American Association of Oral and Maxillofacial Surgeons, the International Association of Oral and Maxillofacial Surgeons, and the Pierre Fauchard Honorary Dental Organization and a diplomate of the American Board of Oral and Maxillofacial Surgery.
Daher earned a bachelor's degree in mathematics from the American University of Beirut and a doctor of dental medicine degree and a certificate of advanced graduate study from BU's Henry M. Goldman School of Dental Medicine. He is a member and former president of the BU Alumni Council and president of the SDM Alumni Board. He and his wife, Milagros Serrano, a periodontist in Brookline, Mass., have three children and live in Westwood, Mass.
William Kamer (LAW'78) is a senior advisor of Douglas Emmett, Inc., a publicly traded real estate investment trust. The company has an enterprise value of approximately $8.5 billion and owns and operates more than 15 million square feet of office space and 2,900 apartment units in the premier coastal submarkets in Los Angeles and Honolulu.
Kamer joined Douglas Emmett in 2000 as senior vice president and general counsel. He was chief financial officer of the company from 2006, overseeing the company's initial public offering in October that year, to 2011 and chief investment officer from 2011 to 2014. From 1986 to 1999, he was a partner at the law firm of Cox, Castle, and Nicholson LLP.
In 2011, Kamer pledged $100,000 to establish the William Kamer Scholarship Fund at Boston University for students participating in the University's Los Angeles–based programs. He has provided support to BU's School of Law and College of Communication and men's and women's ice hockey programs. He is a member of the Athletic Director's Council.
Kamer earned a bachelor's degree from Vassar College in 1973, a master's in city and regional planning from Harvard University in 1978, and a JD from the School of Law in 1978. He and his wife, Rebecca, live in Los Angeles, Calif.
Rebecca Norlander is founder, chief executive officer, and chief technology officer of Health 123, Inc., a technology company that has developed a digital platform for tracking personal health and wellness via mobile fitness devices, employers and physicians groups, and other data sources. She also is Executive in Residence at Illuminate Ventures, an early-stage venture capital firm that focuses on North American–based high-growth "lean" start-up companies in the high-technology sector.
Norlander began her career as a software design engineer at Microsoft in 1991. She had a number of roles at the company, including Windows XP development team leader and chief of staff to chief software architect Ray Ozzie. In 2008, she became general manager of the advertising platform technology group, a position she held prior to joining Illuminate Ventures in 2010.
In 2009, Norlander donated $1 million to the Women's Funding Alliance, a Seattle-based nonprofit that provides grant funding and other support for community-based programs related to women's health, safety, education, and work issues. Among her other affiliations, she is a director of the American Association of University Women and a former cochair of the advisory board of the Anita Borg Institute, a nonprofit organization for the recruitment, retention, and advancement of women in computing.
Norlander earned a bachelor's in computer science from BU in 1991 and now lives in Seattle, Wash.
Tom Testa can be reached at ttesta@bu.edu.