Honoring Decades of Excellence on the Pitch
Neil Roberts marks 30 years as men's soccer coach
On a late September evening, a group of men were gathered in a room tucked under the bleachers at Nickerson Field. Former members of the BU men's varsity soccer team, they had traveled from across the country, and in some instances from halfway around the globe, to pay tribute to the man who had coached and mentored them. Neil Roberts was marking his 30th season as head coach of the program, and they wanted to be there for the celebration.
"He was a great role model in terms of taking care of all of the guys," says Alan McNamara (COM'04). "I was 18 years old, just off the boat from Ireland. He took me under his wing and took care of me."
Former player Francis Okaroh, who went on to play professional soccer with the New England Revolution, is now an assistant coach of the Terrier team. "I don't judge a coach based on wins and losses," Okaroh (CAS'86, MET'90) says. "I base it on their teaching method—how your ex-players feel about you after they leave. People will want to play for you if you have that tendency. He's a player's coach."
It's a sentiment echoed by current players. "For me, he has been a father figure and the person I have looked up to since my arrival," says back Kelvin Madzongwe (COM'15). "He cares a lot about the well-being of every individual on the team, be it soccer or academic stuff."
Midfielder Cameron Souri says he has always been able to count on Roberts if he's struggling in class or on the field. "Being so far from home was tough my first couple of years," says Souri (SAR'15), who is from Los Angeles. "But Neil has always been there for me and has helped me grow as both a player and a person throughout my four years here."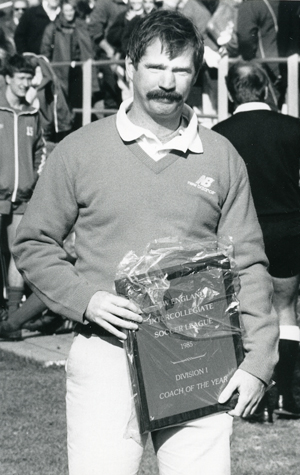 Roberts has built one of the nation's elite soccer programs since becoming head coach in 1985. He says his philosophy is simple: "I try to be open with the kids. I try to have a good relationship with them….We try to teach a game. We try to make our players better when they leave. We like our guys to play a game we can enjoy watching, where you can see they're attempting to do things at a high level, that you're putting a lot of time into your game and you can technically pull things off. That's what we want to do."
Roberts prides himself on the many friendships he's maintained with Terrier athletes over the decades. He's been known to interrupt coaching meetings to take a call from a former player in need of advice.
"You have to live by what you told them when they were here," Roberts says. "That you're always going to be a part of them and that you want to be involved in their future. It's like a high school friend: you may not talk to them for two or three years, but when you pick up the phone or you meet them on the road, you pick up where you left off."
It's a rule of thumb Roberts has followed since arriving at BU in 1979 as an assistant coach, shortly after graduating from Southern Connecticut State University. He worked under the legendary Hank Steinbrecher, a former director of the United States Soccer Federation. When Steinbrecher left, Roberts replaced him. He can still recall his first game in fall 1985, a 3-2 loss against Army. The team went on to win 14 of its next 18 games that season. It was a harbinger of what was to follow. The Terriers posted winning seasons in 26 of the next 29 seasons.
"I think we've established a good reputation as a program," Roberts says.
That assessment is vintage Roberts—modest to a fault. It's also an understatement. Under his tutelage the program has made 13 NCAA tournament appearances and clinched 11 America East titles, 5 straight in the 1990s. With more than 300 wins to his credit, Roberts has been named New England Coach of the Year five times by the National Soccer Coaches Association of America and America East Coach of the Year seven times. In 1995, Roberts received the William French Memorial Award for coaching excellence from the BU Athletic Hall of Fame. That honor followed an extraordinary 1994 season that saw the Terriers post a 16-0-1 regular season record, earning bragging rights as the only undefeated team in the country. They finished the regular season ranked first and won in the first round of the NCAAs that year.
Now, just two years after joining the Patriot League, Roberts and his team lead the conference, with an 11-3-2 record overall and a 6-0-1 league record. Saturday's home game against American University marks the end of the regular season.
Over the past three decades, Roberts has fielded numerous offers to go elsewhere, but he's always turned them down. "Our program always did well," he says. "We had success, our school was a good school, and supported us. There was no reason to leave."
There was another reason Roberts stayed. "It came down to this: I'm from this area," says the Braintree, Mass., native. "The coaches I was familiar with would say, 'My goal is to get back home, to get back where I'm from.' I'm thinking, why would I try to leave, then return 15 years later when I'm already home?"
Andre Khatchaturian can be reached at andrekha@bu.edu.