Got (Local) Fish?
Dining Services partners with local supplier for fresh New England seafood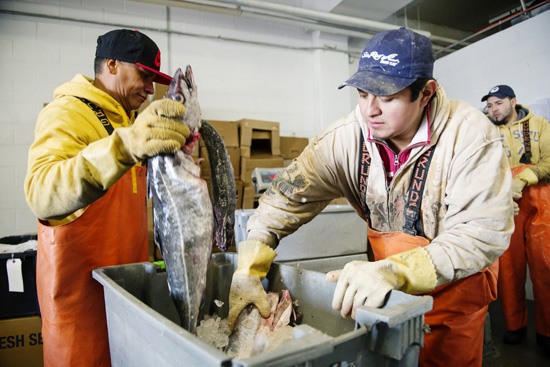 Dining in New England doesn't get more local than eating fish served by the fisherman. And that's going to be possible tonight at Marciano Commons, Warren Towers, and West Campus from 5 to 8 p.m. as part of Dining Services Meet Your Local Fishermen Night. Many of the people who caught the seafood in the Catch of the Day meal will be on hand to talk about their livelihood. The event is one product of a new partnership between the University and local seafood supplier Red's Best, which buys only from fishermen operating small day boats from Maine to Rhode Island.
"It's all about sustainability and supporting local fishermen," says campus executive chef Christopher Bee.
Sabrina Pashtan, Dining Services sustainability coordinator, toured Red's Best a couple of years ago, and reached out to CEO Jared "Red" Auerbach to explore a partnership. Their first idea was a weekly Catch of the Day meal, which yields fresh fish for the University and a competitive price for local fishermen. Another selling point was each fish's traceable QR code, which contains information such as where the fish were caught, who caught them, and the captain's home port. Dining Services will display the QR code of the fish at each Catch of the Day dining hall station across campus on Thursdays.
"We always tried to do local, but it was often hard to trace," says Bee, adding that Red's Best makes it easy to do.
Auerbach started Red's Best in 2008 after working as a commercial fisherman for five years in Alaska and along the South Shore of Massachusetts. A Newton native with a undergraduate degree in mathematics, he says he has been attracted to the fishing industry since he was a kid and fondly remembers watching old-timers on the docks during family vacations.
"I always loved it," he says. "I loved the idea of catching fish and feeding my family and neighbors."
After working about every job in the business—from counter worker to driving and unloading trucks—Auerbach came up with the idea of starting a niche business unloading and selling the catch from fishermen owning and fishing with small boats. Suppliers usually prefer working with owners of large vessels, which consistently provide a higher volume of fish from a single catch compared to small ones, although both require the same amount of support and infrastructure.
"Smaller boats operate in the tradition of the old-school industry, but they really fell through the cracks," he says.
Auerbach thought he could make unloading small boats more efficient if he had the right software to eliminate redundant data entry. Now, instead of making carbon copies to record each catch—as do most large-scale suppliers—he and his team use wireless tablets to keep track of information at each unloading dock. His team knows what's coming off the boats in real time, markets the product to potential buyers, packages it according to their specifications, and sells it within 24 hours of a catch.
"On a busy day in the summer, we're able to unload 300 boats and handle all the data efficiently," he says. "We pride ourselves on being able to find a good home for everything they catch."
Auerbach's efficiency means large wholesale distributors that supply restaurants and high-end supermarkets across the country can buy familiar species like cod, haddock, and pollock, as well as less common fare like monkfish, Acadian redfish, or blood clams.
Dining Services, which buys most of its fish through Sysco, will likely stick with more common species for its Catch of the Day dinners. But campus chefs don't plan to just batter and toss fillets into the deep-fat fryer. Bee envisions baked fish and chips, barbecue lacquered fish with brown butter and fried capers, and blackened fish with mango salsa.
"The importance for us in this program is to really showcase the fish," Bee says. "We don't want to mask the fish and hide it."