Frank Discussion at Marsh Chapel's Ferguson Forum
Attendees tired of talk, looking for action on racial inequality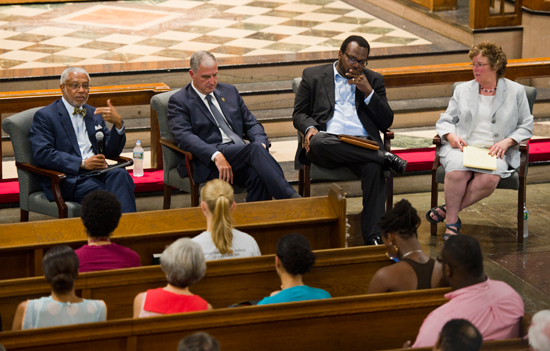 Ferguson Forum seemed an apropos name for the gathering held at Marsh Chapel Wednesday night to discuss the events and sentiments surrounding the August 9 shooting of unarmed black teenager Michael Brown by Ferguson, Mo., police officer Darren Wilson, who is white.
Yet over the course of two hours, what panelists and attendees wanted to discuss more than the details of a horrific event was the larger picture of race and equality in America, how far (or not far enough) the country has come since the days Martin Luther King, Jr. (GRS'55, Hon.'59) graced the halls of BU, and—possibly above all else—how tired they were of talk and how much they yearned for action.
Brother Larry Whitney (STH'09,'15), University chaplain for community life, organized the event and introduced the four panelists: Walter Fluker (GRS'88), the School of Theology Martin Luther King, Jr., Professor of Ethical Leadership, Thomas Robbins, BU police chief, Linwood Blizzard II (STH'17), an associate minister at Morning Star Baptist Church in Mattapan, and Virginia Sapiro, dean of Arts & Sciences, who is also a professor of political science.
Whitney gave each person five minutes to address the audience before opening the session to questions. He warned—tongue firmly in cheek—that "we do have two Baptist preachers in the panel," referring to Fluker and Blizzard.
Speaking first, Fluker said he views Ferguson, Mo., and the shooting of Michael Brown as "a site of cultural haunting" and race as "a full-body apparition that shows up in America and pulls folks together—for good and for not so good." Here at BU, he said, he sees that "ghost" surfacing in various incarnations, when officials talk about diversity, hiring practices, or curriculum and when crime reports border on racial profiling.
A 32-year veteran police officer, Robbins said the events in Ferguson reminded him of the societal tendency to think of police as enemies instead of allies. Missouri's militarized response to the peaceful protests in Ferguson didn't help that perception. As a chief of police, he said, it's important to hire and train the right people, those who understand that their mission is to serve, protect, and be part of the community.
Blizzard stood briefly for his turn at the microphone. "What does it mean to be scared?" he said, straightening his solidly built six-foot frame. "I am Michael Brown, for all 35 years of my life." His point was that race is real. In the United States it's embedded with historic meaning that harks back to the days of slavery. And it gets discussed only when blood spills. He urged attendees to use their positions of privilege to address race in other moments of tragedy, as when "another black kid gets arrested and becomes part of the system."
Sapiro was interested in what bonds people together despite structural racism, so that their communities do not "go up in tinderboxes" à la Ferguson. She suggested that police who patrol neighborhoods on foot and strong institutions like schools and churches ensure a community "remains healthy enough that it doesn't eat itself alive." She urged BU students in the crowd to get engaged politically by voting and lobbying for their interests.
When Whitney opened the floor to questions, hands immediately shot into the air. Some attendees vented their frustration over the Ferguson shooting. Others looked to the larger picture of what Brown's death means for race relations in America.
Matthew Farmer (ENG'15) took issue with the event's name. "We treat this as Ground Zero. This is an American issue," he said, "Mm-hmms" resounding through the crowd. "It's not an issue of one city, it's an issue of every city. This could be happening in your community at this very moment."
"Ferguson is all over the United States," Robbins agreed, saying that police officers are trained to recognize the racial undertones of their actions. He emphasized the importance of community outreach, so that if and when tragedy arises leadership knows whom to approach for help.
Linda Heywood, a College of Arts & Sciences professor of African American studies and of history, said she's been pained over the last several weeks. "Race is worse now than it was in 1969 when I moved here" from the Caribbean, she said. At that time, she didn't feel intimidated by the thought of approaching the police if she saw them act unjustly. Now, because she's black, she wouldn't think of doing it. She wondered if she and her colleagues have failed their students for allowing this battle to resurface.
Fluker encouraged Heywood to remember what it is "to be a human, to be born between feces and urine," and to exploit moments of introspection to incite activism. "I'm suspicious of people who go elsewhere to do work," he said, implying there was plenty to be done here in Boston.
"You all are leaders here," he continued. "We've got to work on this. We must work on this." This, he added, being the hiring of a more diverse faculty and the creation of leadership programs for youth.
Cheryl Harris (STH'09), senior pastor of First Baptist Church in Attleboro, Mass., wanted to know how people could bring together law enforcement and community members so that "black people stop being killed by police officers.
"I feel like the rubber needs to hit the road," Harris said, "and we have to look at each other and say, 'Enough! I'm not going to collude any more.'"
Fluker was on it. As director of STH's Martin Luther King, Jr., Initiative for the Development of Ethical Leadership (MLK-IDEAL), he has been gathering social and financial support to bring together key players in three cities, Boston among them, to discuss youth culture and gun violence in urban centers. He got an "Amen!" from the crowd.
Although many hands were raised, Daryl Lobban (STH'16) posed the last question. As the youth, children, and family pastor at Bethel African Methodist Episcopal Church in Jamaica Plain, he said, he has run out of answers to questions about tragedies like Ferguson or policies like stop-and-frisk in New York City.
"What hope do you have for our young people?" Lobban asked. "It's not time for words. It's time for action."
Sapiro encouraged Lobban to help youth find their own path, ask the right questions, and locate the right people to achieve their goals.
Fluker responded with an anecdote: while visiting the Roger Street Baptist Church in Sierra Leone during the era of blood diamonds (diamonds mined in African war zones and sold to finance conflicts), he preached a message of hope. The next week, the church burned to the ground.
"Those same people rebuilt that church," he said. "Do not invest in nihilism. I don't think the show is over. We can't give hope to the young people until we show up."