Canoe or Kayak on the Charles
Beat the heat with a river breeze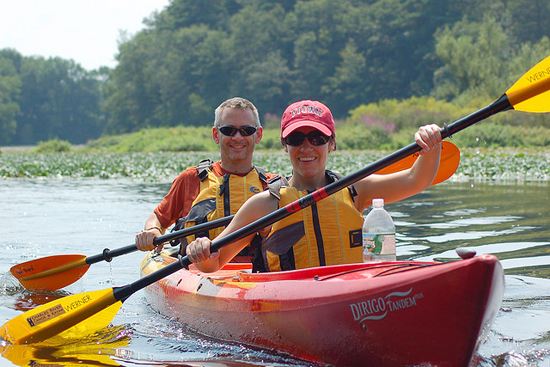 When temperatures and humidity soar, there's no better place to enjoy the great outdoors on a summer day than on the water. Renting a boat for a leisurely paddle on the Charles is easy, thanks to Charles River Canoe & Kayak. The outfitter rents kayaks, paddleboards, and canoes from its five locations. A popular option is a one-way excursion between its Boston and Cambridge locations.
Begin your journey either along Soldiers Field Road in Allston/Brighton or in Kendall Square, Cambridge, and then paddle five miles to the opposite location. Boaters don't need to have much experience before heading out—a quick tutorial is given before the start of each trip. And there's no current on this stretch of the Charles, so the exertion level tends to be fairly low. However, wind conditions can make a difference in the lower river, so if the wind is from the north, northwest, west, or southwest, an Allston/Brighton-to-Kendall trip will likely be better. It's recommended to check out the latest forecast for wind strength and directionality.
The rental rates vary by boat, but are $15 an hour for a single kayak and $20 per hour for a double kayak. Canoes seat two to three adults and are $20 an hour, $15 an hour for solo use. There's a $10 surcharge for one-way trips between Cambridge and Allston/Brighton. Reservations are not necessary, and rentals include life jackets and paddles for each person. There is a one-hour minimum charge on all rentals, and the only items you need to bring are a form of payment and a photo ID.
Closer to home is BU's Fitness & Recreation Center, whose members can borrow kayaks and paddleboards from BU's Sailing Pavilion. To participate, boaters must purchase a Sailing Card and pass the BU Boating Swim Test or sign a waiver verifying their ability to swim. Sailing cards are $20 daily, $60 for a six-week pass, and $100 for a season pass for FitRec members, and $35 daily, $100 for a six-week pass, and $180 for a season pass for nonmembers.
Whatever direction you take, the river offers a great vantage point for seeing the Museum of Science, BU, the Hatch Shell, and the Boston skyline. Along the way, you're likely to spot birds and fish, as well as the occasional Duck Tour vehicle. Lunch and snack breaks can be taken along the way, at places like the Esplanade.
To get to the Charles River Canoe & Kayak Kendall Square location, take an MBTA Red Line train from Park Street to the Kendall/MIT stop and then walk. To get to the Allston/Brighton location, take a Red Line train to Harvard Square and then the #86 bus. Get to BU's Sailing Pavilion by crossing the Storrow Drive footbridge off Back Street, which runs parallel to Storrow, and proceeding west along the bike path to the pavilion.
Find more information about Charles River Canoe & Kayak here and about FitRec here.
This story was originally published on July 21, 2011; it has been updated to include current information.