BU Faculty Petition Urges Divestment from Fossil Fuel Companies
Trustees will consider request, pledges President Brown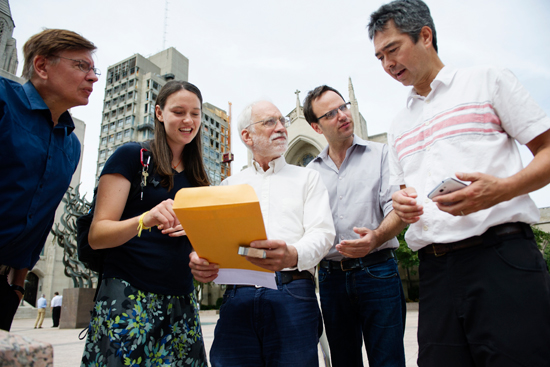 In an effort to combat climate change, 245 BU faculty members have signed a petition asking the University to divest oil, gas, and coal companies from its endowment.
The petition was presented by four faculty members and one student yesterday to President Robert A. Brown, who said he would forward it to the trustees when they meet in two weeks and to the University's Advisory Committee on Socially Responsible Investing, which was created last year. Brown said the trustees had already been approached by the student group DivestBU and had the climate change issue on their radar.
Meeting with the petition presenters in a conference room at One Silber Way, Brown called climate change "the most important issue this advisory committee will face" in the foreseeable future. "Certainly," he said, "this will get the full attention of that committee and the trustees and administration."
"The climate change crisis is threatening life on Earth, and demands immediate and transformative actions by individuals, governments, businesses, and institutions," the petition reads.
"Because it is unlikely that fossil fuel interests (the major source of this crisis) will stop of their own accord their unrelenting drive to burn these fuels at current rates, we must find strategies to induce them to stop," it adds. "As one step in this effort, the undersigned faculty members, together with the DivestBU student movement, are urging Boston University to divest its financial investments in fossil fuel interests. We recognize that the transition to a post–fossil fuel society will be complex, but we must begin to take meaningful action to promote a rapid phasing out of fossil fuel use."
"You have no trouble selling me on the fact that climate change is being driven by…greenhouse gas emissions, but that's not the issue," Brown told the group. The president, who is a chemical engineer, confessed to being personally ambivalent about whether divestment was the best strategy for "a very complicated issue."
"I believe divestment has to be around an unacceptable social harm," he said. "When you think about social harm…every time I think about divestment, I look at the lights." He said that the lights in a room serve consumers of fossil fuels, and it's their consumption that must be altered to mitigate climate change.
"You can say it's about the fossil fuel manufacturers, but it's about the fossil fuel users" around the globe, he said, adding that the ultimate solution will be for consumers to follow the strategy that BU has adopted to curb energy use. That solution, he said, is also complicated by the fact that consumers in the developing world don't necessarily have clean options for power.
Claire Richer (CAS'15), one of the presenters, countered that consumers often lack the power to curb their energy consumption because infrastructure promotes cheap fossil fuels. "You need a car to get around L.A.," she said.
"You're absolutely right," agreed Brown, but he noted that "massive investment" and as-yet-unavailable technologies will be required to create cleaner infrastructure.
"No one doubts the issue" of climate change, he said. "The issue is how do you participate in the resolution of it constructively, and that's what I'm struggling with."
Nathan Phillips, a College of Arts & Sciences professor of earth and environment, said after the meeting with the president that no other university has mustered as many faculty members behind fossil fuel divestment as BU. Phillips said he was pleasantly surprised that Brown met personally with the presenters.
"That is such a positive sign," he said. "We expected to just drop off the letter. The fact that he came out to meet with us is tremendous."
The advisory committee is also weighing whether to divest from firearms manufacturers following the December 2012 Sandy Hook Elementary School shootings. Brown told the presenters that the committee hosts public forums where they could make their case.
The final decision on whether to divest rests with the full Board of Trustees. The board has gone that route at least twice before: in 1979, when it pulled BU's money from companies with ties to South Africa to protest apartheid, and in 2006, when it divested from companies directly tied to or supporting businesses in Sudan, to protest that government's genocide in Darfur.
Similar requests are being made at other universities. Yale is reviewing its investments and has asked its money managers to shun companies lacking greenhouse gas reduction plans.
The BU petition says that "a growing list" of colleges, universities, and other institutions are pulling their investments from fossil fuel companies. The website Fossil Free lists 13 schools that have committed to divestment. Faculty members may read or sign the BU petition here. A website about the divestment effort, divestbu.org, is expected to be up and running in the next few days, said Edward Loechler, a CAS professor of biology, one of the presenters.