A Celebratory Alumni Weekend
Building machines from scratch, going behind the scenes of Game of Thrones, christening the Redstone Building, and more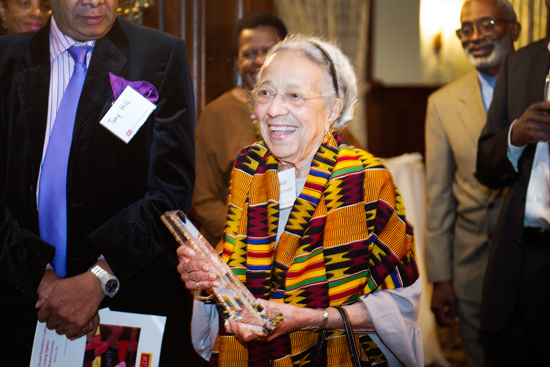 If you'd dropped by the BU Beach on a Saturday morning 25 years ago, you'd likely have seen a group of Shelton Hall (now Kilachand Hall) buddies tossing a football. Much at Boston University has changed since then, but this past Saturday the men passing the football behind Marsh Chapel—and even the pigskin itself—were the same.
Against a backdrop of tables and red-and-white blankets set up for the Alumni Weekend BU Beach Picnic, Martin Leibold (ENG'89), Bill Schineller (ENG'89), and Rob Napieralski (CAS'89) reminisced about their college days, from midnight cheeseburgers at the now-shuttered Charlie's Kitchen to the day a fellow classmate broke the future Mrs. Napieralski's ankle during an ill-advised tackle. "We never stopped giving him a hard time about that," said Napieralski.
The men were among thousands of alums who returned to Comm Ave for more than 150 Alumni Weekend events, from award ceremonies and panels to concerts and college-specific gatherings.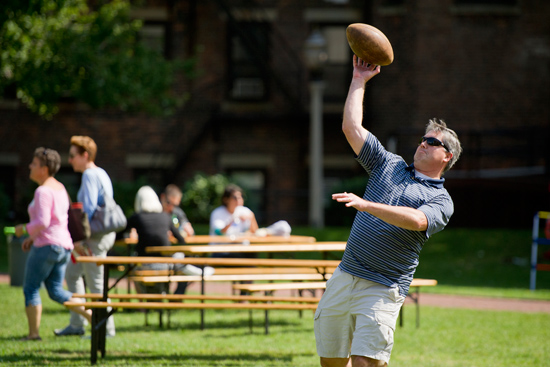 Ready, set, design
College of Engineering alums filled the Photonics Center Colloquium Room with cheers, laughs, and chants as four teams competed in a design challenge. Each group of ENG grads, students, and faculty huddled over a table littered with parts ranging from battery packs and circuit boards to balloons and Popsicle sticks. Their goal? Design a small vehicle that could propel itself along the length of four tables end to end.
Minimotors buzzed, vehicles careened (or crawled), and unmanned aerial vehicles delivered additional supplies. Michael Runci (ENG'68,'74, GSM'74), whose vehicle carried a small plush bear in a Red Sox shirt, enjoyed the camaraderie with fellow alums and "seeing the young mixed with the old." The Florida resident was drawn back to BU for his first alumni visit by ENG's 50th anniversary. "It's a tremendous milestone," he says. "It's fun to be a part of this."
From Beantown mobsters to Game of Thrones
The College of Communication held a series of talks to celebrate its own milestone—the 100th anniversary of BU's first journalism and advertising courses. Hearing her former teacher, Richard Lehr, a COM professor of journalism, speak about his decades of reporting on Beantown mobster Whitey Bulger reminded Melanie Rieders (COM'14) "why I chose journalism. It reinvigorated me." Lehr shared photos from his visit to the set of Black Mass, the upcoming film starring Johnny Depp based on his book Black Mass: Whitey Bulger, the FBI, and a Devil's Deal.
Another speaker was HBO's Jay Roewe (COM'79), who talked about how filming the Emmy-winning HBO series Game of Thrones in Northern Ireland has brought jobs, tourism, and millions of dollars to a country still recovering from decades of political violence. Roewe said he'd never imagined "that what we do could actually affect people's lives that way."
Celebrating new School of Law building
"This is just a building—bricks, mortar, glass. Why are we all here for just a building?" Richard Cartier Godfrey (LAW'79), a BU trustee and chair of the LAW Building on Excellence Campaign, asked the crowd at the dedication ceremony for the School of Law's new Sumner M. Redstone Building. His answer: "Because it's not just a building. It is where we will teach future generations what it means to do right for society."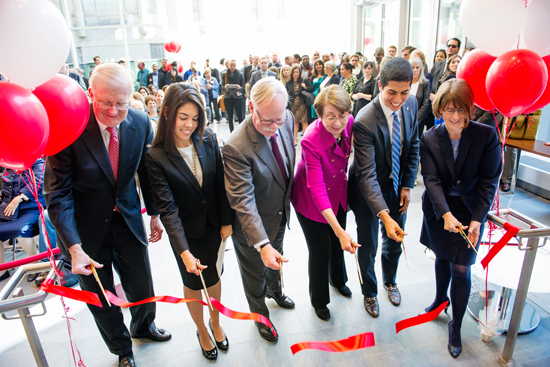 During the ceremony in the new building's Butler Atrium, Maureen A. O'Rourke, dean of LAW, acknowledged those who helped make a reality the building she declared "a showpiece," and introduced a video in which Redstone (Hon.'94), head of CBS and Viacom and a former LAW faculty member, reflected on the significance of the building that bears his name. Daniel Koh, Boston Mayor Marty Walsh's chief of staff, proclaimed September 19 Sumner Redstone Day, and speakers celebrated the fact that LAW is now housed in a building worthy of its reputation.
Law, as taught at BU, "gives us the ability to make our society, with all of its conflicting interests, work," said the Honorable Sandra L. Lynch (LAW'71), chief judge, United States Court of Appeals for the First Circuit. And BU President Robert A. Brown reminded alumni that their school stands at the "center—the heart—of the University."
Frozen fever
Everyone said the classic Disney fairy tale musical was passé, but producer Peter Del Vecho (CFA'80) refused to believe it. The father of twin girls, he had grown up with Disney classics and believes "there's something about a film being made in our formative years" that makes it particularly special. The challenge in creating his film Frozen was "to make something timeless, but also timely," and judging by the film's wild success, he has succeeded. Del Vecho, a 2014 CFA Distinguished Alumni Award recipient, took home this year's Oscar for Best Animated Feature Film.
In addition to its accolades, Frozen has amassed millions of fans, some of whom attended Del Vecho's talk at the Photonics Center Auditorium. When he showed a clip of the song "For the First Time in Forever," four little girls began singing along. Their fathers, Rich Snyder (GSM'03) and Ariel Soiffer (LAW'10), met through their daughters—the families live down the street from each other in Brookline, and they walked to campus together for the talk.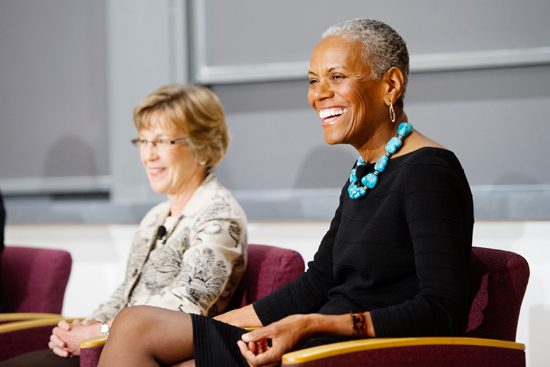 BU women on self-worth
At The President's Panel: A Conversation with BU Women, four alums shared personal stories and advice on finding career opportunities, breaking down gender barriers, balancing work and family, and recognizing self-worth.
Lawyer Cynthia Cordes (COM'01), a 2014 COM Distinguished Alumni Award recipient, said that while prosecuting child exploitation offenses, she found it difficult to mentally leave work at the office like her male colleagues did. "I worried about the children on the nights and weekends," she said. This quality, which had initially seemed like a weakness, she said, turned out to be a strength in her later work with human trafficking victims, who responded to Cordes' compassionate demeanor.
A tip from Jeannette Horan (GSM'93), IBM vice president and CIO, about the importance of not neglecting your own needs when juggling work and family resonated with attendee Joy Babcock (SMG'64), who said that as women, "we undervalue ourselves." Her friend Linda Pierre (SED'64) added, "You need to look at somebody who has gone before," like these role models, to help show you what path to take.
Celebrating the power of yes
"We live and thrive as a great institution through what our alumni do," said BU President Robert A. Brown, welcoming more than 300 alums to the Best of BU Luncheon. This year, University Alumni Awards—BU's highest honor—were presented to three alums: Howard Bauchner (MED'79), a School of Medicine professor and the editor in chief of the Journal of the American Medical Association, Jeanette Horan (GSM'93), vice president and CIO of IBM, and Rick Hoyt, Jr. (SED'93). Matthew Trevithick (CGS'06, CAS'08), who started a rowing club in Kabul, and Mikhail Gurevich (ENG'07, GSM'12), managing partner of the New York–based hedge fund Dominion Capital, received BU Young Alumni Awards.
Horan recalled the School of Management's Executive MBA program as "18 months of hell I would do over again tomorrow." At the time, she was also working and caring for two young daughters, a challenge she embraced because when her girls saw her doing homework, they knew they had to do theirs, too. Today, she said proudly, both daughters have PhDs.
Hoyt also spoke with pride of his family. When he was born with paraplegia and cerebral palsy, doctors told his parents he had no hope for a "normal" life. Hoyt proved them wrong. In 1977, he asked his father to push him in a five-mile benefit run. The duo has since participated in more than 1,100 marathons and triathlons and founded the Hoyt Foundation, which supports inclusion for people with disabilities.
Hoyt prerecorded his Alumni Award acceptance speech, selecting one letter at a time on a computer he manipulates by tapping his head against a sensor on his wheelchair. He said he considers his SED degree "not only an accomplishment for myself, but for my family," and added that he was onstage because his father said yes. The crowd gave Hoyt a standing ovation.
Lara Ehrlich can be reached at lehrlich@bu.edu. Julie Rattey can be reached at jrattey@bu.edu.