Women's Hockey Home Opener Tomorrow
Terriers hoping for first national championship
Just before they take on Yale in their home opener tomorrow afternoon, the women's ice hockey Terriers will raise three banners at Walter Brown Arena recognizing last season's accomplishments: a Hockey East championship title, an NCAA tournament berth, and a trip to the NCAA Frozen Four. Overall, the team had an outstanding season, finishing at 28-6-3—the third consecutive season of 20-plus wins.
Success is nothing new for these women. In just nine seasons as a varsity team, they have  four consecutive NCAA tournament appearances, three straight Hockey East championships, and two national title bouts under their belt, led by head coach Brian Durocher (SED'78).
For assistant captain Kaleigh Fratkin (COM'14) and the rest of the upperclassmen, Saturday's banner ceremony is a reminder of how far the program has come. "The year before we came here, BU was a relatively new program," Fratkin says. "Three years later it's pretty neat to see how much the program has grown and how much this group of seniors has been a part of that. Seeing those banners up there tomorrow will prove that BU hockey has arrived."
Despite all of their achievements, Durocher says, his players can't afford to rest on their laurels. "Each year is a new year," he says. "We all know that we've got building blocks to put together on this team through hard work and preparation, and if we look too far ahead, we won't be able to build a solid foundation."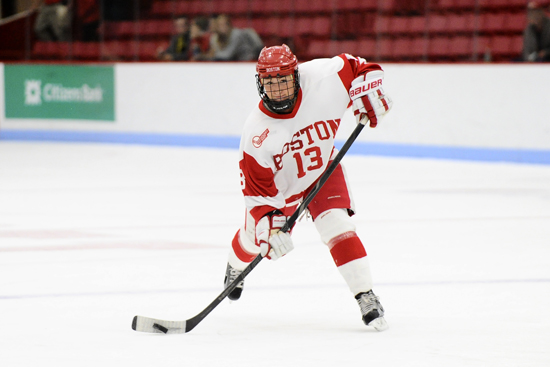 It was only seven months ago that the Terriers fell to Minnesota 6-3 in the NCAA Division I championship game, ending their dream of capturing their first NCAA championship. Now, as they launch their 10th season, the players hope to get another shot at the national title—a goal that, for all their success, has eluded them thus far.
The team begins its new season absent three top scorers from 2012–2013. Jenelle Kohanchuk (SAR'13) and Isabel Menard (CAS'13) were lost to graduation, and Marie-Philip Poulin (SED'15) has taken the year off to train for the 2014 Winter Olympics with Team Canada.
Poulin was particularly instrumental in the Terriers' run to the 2013 Frozen Four. She set a program record with 36 assists throughout the season, had one goal and one assist in all three NCAA tournament games, and was named to the Frozen Four All-Tournament Team.
Despite the loss of the three, Durocher is confident that the players on this season's roster can rise to the challenge. "We have six newcomers who have to come in and contribute right away," he says. "Even more importantly, the veterans will have to take it to a new level since they will be out there in key situations more often this season, and thus far, they've answered the bell."
One of those veterans is Sarah Lefort (CGS'14), who tied Poulin's record for goals by a freshman last season and finished second in the running for Hockey East Rookie of the Year.
Although she is only a sophomore, Durocher believes Lefort will play a huge part in the team's success this season. "You don't necessarily want to pressure underclassmen into a leadership role," he says. "However, Lefort is very intense, she's naturally committed, and she's really become a young leader for our team."
"We're a hardworking blue-collar team," Lefort says. "It's been a challenging start to the season as we push each other to the limits in practice and we've faced a lot of adversity during the games, but I have no doubt that we can make positive strides throughout the year."
During a recent afternoon practice, the team was working on breakaway situations. The passes were crisp and formations were tight, but the coaching staff decided to up the ante by bringing the goals together at center ice, making the drill even more intense as the players tried to maneuver in tight spaces.
Durocher says drills like this help the athletes make in-game decisions. "A lot happens in that drill, and it happens fast," he says. "Coaches should try and present tough situations during practices, so that when the players have to execute during games, when they're feeling more anxiety, they don't have to think as much. Their instincts take over."
That type of repetition has enabled the Terriers to overcome some early challenges this season. They defeated Western Ontario in overtime during an exhibition game before traveling to Rensselaer University and Union College for two contests that each went to an extra period. (They tied Rensselaer 2-2 and beat Union 3-2.)
After their tilt with Yale, the Terriers play six straight games against Hockey East opponents. Both coach and athletes say they're ready for the challenges ahead. "I think it's pretty evident that we have the work ethic and the heart to win a national championship this year," Fratkin says.
"The conference stretch takes on a life of its own," Durocher says. "You never know what's going to happen. It takes a special group to be ready for a challenge 20 nights a year, and I think this team is going to do just that."
The BU women's hockey team will host Yale University tomorrow, Saturday, October 26, at 3 p.m. at Walter Brown Arena, 285 Babcock St. Tickets are $6 for the general public, $4 for students, faculty, staff, children, and senior citizens.
Nate Weitzer can be reached at nweitzer@bu.edu.