Women and Weight Lifting: It's Good for You
So why aren't more doing it?
Sarah Kuranda has learned the joys of joining a small but sculpted minority: women who pump iron.
She began a little more than a year ago, joining her roommates in a temporary high-sweat home regimen that mixed weights, martial arts, yoga, and calisthenics. "I loved how much stronger and more fit I felt when I incorporated weights and strength into my daily workouts, instead of just spending my time on the elliptical," says Kuranda (COM'13). She felt better while indulging her love of horseback riding, so she kept up with the weights. Few sisters, however, share her passion for squats, presses, and curls, in part, she says, because they fear bulking up into a she-Schwarzenegger.
"I have not found that to be true at all," Kuranda says. "I have become much leaner and stronger. The only downside of this is that the scale sometimes shows a higher number," because muscle weighs more than fat. She decided to "throw out the scale and instead just look at what I see in the mirror."
Fear of morphing into a muscled mastodon is only one reason behind the skittishness many women feel about weight lifting. Just 17. 5 percent of American women—and 20 percent of college-age American women—meet the aerobic and strength training recommendations of the Centers for Disease Control and Prevention. (Aerobic exercise, like jogging, walking, biking, and swimming, helps with weight loss; strength training, such as lifting weights, can do that while building muscle and bone mass.) The comparable figures for men are 23 percent and 37 percent, respectively.
Some research suggests that women shun lifting as a guys' activity—and that they think those guys on the weight floor are passing unflattering judgment on weight-lifting women's physiques. The former is a big concern, says Leorah Bernstein (SAR'12,'14), who began lifting as a member of her middle school swim team. In her experience, most women "are afraid of becoming too manly if they work out too much." In fact, an ESPN profile of Olympic lifter Holley Mangold notes that the typical woman is physically incapable of developing into the Incredible Hulk because of insufficient levels of testosterone. (Mangold, at 5-foot-8 and 330 pounds, told the reporter she was comfortable with her own physique and lamented that she'd have more lifting peers "if women just realized that they're not going to get as huge as I am.")
The vexing thing is that strength training benefits women especially. Not only does it buffer against aging's atrophying of muscle and bone in both sexes, it's a protection against such cripplers as osteoporosis, says Andrea Mercurio, a College of Arts & Sciences psychology instructor, who lifts and boxes to keep fit. Mercurio and Dominique Cheung (CAS'13) wondered whether women might be more likely to warm to weights if they were surrounded only by other women. A study the two are doing through the Undergraduate Research Opportunities Program suggests that that's only part of the answer.
The pair surveyed more than 1,000 women who were members of Boston-area gyms—most of them coed, but some all-female ones, too. The women were asked their attitudes toward weight lifting, the number of days they did it each week, and the average duration of their lifting sessions. The findings were mixed: younger women at all-female gyms did indeed lift more than peers of a similar age at coed gyms. But the difference evaporated when it came to older women. Mercurio explains the difference as a function of younger women's greater concern about their appearance. For them, having only women watching them reduced their reluctance to lift weights.
Stopping by FitRec's first floor weights room shows how it could be different. Fitness Director Mike Lagomarsine sees female lifters every semester in the Weight Training for Women class. The twice-a-week one-hour class usually hits its 25-student cap, he says, and it's not popular only among athletes. Most participants are "the average college-aged female looking for guidance on proper workout programming, progression, and technique," he says. "We also see some join the class because they have never exercised before and are fearful of doing counterproductive or unsafe exercises."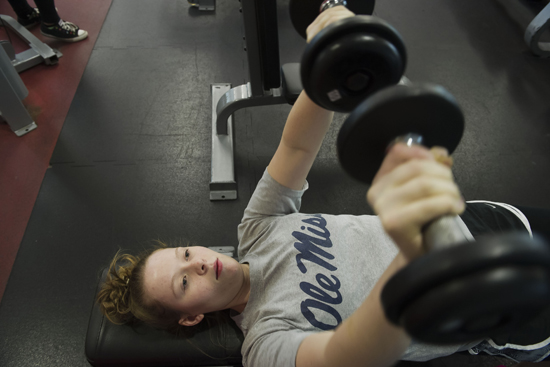 "I tell women to look around at how many men are working so hard in the gym to get bigger; they are at an advantage when it comes to developing muscle, and it still takes a lot of effort and intensity."
Mercurio and Cheung are studying weight lifting frequency among BU women this semester to gauge attitudes among a college-educated sample. They have to schedule the work between their own workouts; Cheung lifts, too. For Mercurio, practicing two sports thought of as masculine might give the impression that she's one of those uber-secure people immune to the self-consciousness of us mere mortals. Think again.
"I wish I was a person who wasn't concerned with my body, but most women are," she says. "I definitely had to overcome something mentally," with several false starts and then a free trial at a gym, before becoming a convert.
Find a US News & World Report blogger's strength training tips for women here.